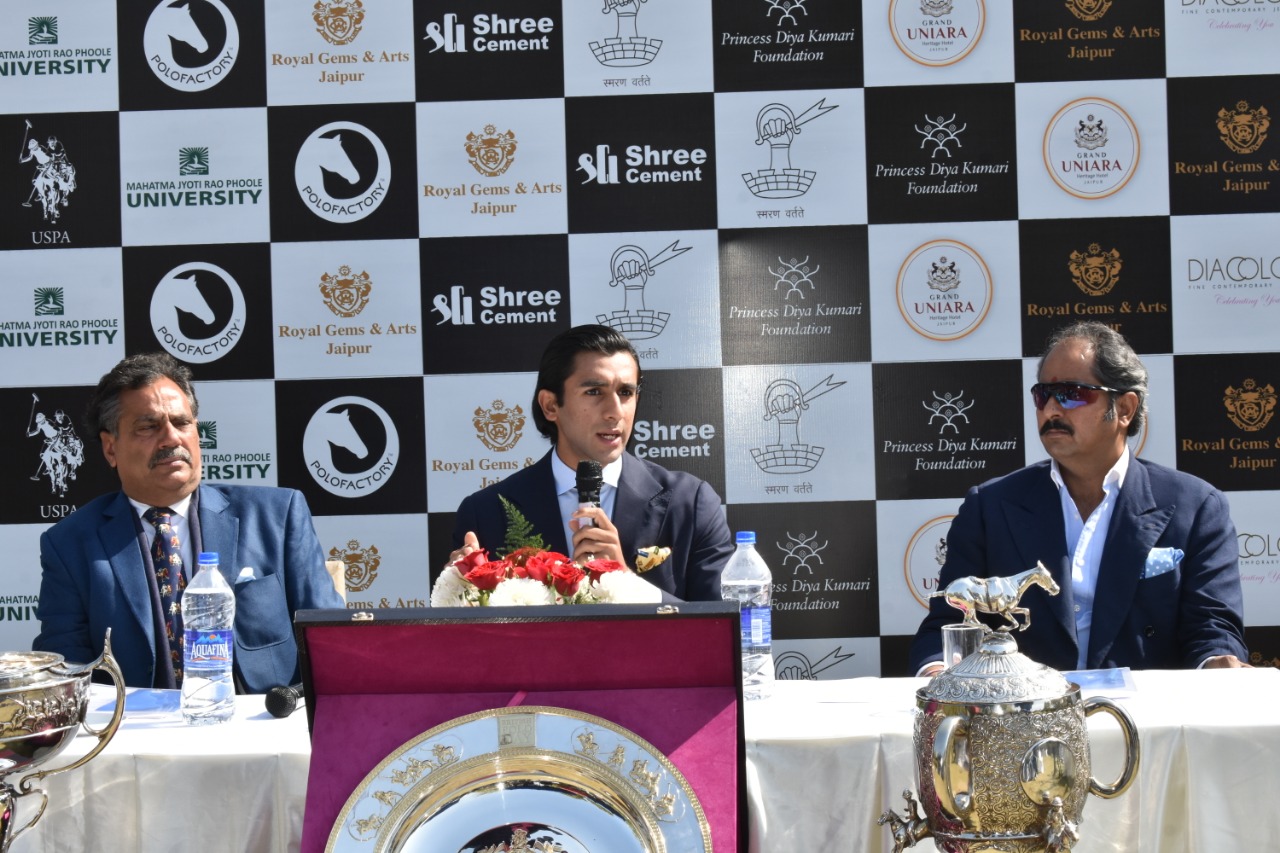 Press Release
The much awaited Winter Jaipur Polo Season will begin on 1 February at Rajasthan Polo Club (RPC). It will be on till 28 February. The delay by a month this year has been owing to the Covid-19 pandemic situation as well as the extreme cold in Jaipur during the month of January.
The highlight of the season will be a 16 goal Jaipur Open Tournament for the HH Maharaja Sawai Bhawani Singh Jaipur Cup. This Tournament will be from 15 February to 21 February. This is for the first time after a span of 2 decades that a 16 goal tournament will be played in Jaipur. This tournament has been sponsored by Carysil. The last such high-handicap match was played in the year 2001 as a part of India Open Championship. This season a +7 handicap player, Juan Augustine Garcia Grossi from Argentina will also be participating. This was informed by the HH Maharaja Sawai Padmanabh Singh of Jaipur today at a Press Conference at the Ashok Club.
The Honorary Secretary of Rajasthan Polo Club (RPC), Mr. Digvijay Singh and Maharaj Narendra Singh were also present on the occasion.
In the past years the 14-goal Sirmour Cup was the highest handicap match. In this season this tournament will be held from 8 February to 14 February. It has been sponsored by Shree Cement.
Maharaja Padmanabh Singh further informed that for the first time last year the Ladies' Polo Match had been organized in the Jaipur Polo Season. The idea was to encourage women to increasingly take up the game of horse polo. Looking at the success of the match and huge enthusiasm, a ladies polo match will be organized on 27 February. It will be known as Princess Diya Kumari Foundation Ladies' Polo. This has been sponsored by USPA.
The Rajmata Gayatri Devi Memorial Cup (10 goals) will be played from 22 February to 28 February. It has been sponsored by Rambagh Palace Jaipur.
The first tournament of the season will be Maharaja Sawai Man Singh Gold Vase (10 goal) from 1 February to 7 February. It has been sponsored by Royal Gems & Arts, Jaipur. There will also be having 2 low goal tournaments. The Kota Cup (6 goal) will be from 8 February to 21 February. There will also be a 4 goal tournament organized to encourage young and upcoming players.
The other Exhibition Matches to be played will be HH Rajmata Padmini Devi of Jaipur International Shield on 13 February. It has been sponsored by Dia Color. Maharaj Prithi Singh Baria Cup will be held on 20 February. Similarly, an Exhibition Match will also be held on 6 February. It has been sponsored by Mahatma Jyoti Rao Phoole University.
The top polo players of the game will be participating: Juan Augustine Garcia Grossi (+7); Manuel Fernandez Llorente and Simran Singh Shergill (+6); Abhimanyu Pathak, Danniel Otamendi (+5 each); Lt. Col Vishal Chauhan, Dhruvpal Godara, Col Ravi Rathore, Siddhant Sharma, HH The Maharaja of Jaipur, Samir Suhag and Syed Shamsheer Ali (+4 each); Syed Hamza Ali, Salim Azmi, Angad Kalaan, Lt. Col. Arjun Patil, Syed Basheer Ali, Lokendra Rathore, Gaurav Sahgal, Col. Navjit Singh Sandhu and Naveen Singh (+3 each). Some officers from the Army will also be participating in the polo tournament.
"We would also like to point out that we have just come to the end of a 3 week low goal polo season conducted in partnership with the Jaipur riding and polo club as well as the 61 Cavalry, with the idea of giving an opportunity to young and upcoming players. More than 6 teams had taken part comprising of many young and new players, which is a bright sign for polo in Jaipur and India," said Maharaja Padmanabh.
The Hospitality Partner is Hotel Grand Uniara, Medical Partner is Santokba Durlabhji Memorial Hospital and Administration Partner is Polo Factory.