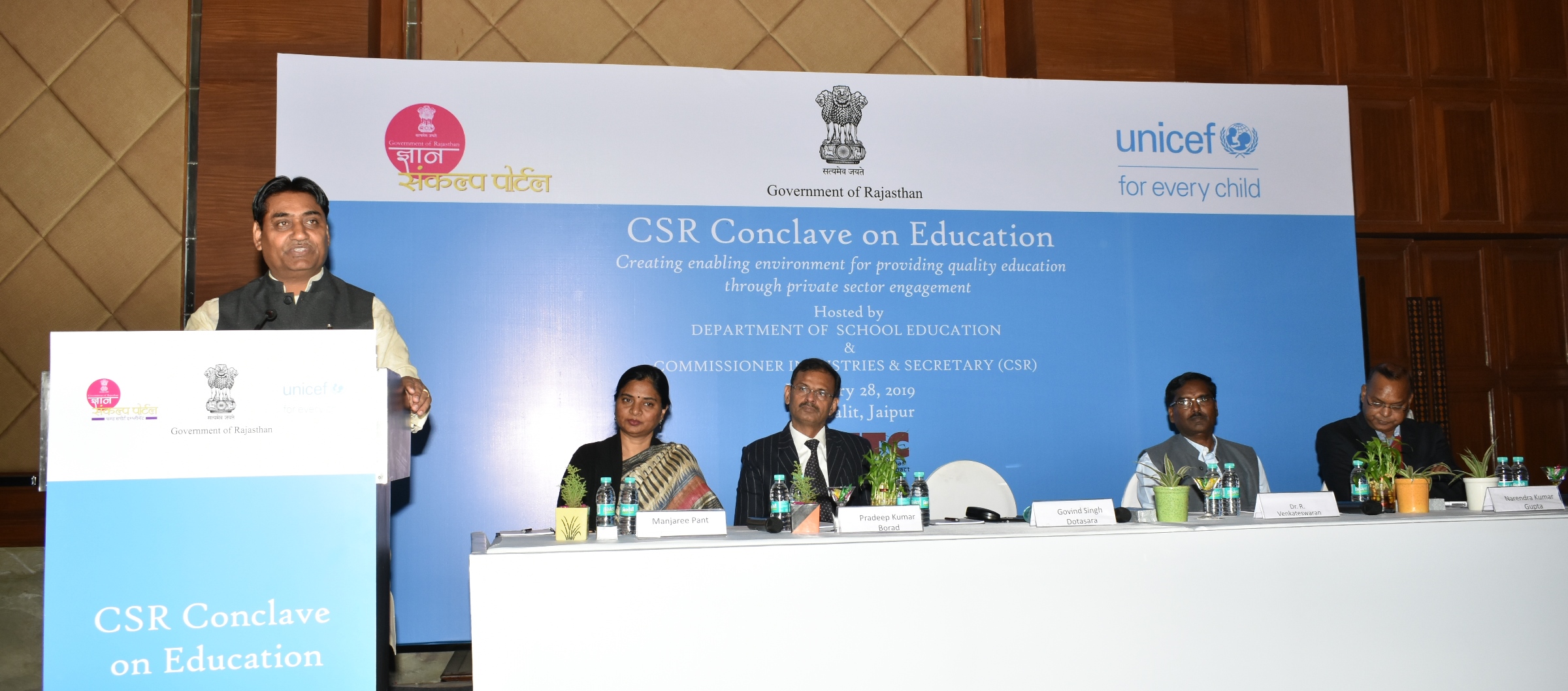 Press Release
"NEED FOR INCREASE IN CSR CONTRIBUTIONS IN THE EDUCATION SECTOR"
– State Minister for Primary and Secondary Education
Providing quality education for new generations is of essence for the country's development. However, with the limited resources of the Government it is a challenge to provide quality education. Therefore, there is a dire need to increase the CSR budget in the education sector. Various stakeholders of the society should come together and pool in their resources to improve the standard of services and infrastructure for quality education in the State. This was stated by Minister of State for Primary and Secondary Education, Government of Rajasthan, Shri Govind Singh Dotasra. He was addressing the 'CSR Conclave on Education' as the Chief Guest at Hotel Lalit in Jaipur.
The event was organised by Government of Rajasthan's Department of School Education and Commissioner Industries and Secretary (CSR) and UNICEF and was facilitated by Thinkthrough Consulting Pvt. Ltd (TTC), New Delhi.
Highlighting the present scenario of Government schools in the State, the Minister said that there are 86 lakh children studying in 63,000 schools. There is need for development of Centres of Excellence and schools in rural areas. Furthermore, a roadmap should also be devised for promoting sports in schools, rewarding teachers and inclusion of specially able and other marginalized sections in the mainstream, among others. He also informed that a weekly Bal Sabha is held on Saturdays in rural areas wherein villagers get together to discuss the performance of their children and give suggestions.
Principal Secretary, School Education, Government of Rajasthan, Dr. R. Venkateswaran said that only infrastructure is not adequate for quality education. The teacher-student relationship as well as development of soft skills is also of paramount importance. He threw light on the 'Gyan Sankalp Portal' which is developed by the State Education Department as a means to raise funds in a targeted manner for Government school infrastructure development. He said since its inception the portal has raised more than Rs. 88 crores. Talking about the increasing preference towards Government school, Dr. Venkateswaran said that 10 lakh students have migrated from private to Government schools.
Emphasising on the multi-fold achievements of State education, Officer-in-Charge, UNICEF, Ms. Manjaree Pant said that efforts have been made towards gender inclusion in classrooms, early childhood education, teachers' education as well as creating a conducive environment for strengthening enrolment, retention and learning outcomes. Rural students in Rajasthan face numerous challenges like – child marriage, migrations, child labour and gender disparity. Schools should be able to combat these challenges and provide skill based support along with infrastructure.
In his welcome address, Chief Operating Officer, TTC, Mr. Vijay Ganpati said that the 'CSR Conclave in Education' is a platform for bringing together the Government, private sector as well as individuals to ensure that education in Rajasthan improves.
On the occasion a few students of Government schools also voiced their demands for bigger classrooms, toilets, science laboratories, better sports tracks, among others.
Later, there was a panel discussion on the topic 'CSR Engagement in Education Domain'. This was followed by Experience Sharing of 'Successful CSR Models in Rajasthan and Other States'. Also, a presentation on 'Gyan Sankalp Portal' was made.
The event was attended by representatives of corporates like Chambal Fertilisers, Havells, Hero Motocorp, Adani Power, among others.