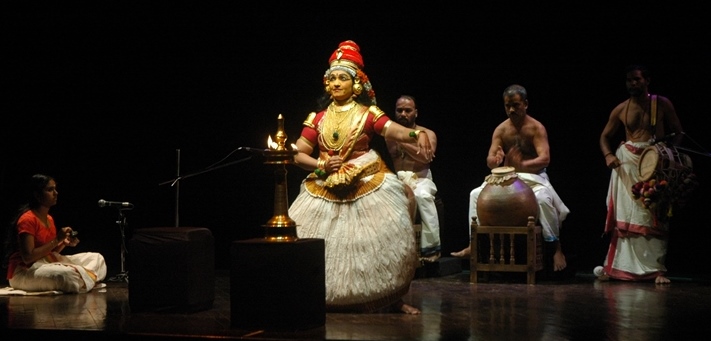 Press Release
The traditional art forms of Kerala, 'Kalarippayattu' and Kootiyattam's offshoot variant, 'Nangiar Koothu' were performed at Rangayan at Jawahar Kala Kendra (JKK) on Saturday.
The performance began with 'Kalarippayattu' an Indian martial arts performance where the artistes brought together acts which included weapons like daggers, swords, shields and wooden sticks. The dance was based on 4 aspects – body balancing, hidden weapons, other weapons and lastly body as a weapon itself. The act resonated artistically with what the body can do as a weapon and how a weapon is an extended part of the body. The performance was presented by Sajith P., Akshay T.S, Akshay Kumar, Hemabharathy Palani and Arathy A.R.
This was followed by a performance of 'The Nangiar Koothu: Kamsavadham – The story' by dancer, Ms. Usha Nangiar. Nangiar Koothu enacts elaborately the stories of Krishna with the help of hand gestures, eye movements and expressions. The dance drama followed the story of 'Kamsa', the King of Mathura who comes to know that Krishna the 8th son of Devaki is going to be his killer. He is angry and decides to kill Krishna and makes a plan to invite Krishna and his brother Balarama through messenger, Akroora for Ayudhapooja called Dhamuryaga. The unafraid brothers enter the arms-house of Kamsa and break the mighty bow that was to be kept for the yaga. On the way they fight an elephant. They kill the elephant and armed with the tusks, Balarama and Krishna enter the court of Kamsa.
Ms. Nangiar enacted various expressions like – Roudra Rasa (the emotion of anger); Adhbutha Rasa (feeling of wonder), Vipralampa Sringara (stealing glances with Krishna), Hasyabhava (feeling of mirth), Veer Rasa (emotion of valour), Karuna Rasa (feeling of sorrow). Similarly, towards the end of the performance, she enacted – Bhayanaka Rasa (feeling of fear), Beebhatsa (witnessing injustice), Santa Ras (going into meditation) and Bhakti Ras (feeling of devotion or worship). She also presented 3 slokas describing -how Krishna generates diverse feelings in courtiers of Kamsa; how Krishna and Balarama kill the fighters Chanura and Mushtika and how Krishna kills Kamsa.
Ms. Nangiar was accompanied by – V.K.K. Hari Haran and Kala Rajeev on Mizhavu and Kala Unnikrishnan and Thalam Athira on Edakka.