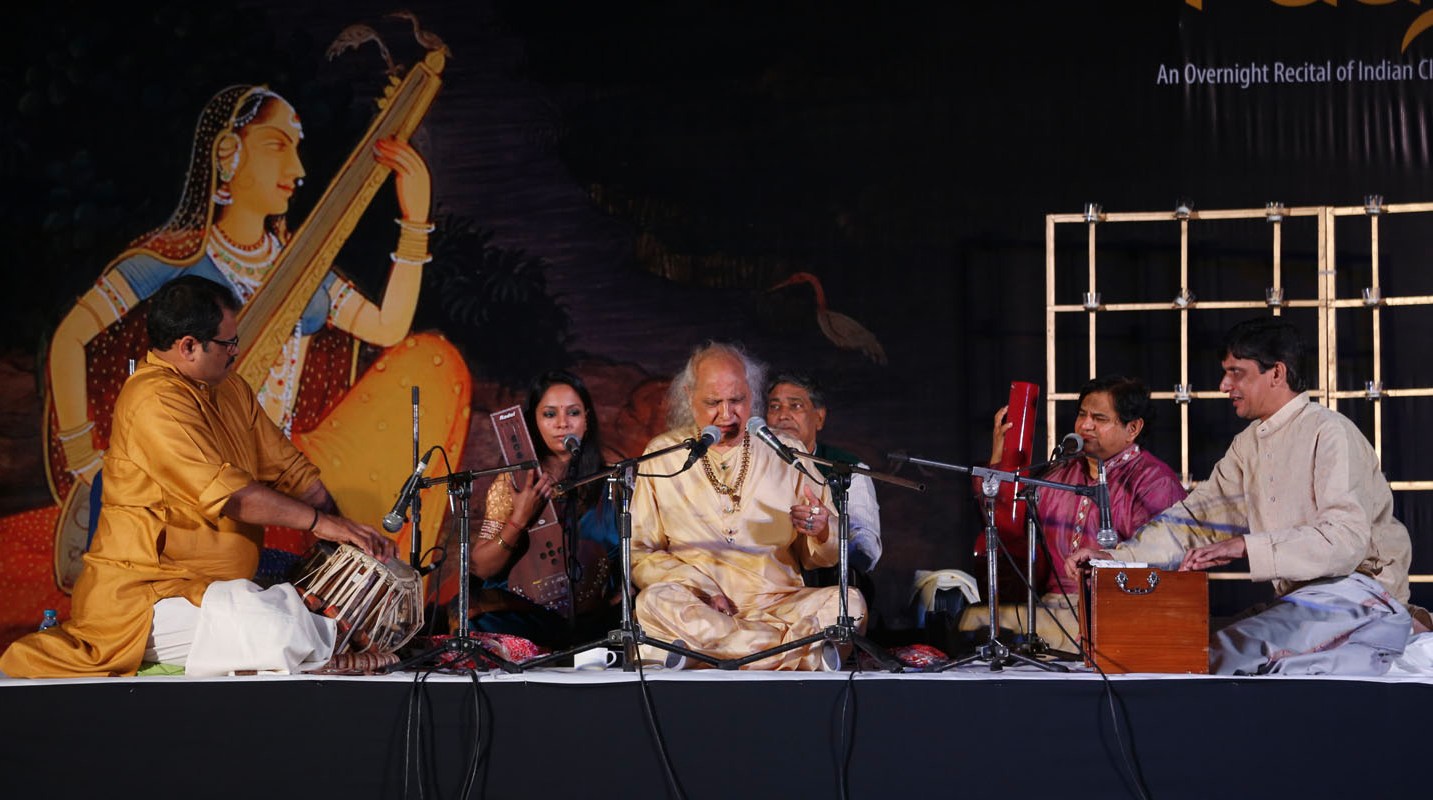 Press Release
Raag – An Overnight Recital of Indian Classical Music
Looking at the enthusiastic response of the audience at the first and one-of-its-kind programme of 'Raag' in Jaipur last year, the multi-arts center of Pink City — Jawahar Kala Kendra —  hosted the second edition of 'Raag'  on 4 November  which continued till the next morning. Performances by several world renowned maestros of Indian classical music like Pt. Hariprasad Chaurasia, Pt. Jasraj, Ustad Liyaqat Ali Khan, Ashwini Bhide Deshpande, among others was the highlight of the programme. Throughout the event, the Kendra was brimming with people from not only Jaipur but also other parts of Rajasthan to be a part of the unique event.
The concert opened with the rendition of Shri Mohammad Aman at the Kendra's amphitheatre 'Madhyavarti' at 10 pm. He performed Raag Bageshri which is a popular raag of late night.
This was followed by the mesmerizing flute recital of maestro Padmavibhushan Pt. Hariprasad Chaurasia on Raag Maru Bihag. Next came the Tabla Recital by noted table player Ms. Anuradha Pal. Instead of the usual table performance in which the artiste presents a solo raag, Anuradha Pal performed two raags – Shankara and Durga. Through her tabla recital, she also presented some parts of Ramayana relating to Hanuman and Raavan.
Next was the Sarangi Recital by Ustad Liyaqat Ali Khan. He played the robust Sikar sarangi style. This style is characterised by stopping the strings well-above the left-hand nails so that the skin surface and the raised string combine to give a particularly punchy vocal tone. This style relies more on hand and arm movement with minimised changing of fingers.
Noted vocalist Ashwini Bhide-Deshpande rendered the 'Jasrangji Jugalbandi' with Pt. Sanjeev Abhyankar. It is a unique Hindustani classical jugalbandi created by Pandit Jasraj. In the performance, a male and a female vocalist sing two different raags at the same time in two different scales. What is worth noting about the jugalbandi is that neither singer loses his/her own tonal quality as they sing in their own pitch. The combined effect makes one feel as if Shiva and Shakti are singing together. The duo performed Raag Puriya Dhanashri which is a prominent raag of evening melodies.
The musical magic concluded with the performance of world renowned vocalist Padmavibhushan Pt. Jasraj.  He ushered the dawn with He Govinda He Gopal and Mero Allah Meherbaan in Raag Bhairavi – the queen of melodies. The early morning also saw a lot of people coming in to witness the performance of Pt. Jasraj. His rendition filled the aura with love, peace and positivity and left the audience feeling one with the Supreme.