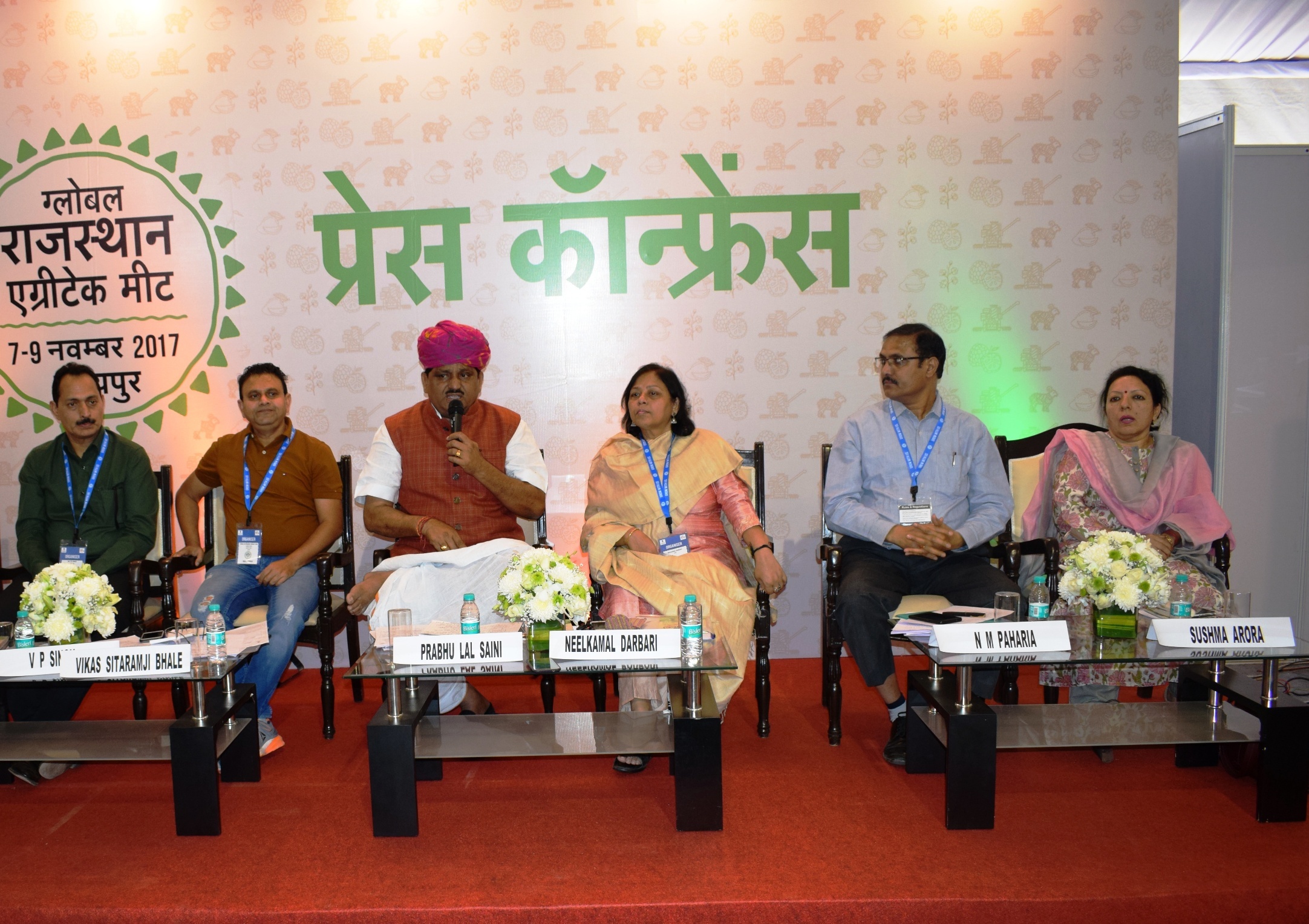 Press Release
 From 7 to 9 November
 20% Participation by Women Farmers
The Global Rajasthan Agritech Meet (GRAM) in Udaipur, scheduled to be held from 7 to 9 November, will see the participation of 40,000 farmers over a period of 3 days. Out of these, 20% participation will be of women farmers. This was stated  by Minister of Agriculture and Animal Husbandry, Government of Rajasthan, Dr. Prabhu Lal Saini today while addressing a press conference in Udaipur.
The Minister further said that the event aims to honour the farmers on national and international platforms and achieving the Prime Minister's resolution to double the farmers' incomes by 2022. Similarly, to accelerate development of sustainable agricultural and allied activities live presentations of innovative methods and best practices will be showcased.
Dr. Saini also highlighted GRAM Udaipur's aim to strengthen farmers' families of the tribal belt of the division. Specific minor forest produce market has been established in Udaipur to enhance employment opportunities and farmers' income.  A special focus of the event will be demonstrations of new techniques of agriculture like drip irrigation, plasticulture as well as post-harvest management. Experts from various countries Argentina, Peru, Israel, Uzbekistan, among others will share their technical know-how with the farmers.
He further added that parallel 'Jajam Baithaks' will be held on all 3 days. The Baithaks are designed to enable farmers to clarify their doubts from subject experts relating to agriculture, horticulture and animal husbandry in an informal setting. A 'Jajam Baithak' on Dairy and Rural Women Development will also be held in this summit in Udaipur.
Earlier speaking about the Divisional level GRAMs, Principal Secretary, Agriculture, Government of Rajasthan, Ms. Neelkamal Darabari said that looking at the huge success of the 'GRAM' 2016 which was held in Jaipur in November last year, the State Government is organizing GRAMs on divisional levels. The first such GRAM was organized in Kota in May 2017 and the second one is now being held in Udaipur.
Also present on the occasion were Commissioner Agriculture, Mr. Vikas Sitaramji Bhale; Director Horticulture, Mr. VP Singh; Director Agriculture, Marketing Department, Mr. NM Paharia; Managing Director, Rajasthan State Seeds Corporation, Ms. Sushma Arora and Head of Agriculture, FICCI, Mr. Jasmeet Singh.
Chief Minister to Inaugurate GRAM Udaipur Tomorrow
On 7 November, the Inaugural Session will take place at Maharana Pratap University of Agriculture & Technology, Udaipur, Rajasthan. On the occasion, the Chief Minister of Rajasthan, Ms. Vasundhara Raje will be the Chief Guest. Minister of State, Agriculture, Government of India, Mr. Gajendra Singh Shekhawat; Minister for Agriculture and Animal Husbandry, Government of Rajasthan, Dr. Prabhu Lal Saini and Ambassador of Uzbekistan, H.E. Farhod Arziev will also address on the occasion. The vote of thanks will be delivered by Secretary General, FICCI, Mr. Sanjaya Baru. The inaugural session will begin at 11 am. Also, on the occasion, knowledge papers and publications (Agri Value Chain in Udaipur Division; Fisheries Development in Udaipur Division; Forest Produce in Udaipur division; GRAM Brochure and two Hindi booklets for farmers) will be released.