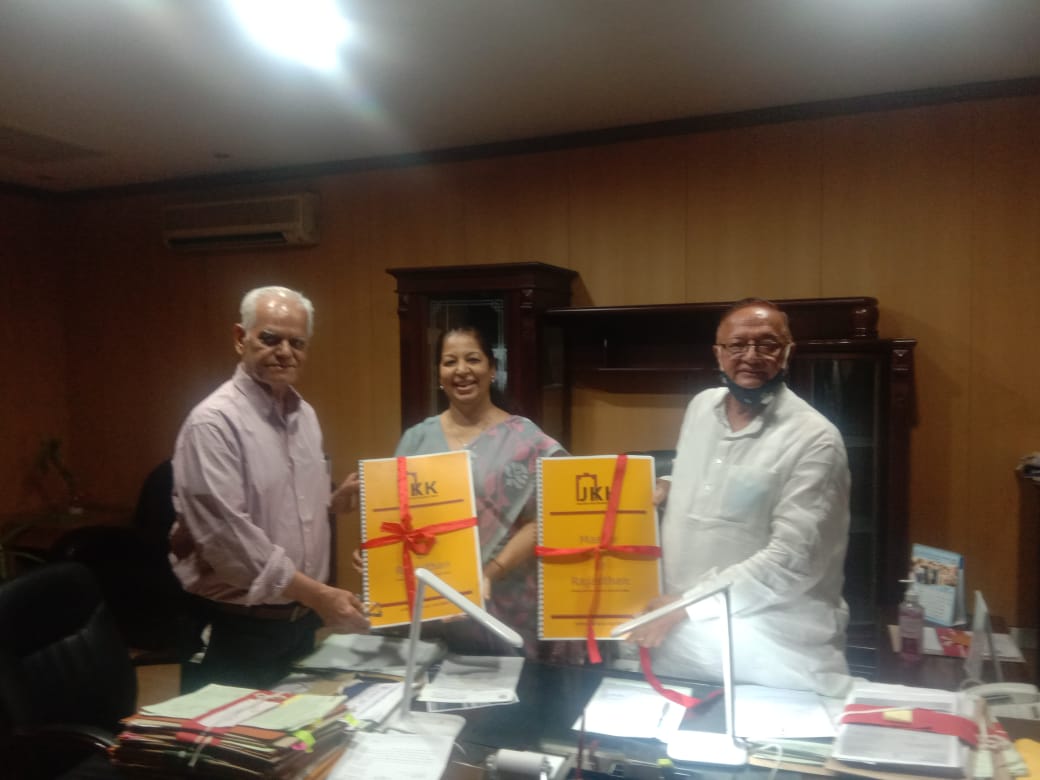 Press Release
Minister of Art & Culture and Energy, Government of Rajasthan, Dr. B.D. Kalla, released two portfolios published by Jawahar Kala Kendra (JKK) at the Urja Bhawan in Jaipur on Tuesday evening. The first portfolio 'Master Artists of Rajasthan' is focused on the Padma Shri awardees and handicrafts of Rajasthan and the second portfolio is focused on 'Mandana' art. Director General, JKK, Ms. Kiran Soni Gupta was also present on the occasion.
On the occasion of the portfolio release, Minister of Art & Culture and Energy, Government of Rajasthan, Dr. BD Kalla said "The artists involved in the portfolio have done important work for conservation and promotion of regional art. I hope that this publication will be a meaningful tribute to the Padma Shri personalities and will serve as a reference for students, artists and well-meaning readers." He also praised Jawahar Kala Kendra for this work.
Releasing the 'Mandana' portfolio, Dr. Kalla said that artistic elements are present in every region of Rajasthan, in which folk arts plays an important role. 'Mandana' is made in villages of Rajasthan as well as in homes and various other places in the cities. 'Mandana' is a symbol of folk behaviour, culture and religious rituals. There is a tradition of making 'Mandana' in different areas in different regions of Rajasthan. He expressed hope that this publication will prove to be very important for the conservation and promotion of this endangered art form.
The 'Master Artists of Rajasthan' portfolio includes articles and paintings of famous artists who have made significant contributions in the field of art. These artists are – Late Kripal Singh Shekhawat, Ram Gopal Vijayvargiya, Late. Hisam-ud-din Usta, Late Kudrat Singh, Late Mr. Lal Joshi, Mr. Ramkishor Chhipa, Mr. Arjun Prajapati, Mr. Mohanlal Kumhar, Mr. Shakir Ali, Late. Mahesh Raj Soni and Mr. Tilak Gitai.
The portfolios based on 'Mandana' include abstracted articles on Mandana art as well as Mandana paintings from various fields.