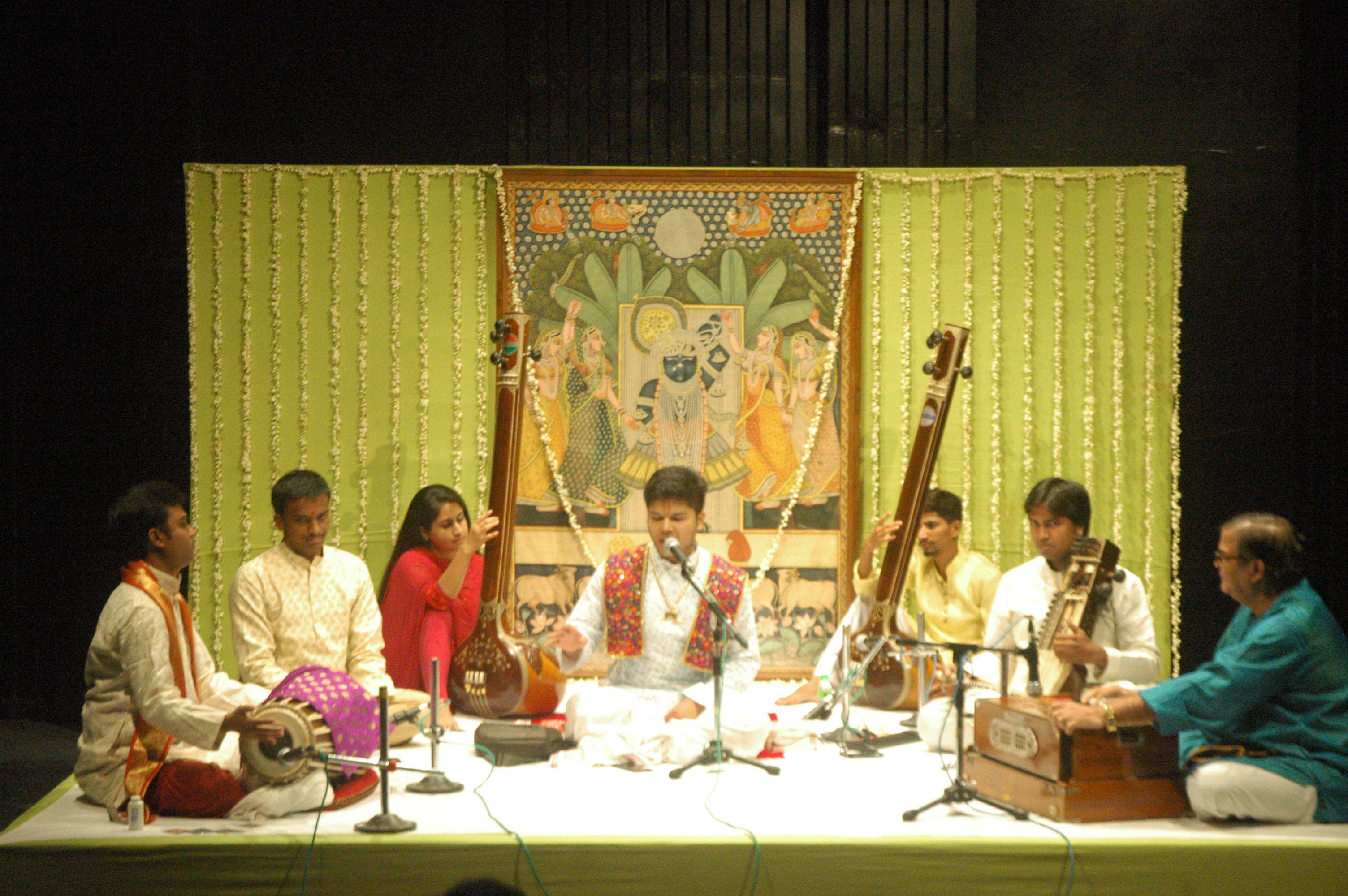 Press Release
As part of the 2-day 'Haveli Sangeet' programme, a classical concert was held at Jawahar Kala Kendra (JKK). The opening performance was presented by Pt. Tilak Goswami from Mumbai with a rendition of Raag Vrindavan Sarang in Taal Chautal. This was followed by 'Avani ka Pad' in 'Raag Gauri' and Dhamar Taal – 'Bante Aawat Venu Bajawat'.
He also sang compositions like – 'Gori Gori Awat Mohi Manawat' in Raag Bageshri and Manta Pad. The accompanying artistes included – Ankit Parikh on Pakhawaj, Anish Mishra on Sarangi, Pt. Jamunavallabh on Harmonium and Jugal Gujrati on Jhanjh while Garima Pandey and Naman Rao were on Tanpura.
Pt. Chandra Prakash from Ajmer performed in the latter half of the concert. His performance included a composition of Nagaridas in 'Kishangarh Shailey' – 'Daan Keli Jo Mann Base Taahi Kachu Na Suhaaye' and 'Ae Ho Laal Jhuliye Nek' in Raag Khaamaj and Aadi Taal, among others. The performance featured Hiralal on Tabla, Keshav Kumawat on Pakhawaj, Hari Om on Harmonium, Garima Pandey and Naman Rao on Tanpura.
On Saturday (11 August) there will be a symposium and talk with Pt. Chandra Prakash and Ms. Aastha Goswami from 11 AM to 1 PM. The topic will be 'Devotional Music of Brij'. In the evening there will be a concert by Ms. Aastha Goswami from Vrindavan and Padmabhushan Pt. Gokulotsav Maharaj from Indore.  Both events will be held in the Krishnayan. While the morning talk and symposium will be free to attend, the entry to the evening concert is ticketed for Rs 30 only.