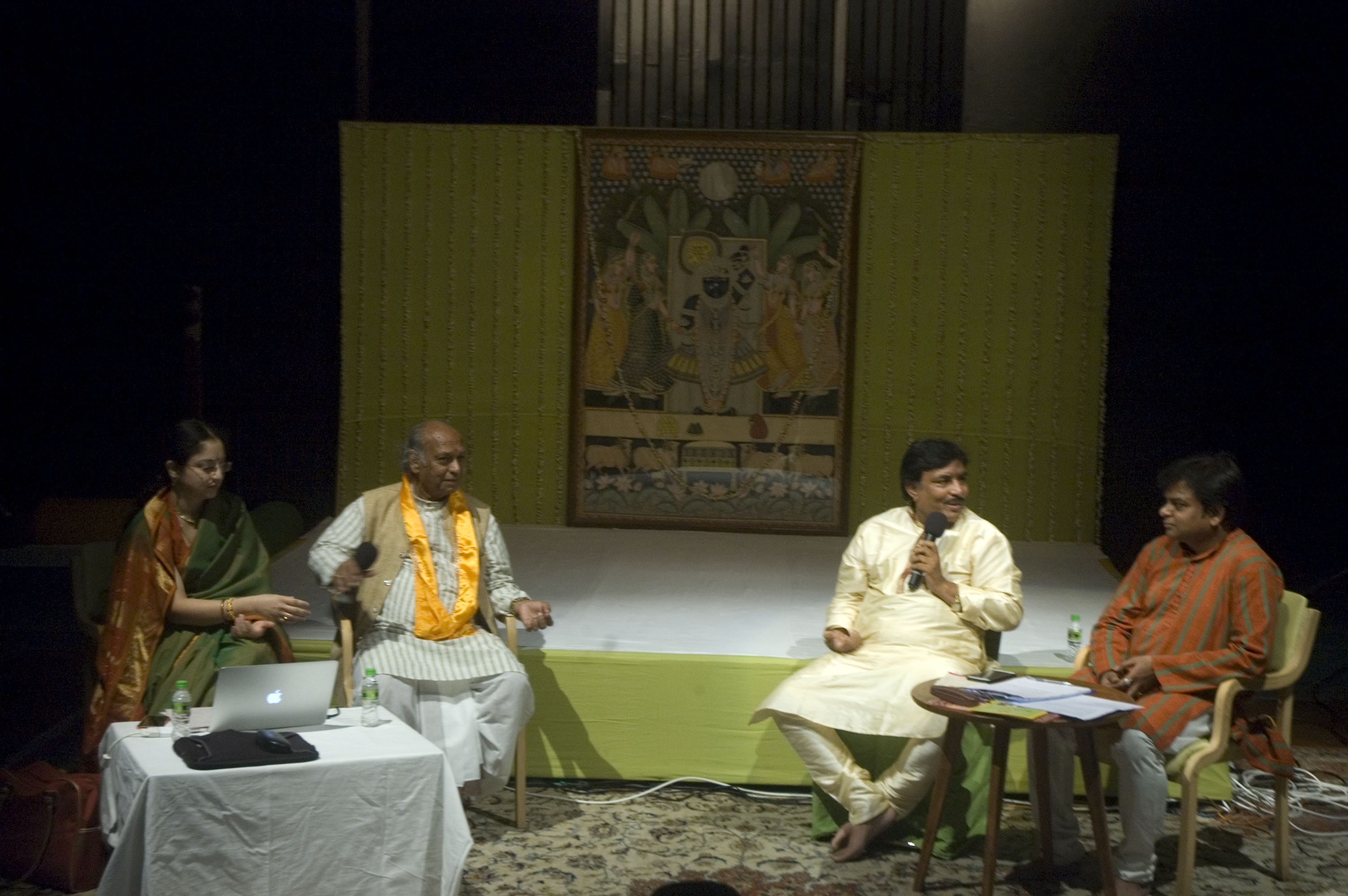 Press Release
As a part of the 2-day Haveli Sangeet Programme at Jawahar Kala Kendra, a talk on the 'Devotional Music of Brij' was held on Saturday. The participants in the talk included stalwarts of Indian classical music like Aastha Goswami, Pt. Chandra Prakash, Pt. Tilak Goswami and Pt. Alok Bhatt. Talking about the origins of Haveli Sangeet, which is known as 'Samaj Gayan' in Vrindavan, Ms. Aastha Goswami said that it originated in the Vedic age. She further said that with the use of Instruments like pakhawaj, tabla, harmonium, surpeti, jhanjh, majeera, and at times even bansuri and sarangi, Haveli Sangeet becomes more melodious when sung in temples.
In temples, the very essence of the song revolves around Krishna bhakti and Radha Krishan leelas. It is sung in the form of kirtans and Bhajans. Haveli Sangeet is a classical music and is meant for class and not masses, added Ms. Goswami.
Throwing light on the historical tradition of Haveli Sangeet, Pt. Tilak Goswami said that in the Pushtimargi system of worship, there are four 'darshans' or different times of having a glimpse of the lord – Mangla, Shringar, Gwal and Raj bhog. Different ragas are sung before each darshan of the deity. Haveli sangeet flourished in the 16th century when its exponents included the eight poets called 'ashta chaap kavis'and Sant Surdas. These exponents enriched the tradition and gave it a structure.
On the occasion Pt.Chandra Prakash informed that Kishangarh sangeet sung in the temples derives is origin from the age old Haveli Sangeet. He further added that Haveli sangeet is found in its purest form when sung devotionally in praise of the lord Krishna. Renowned musician, Pt. Alok Bhatt said that since modern generation is influenced by western music, an innovative way is required to introduce the pads of Haveli Sangeet before the youth.