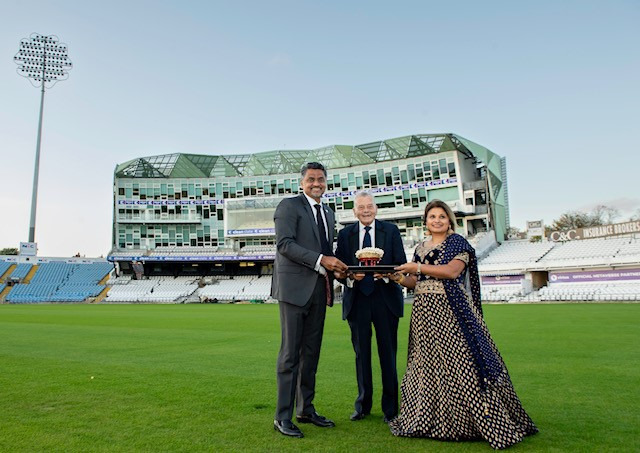 Press Release
Indian origin woman, Ms Kavita Singh was appointed earlier this year to serve on the board of the prestigious Yorkshire County Cricket Club (YCCC) in the UK. She is the first woman and Indian in the club's history to be appointed as a board member. Born in the UK, Ms Kavita Singh's family hails from Rajasthan and has lived in different times at Kota, Jaipur and Bikaner. She is currently a senior lawyer in the UK. Her father, Dr Bharat Bhushan Bhasin studied medicine from SMS Medical College in Jaipur before migrating to the UK. He was also the former official doctor for the Indian Cricket Team when the team travelled.
Yorkshire County Cricket Club Celebrates Diwali

The Club also recently celebrated Diwali with enthusiasm and fervour by lighting diyas and playing the Gayatri Mantra at the Headingley Stadium, the home of Yorkshire Cricket for the first time in the Club's 160-year-old history. The event was attended by cricketing legends Sir Geoffrey Boycott and Mr Dickie Bird. The Club also received Diwali wishes from legendary cricketer, Sachin Tendulkar who is a Honorary Life Member of the Yorkshire County Cricket Club. The event was led by Yorkshire Board Member, Ms Kavita Singh.
About the Yorkshire County Cricket Club

The Yorkshire County Cricket Club is one of the world's most famous cricket clubs with a 160-year-old history. No county has won more trophies – or produced more players for England. Five Yorkshire players are inducted into the ICC Hall of Fame. Away from the professional arena, there are over 850 cricket clubs affiliated with Yorkshire – with 125, 000 recreational players across the county. The Headingley Stadium in Leeds is one of the premier international cricket venues in the world and has hosted some of the most iconic matches in the history of cricket. The Stadium's main stand, the Clean Slate Pavilion is sponsored by Clean Slate Filmz, the Club's Principal Indian Sponsor.