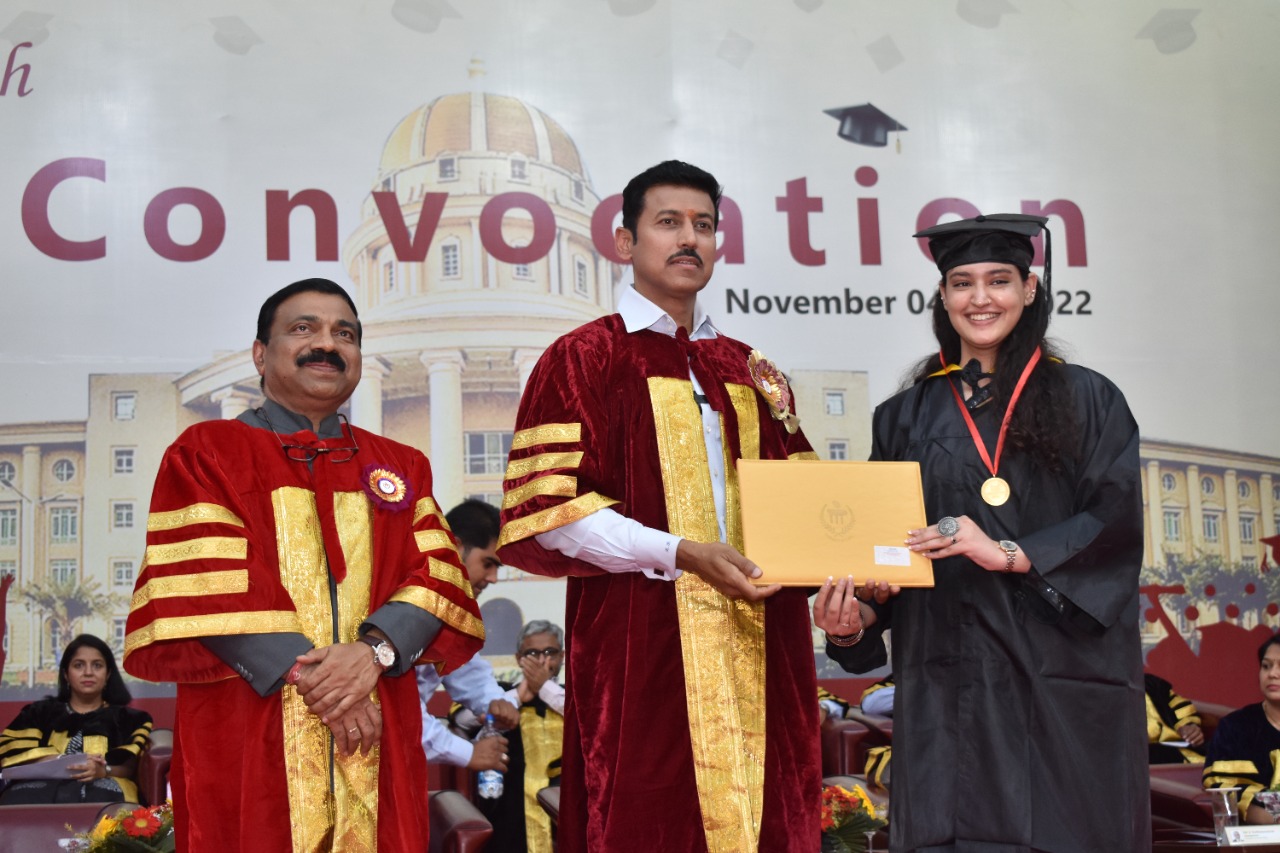 Press Release
Member of Parliament and Olympic medalist, Col. Rajyavardhan Singh Rathore, while addressing the students, said that after years of hard work and labour, you are now ready to embark on an exciting journey to seek knowledge and solutions. He said that in the last many years, you have been modelled and chiseled into a beautiful pot. However, the pot today is empty and has to be filled with your achievements. What you have accomplished in the last many years is the basic training, now the journey begins to fulfill your dreams; and dreams should be big. To achieve these dreams one needs to strengthen oneself. He was speaking as the Chief Guest of the 9th Convocation of Manipal University Jaipur (MUJ) held at the university campus.
He further said that the New Education Policy encourages creativity and will make the students learn 'how to think' and not 'what to think'. This policy be a game changer for this country. Later in life, whenever you go out of India, do remember you come from a country to be proud of. India today is the 5th strongest country in terms of economy and will be the 3rd strongest country by 2029.
Earlier, the President of MUJ, Dr. GK Prabhu said through a powerful audio visual presentation that the New Education Policy has enabled us to restructure our programmes and make them more futuristic. The University is also giving great importance to online programs. The focus of the University is also on research and all round excellence, encompassing academics, sports and culture. The NAAC A+ grade has given credibility to the University both in the country and abroad.
Earlier, Pro President, NN Sharma said to the students that the time has come for them to imagine the future. You have all worked hard for reaching this day and must live up to your true ambitions. The convocation is also a day to enjoy with your parents
Also present on the occasion were Chairperson of MUJ, S. Vaitheeswaran, Registrar, Nitu Bhatnagar, and the Department Heads of the University.
Col. Rathore gave the degrees to each and every student present.