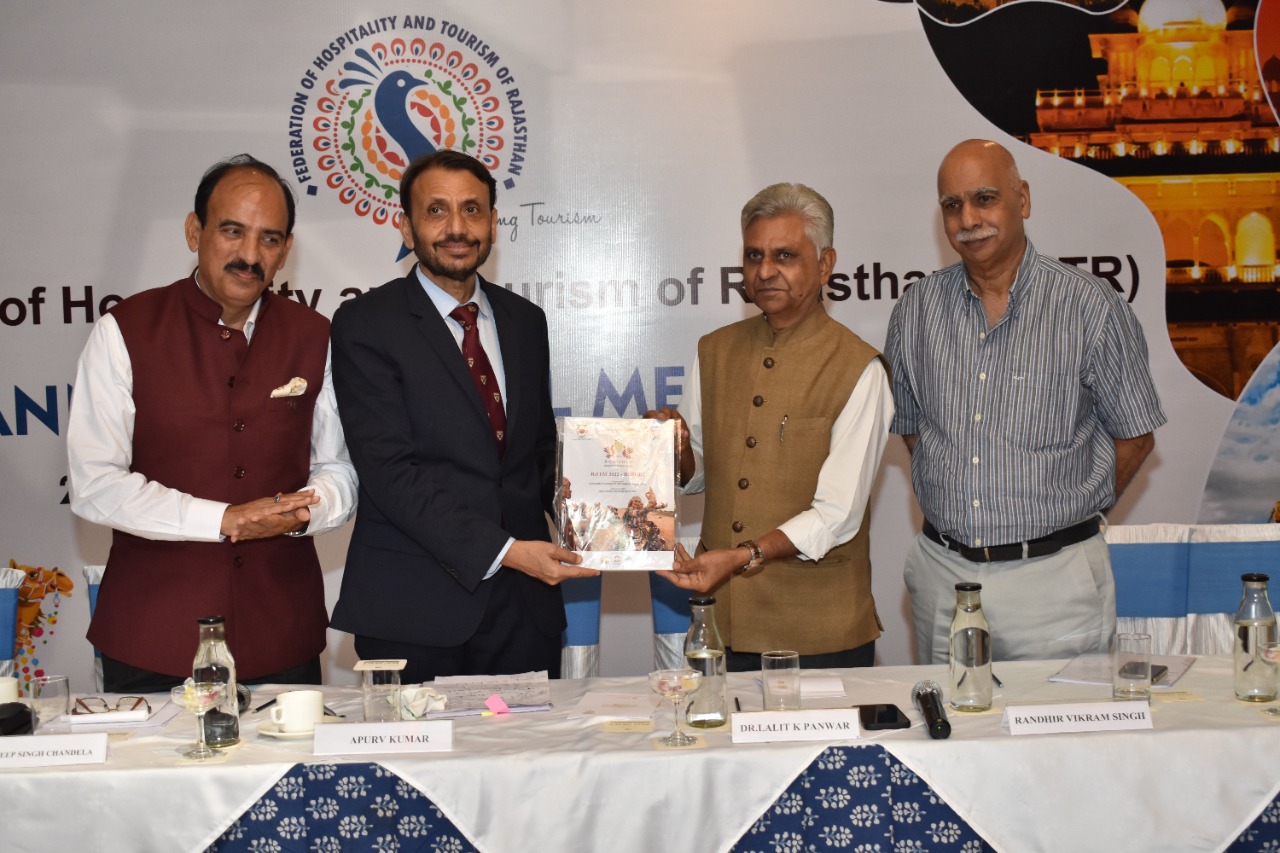 Press Release
The 7th Annual General Meeting of the Federation of Hospitality and Tourism in Rajasthan (FHTR) was organized at Hotel Clarks Amer. On the occasion, the patron of FHTR and Former Secretary of Tourism, Government of India, Mr. Lalit Panwar discussed the way forward for a profitable yet sustainable model of tourism in terms of employment, economy and environment. He said that the different resources of tourism should be tapped to utilize their full potential but it is also equally important to value and safeguard them.
Earlier, the FHTR President, Mr. Apurv Kumar gave a detailed presentation outlining the milestones of organization from July 2021 till now. These included achieving the Industry Status for Tourism, Rajasthan Domestic Travel Mart, promotion of various aspects of tourism through digital marketing campaigns, among others. On behalf of FHTR, Mr. Kumar also profusely thanked the Chief Minister, Mr Ashok Gehlot and the Department of Tourism, Government of Rajasthan for extending their support to FHTR and tourism sector . A copy of the detailed report of the Rajasthan Domestic Travel Mart 2022 was also presented to Mr. Panwar by the President of FHTR.
Treasurer, FHTR, Mr. Tarun Bansal presented the annual budget report including the profit and loss account. Senior Vice President, Mr. Kuldeep Singh Chandela shared the idea of organizing a gastronomy related seminar and event in Rajasthan and move beyond the culinary staples .
The Vote of Thanks was extended by Past President, FHTR, Mr. Randhir Vikram Singh.
Also present on the occasion were Vice President, FHTR, Khalid Khan, Hony. Secretary General, Mohan Singh and other executive members of FHTR