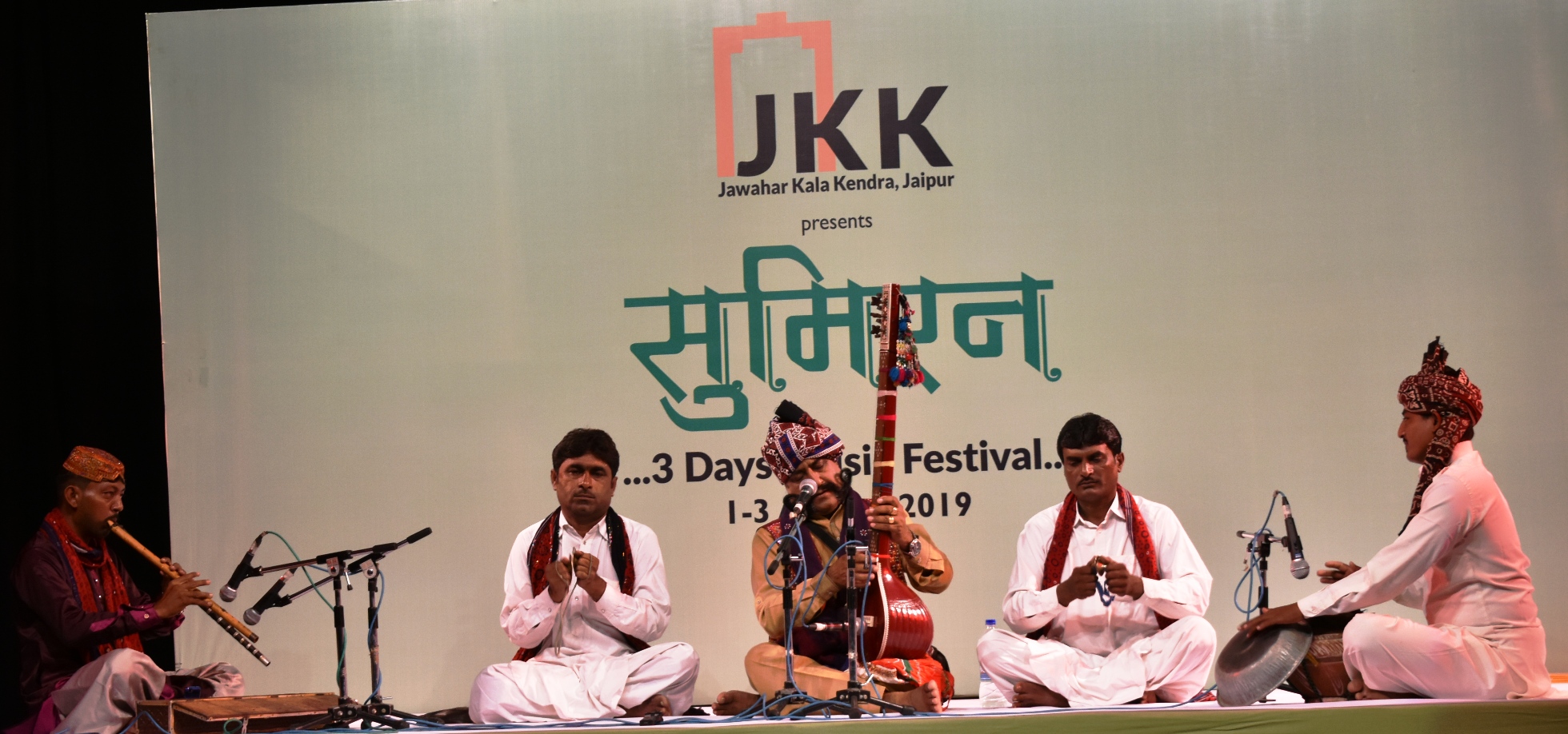 Press Release
The devotional music festival 'Sumiran' began at Jawahar Kala Kendra (JKK). On the first day of the festival, renowned folk singer Maura Lala and Group left the listeners mesmerized by the melodious performance of their 'Kabir Bhajans'  The beauty of folk singing and the portrayal of 'Nirguna Dhara' saint Kabir was evident in the wonderful performance by Maura Lala. The audience appreciated and applauded the artistes several times during the performance.  The Additional Director General (ADG), JKK,  Furqan Khan was present on the occasion.
The event began with  'Ganpati Vandana'. After this Maura Lala sang 'Mai Vaari Jau, Balihari Jau Re, Mhara Satguru Aangan Aya Re, Mai Vaari Jau Re' based on 'Raga Malhar' was presented. He also sang bhajans like 'Chhod Ke Mat Ja Ekli Banjara' based on 'Raga Sarang' and 'Teen Taal'. The accompanying artistes were Sukhdev on Jhanj, Mohanlal on Ghada Gamela, Amjad on Algoza and Bhikhabhai on Manjire.
'Haveli Sangeet' tomorrow
On the second day, 2 August 'Haveli Sangeet' based on the 'Nathdwara Gharana' of Rajasthan will be performed. Pandit Bhagwati Prasad Gandharva and group, Vadodara will sing praises of Lord Krishna in their performance. The next attraction in 'Sumiran' festival will be the programme of 'Qawwali Gayan' sponsored by Maulana Abul Kalam Azad Arabic Persian Research Institute, Tonk by Aasif and Aarif party on 3 August. These programmes will begin at 7 pm at Rangayan. The entry to these programmes is free to the visitors.