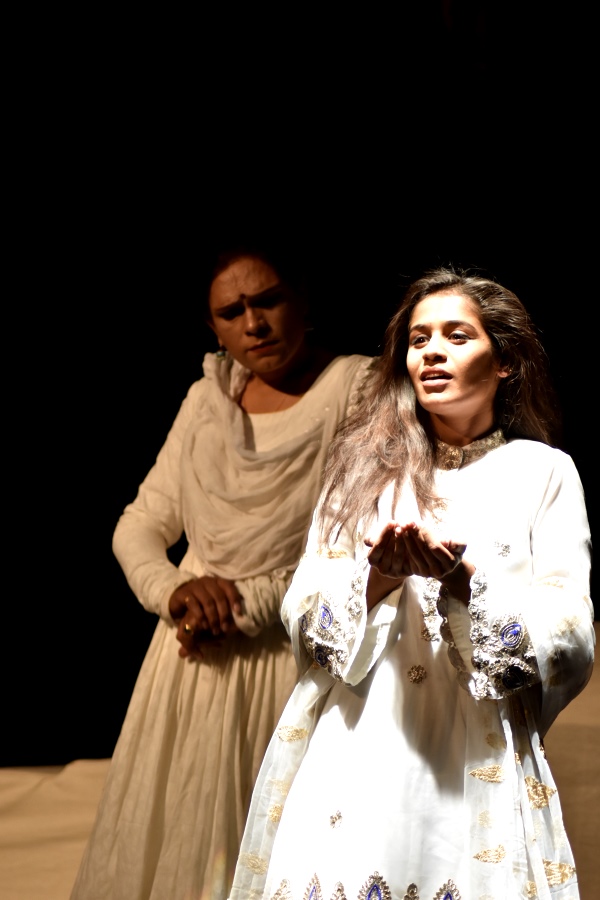 Press Release
The 3 day 'Young Directors Theatre Festival' began at the Jawahar Kala Kendra (JKK) with the staging of a play titled 'Mira', directed by Sahil Ahuja. It was based on a play by Gurcharan Das and translated by Chirag Khandelwal.
The play revolved around the story of a princess who eventually turned herself to the devotion of a figure who could not reciprocate feelings like a human. The play opened with a scene in which 5 narrators representing the Urdu language were engaged in a discussion about love. Further proceeding, a chain of scenes beautifully depicted the life of Mira exploring how she developed deep devotion for Krishna, her sister-in-law's jealousy and attempt to murder Mira as well as how the vessel full of poison turned to nectar when Mira drank it.
The play also highlighted the less talked about state of Mira's husband when she left the household for her devotion. The play significantly traced the journey from Mira, the princess to Mira Bai, the much loved devotee of Krishna. The use of Hindustani language (Hindi and Urdu) played a pivotal role in enhancing the beauty of the act.
The cast was played by Bhanu Priya Bhatiya, Anuranjan Sharma, Garima Sharma, Saurabh Soni, Rohan singh, Annie R Malik, Shreya Arora, Rohan Singh and Saurabh Soni.