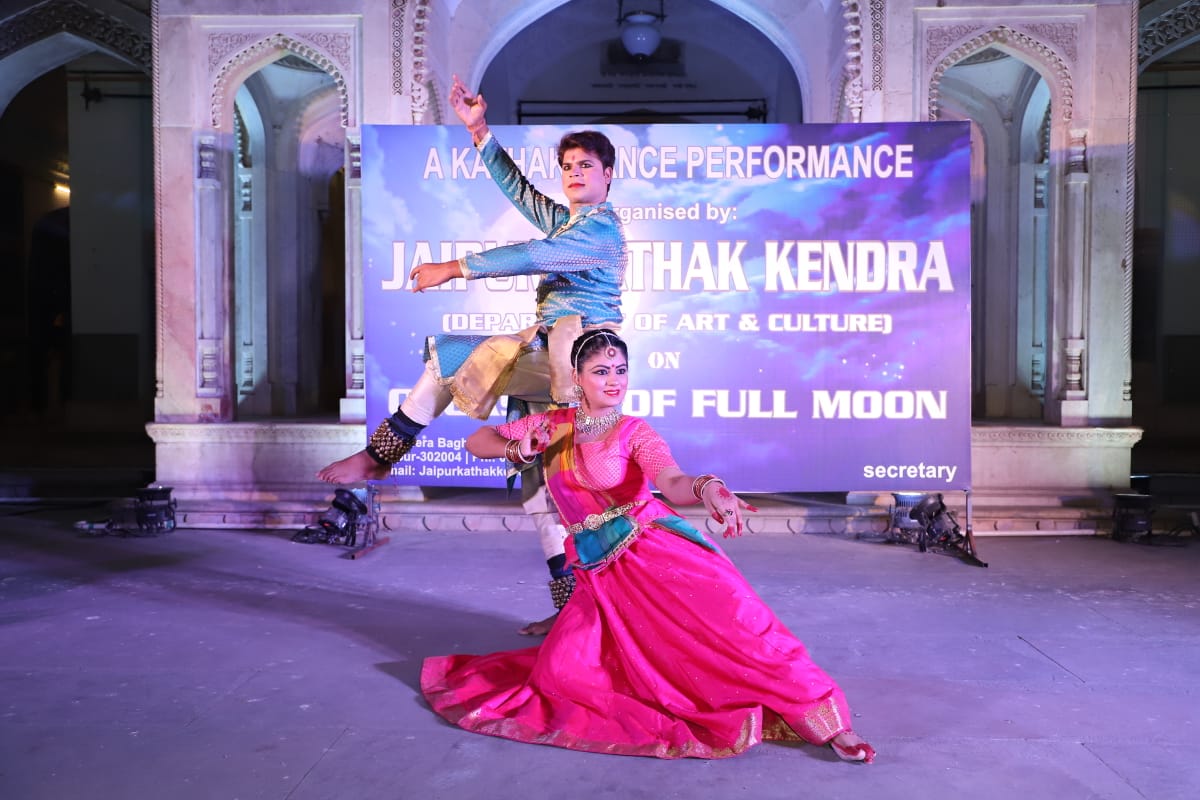 Press Release
To promote night tourism in the city, Kathak dance performances of the Jaipur Gharana were organised by the Department of Archaeology and Museums, Government of Rajasthan and Jaipur Kathak Kendra at Albert Hall and Amber Fort on Friday. The programmes were directed by Kathak gurus Dr. Shashi Sankhla and Pt. Rajkumar Jawda. These dance performances are organised on the full moon nights of every month.
Kathak at Albert Hall
The programme began with a Shiva stuti performance on the composition of Maharaja Ram Singh's 'Rangeela Shambhu' by Rajeev Singh and Kumari Radhika Arora. This was followed by pure form of Kathak dance like 'thaat', 'uthaan', 'aamad', 'paran', 'kavit', 'tod' and 'tihaai' in Teen taal by Raajev Singh, Niharika Joshi, Radhika Arora and Jhankriti Jain. A performance dedicated to Guru Nanak on the occasion of Guru Nanak Dev Jayanti was also presented by Kumari Sumedha Battacharya. It involved a 'Pad Durga Stuti' composed by Guru Nanak himself.
The performances were delivered by the students of renowned Kathak dancer, Dr. Shashi Sankhla. They were accompanied by Ramesh Mewal on vocals and Harmonium, Mujaffar Rahman on Tabla and Harihar Sharan Bhatt on Sitar.
Kathak performance at Amber Fort
Kathak performances were presented at the Amber Fort by the students of Kathak performer and guru of the fourth generation of Jaipur Gharana, Pt. Rajkumar Jawda. The programme began with the rendition of prayer 'Guru Brahma Guru Vishnu Guru Devo Maheshwara'. This was followed by a performance on Ganesh 'vandana' – 'Gaayiye Ganpati Jagvandan' by  Bhavdeep Kumar Jawda, Anamika, Sanjeev Kumawat, Simran Agrawal, Sangeet Sen, Swati Srivastava and Ritika Srivastava. The highlight of the evening was a presentation of the traditional 'Bandishes' with 'Thaat', 'Aamad', 'Parnamad', 'Chakradhar Tode', 'Tukde', of Jaipur Kathak Gharana.
The performance was accompanied by Saawarmal Kathak on vocals and Harmonium, Parmeshwar Kathak on Tabla, Chetan Kumar Jawda on Pakhawaj, Kishan Kathak on Sitar and Pt. Rajkumar Jawda himself on Padhant.