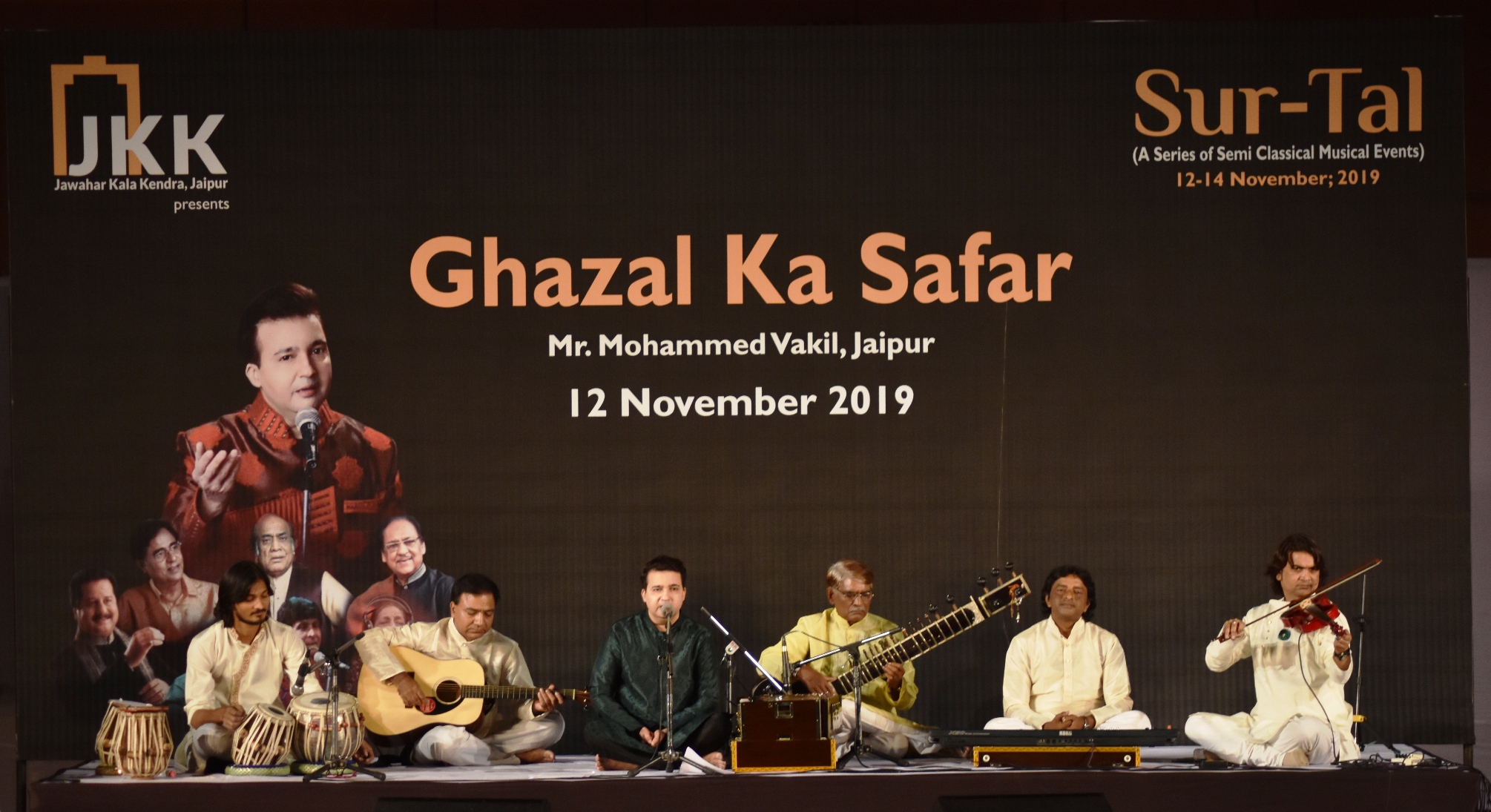 Press Release
The 3-day music festival 'Sur-Tal', organized by the art and cultural hub of Jaipur, Jawahar Kala Kendra (JKK) began on 12 November. Famous Ghazal and Sufi singer, Mohammed Vakil of Jaipur won the hearts of audience with a beautiful rendition of the programme, 'Ghazal Ka Safar'. A large number of Ghazal lovers attended the programme and enjoyed the intensity and rhythm of Vakil's Ghazals.
Mohammad Vakil presented a myriad of Ghazals. These included –'Ranjish Hi Sahi' (Mehdi Hassan), 'Aaj Jaane Ki Zid Na Karo' (Farida Khanum), 'Sarakti Jaaye Hai Rukh Naqab Se Aahista Ahista' (Jagjit Singh), 'Hum Tere Shehar Mai Aye Hai Musafir ki Tarah' (Ghulam Ali) and his own Ghazal 'Ye Kasak Dil Ki Dil Mein Chubhi Reh Gayi'.
During the programme, Mohammed Vakil introduced music lovers to the changing style of Ghazal singing in the past 100 years. Along with the changes in the instruments and vocals of Ghazal singing, he also informed about changes in the Ghazal listeners in the country. He gave information about the journey of Ghazals from the elite to the common people. He further highlighted the contribution of famous Ghazal singers like Begum Akhtar, Mehdi Hassan, Ghulam Ali, Jagjit Singh, Bhupendra, Pankaj Udhas.
He was accompanied by Pt. Harihar Sharan Bhatt (Sitar), Nizam Khan (Guitar), Gulzar Hussain (Violin), Ashfaq (Keyboard) and Miraj Hussain (Tabla) during the performance.
It is to be noted that Mr. Mohammed Vakil has been conferred with several awards like 'RD Burman Pancham Samman' by Abhinav Kala Parishad, Pathankot and 'Rajasthan Sangeet Natak Akademi Award 2001' by the Government of Rajasthan. Mr. Vakil has also been a mega final winner of the prestigious singing reality show, 'Saregama'. He has also performed in many Bollywood films like 'Veer-Zara'.
Bhajan and Sufi Mystics on 13 November
On the second day of the semi-classical musical event, 'Sur-Tal', Ms. Vidhi Sharma will present 'Bhajan and Sufi Mystics' at 6.30 pm at Madhyavarti. The performance will be a soulful musical rendition of Sufi Mystics ranging from Meera, Kabir, Amir Khusrow to Bulleh Shah. Ms. Vidhi is a professionally trained singer in Hindustani Classical and Light Classical Music. She has been awarded the GIMA Award – Global Indian Music Award for the album 'Cinema'. She has also done playback singing for movies like 'Paan Singh Tomar' and short films on YouTube like 'Bunkar'.
'Koshish Karne Walo Ki Haar Nahi Hoti' on 14 November at Rangayan
'Sur-Tal' will conclude on Thursday, 14 November with 'Koshish Karne Walo Ki Haar Nahi Hoti' at 6.30 pm at Rangayan. The twin brothers, Geet Bhatt and Sangeet Bhatt will awaken the passion and spirits of listeners by presenting various motivational stories and Shayaris. During the programme, they will converse with the creator of Mohan Veena, Pt. Vishwa Mohan Bhatt and talk about his life and struggles. There will also be a brief musical performance by Pt. Vishwa Mohan Bhatt. The programme also includes music by Pandit Alok Bhatt and the dramatization by senior painter, Rajiv Acharya.