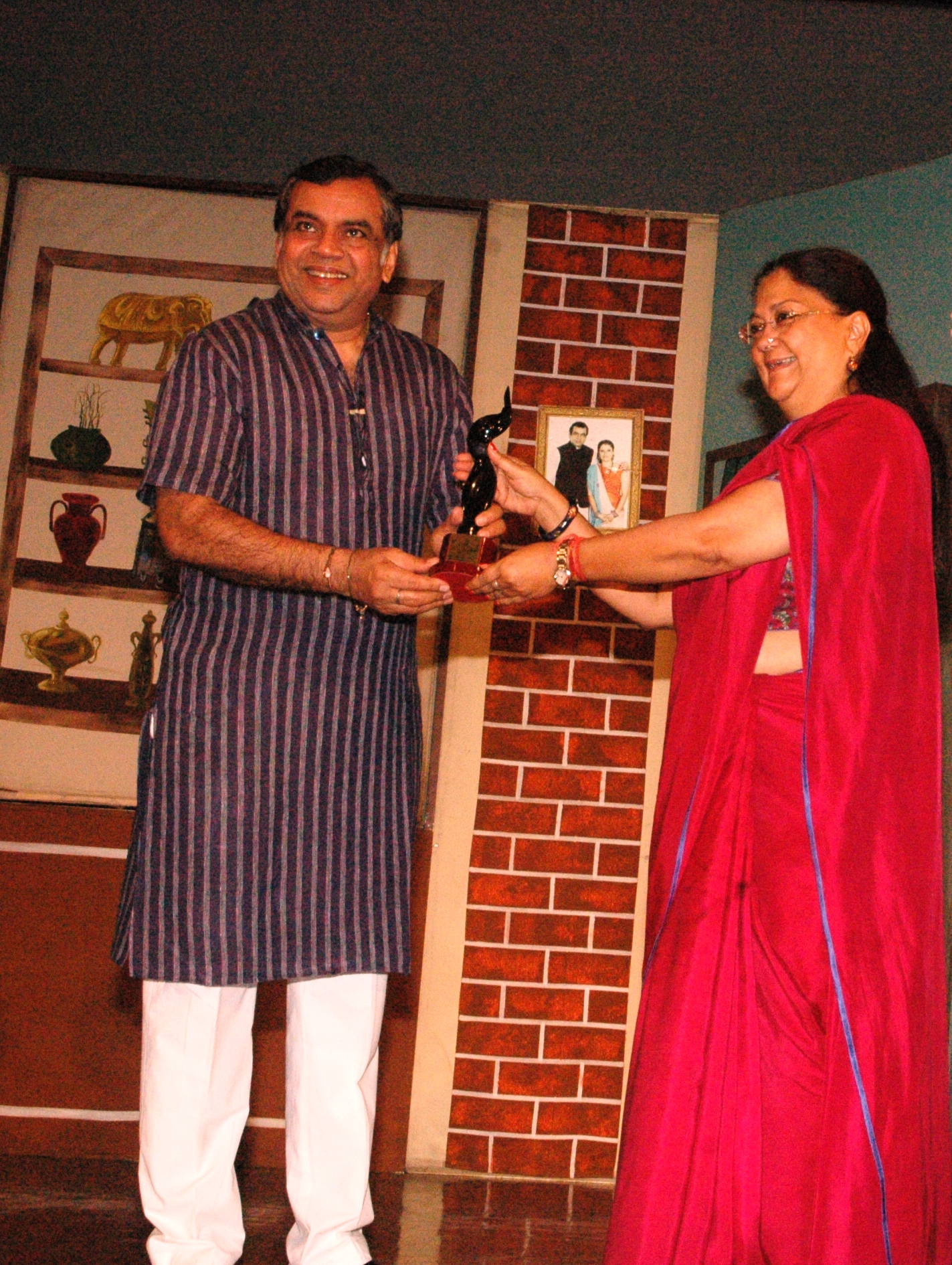 Press Release (photographs attached)
Chief Minister Inaugurates the prestigious theater festival
Jaipur, 21 November: With happening events in the Pink City like Jairangam, Jaipur Literature Festival, Sufi Festival and the World Music Festival, Jaipur is fast emerging as a hub for performing arts. This was stated today by the Rajasthan Chief Minister, Ms. Vasundhara Raje at the inauguration of the week long theater festival of Pink City —  Au-Jairangam.  She further said that the theatre festival is presenting to the Jaipur audience 33 plays and 200 street plays along with various seminars and workshops and is indeed a fitting embellishment to Rajasthan's cultural scape.
On the occasion, the Chief Minister also gave away the Pollywood Jairangam National Award for Life Time Contribution in Theater to veteran actor Mr, Paresh Rawal.
In his welcome address  President 3 M Dot Bands, Mr, Narendra Gour gave an overview of the week long activities that will take place under the ambit of Au-Jairangam.
Later the play 'Krishan v/s Kanhaiya', directed by Umesh Shukla, in which veteran actor Paresh Rawal performed was also staged.
About the play
The play Krishan v/s Kanhaiya relating to social issue of blind faith among people  revolves around a small time street smart, conman, antique dealer, Kishan, who is also an atheist. He is is married to a very religious woman. There is always an argument about religion in the house. Hilariously funny situations are created due to this conflict. Suddenly, Kishan's shop is destroyed by earthquake. Insurance company declines the claim as 'Act of God'.
Unsuccessful in getting money from Insurance, Kishan sues God since it was an Act of God that destroyed his shop. This decision sends a shock wave in the family and in the society. It creates a media frenzy about the case. Though he is not a lawyer but fights the case himself. Some of the best and most light hearted court scenes are created with arguments on both sides of the religion and the debate on existence of God. God visits him in person to explain that he cannot win and should withdraw the case.
However, he wins the case. Media reports about his actions of fighting against the people who exploit God and religion, makes him a semi-God after death. People start praying in his name and build temples for him. Kishan pleads God to give him re-birth so he can spread the true meaning of prayers and religion to public.