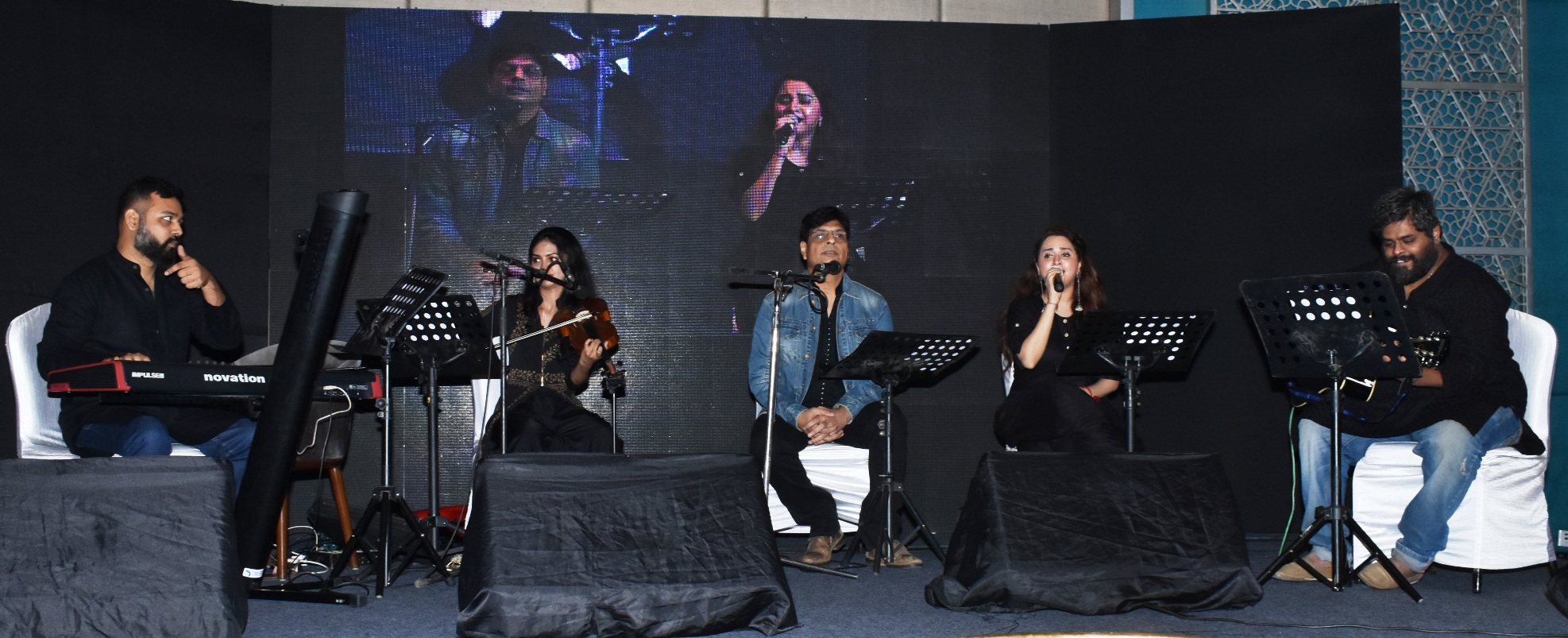 Press Release
On the occasion of the completion of 40 episodes of Kalam in Jaipur — Ink Band, the first ever poetry band by renowned poet and lyricist Irshad Kamil performed soulful renditions for the Jaipurites at Hotel Hilton . The band performed simple, conversational songs and poems with music that connected with the listeners and poetry aficionados across all age groups present at the event. In essence, it was an interpretation of poetry in its pure form through music.
To the accompaniment of violin, guitar and keyboards –  Kamil narrated some heart rendering love poetry. It spoke about the longing for love and its attempt to attain it with all the impediments. The heart, Kamil says, does not listen to sense. Apart from Kamil, the other members of the band were Agnel Roman, Prajakta Shukre, Ragini Shankar and Aniket Kar.
Earlier, Honorary Convener, Prabha Khaitan Foundation Activities Rajasthan & Central Affairs, Ms. Apra Kuchhal outlined the journey and objectives of Kalam in Jaipur. The aim is to promote Hindi language, have intelligent interactions and engage with the cultural fabric of our country, said Ms. Kuchhal. She also threw light on how the initiative has spread in other cities like Raipur, Meerut, Agra, among others.  A short film showcasing the journey of Kalam so far was also shown. On the occasion the members of Ehsaas Women group from North India and Central India as well as associates from across the country were present.
It is worth noting that the journey of Kalam Jaipur started in July 2015 and since then it has become a much awaited event for the Jaipurites. Some of the authors who have attended  Kalam Jaipur include General VK Singh, Lakshmi Narain Tripathi, Narendra Kohli, Anant Vijay, Yatindra Mishra, Chitra Mudgal, Ashok Vajpai, Amish Tripathi, Ashwin Sanghi,  Manoj Muntashir, among others.
The Kalam Series is presented by Shree Cements and is an initiative of Prabha Khaitan Foundation.