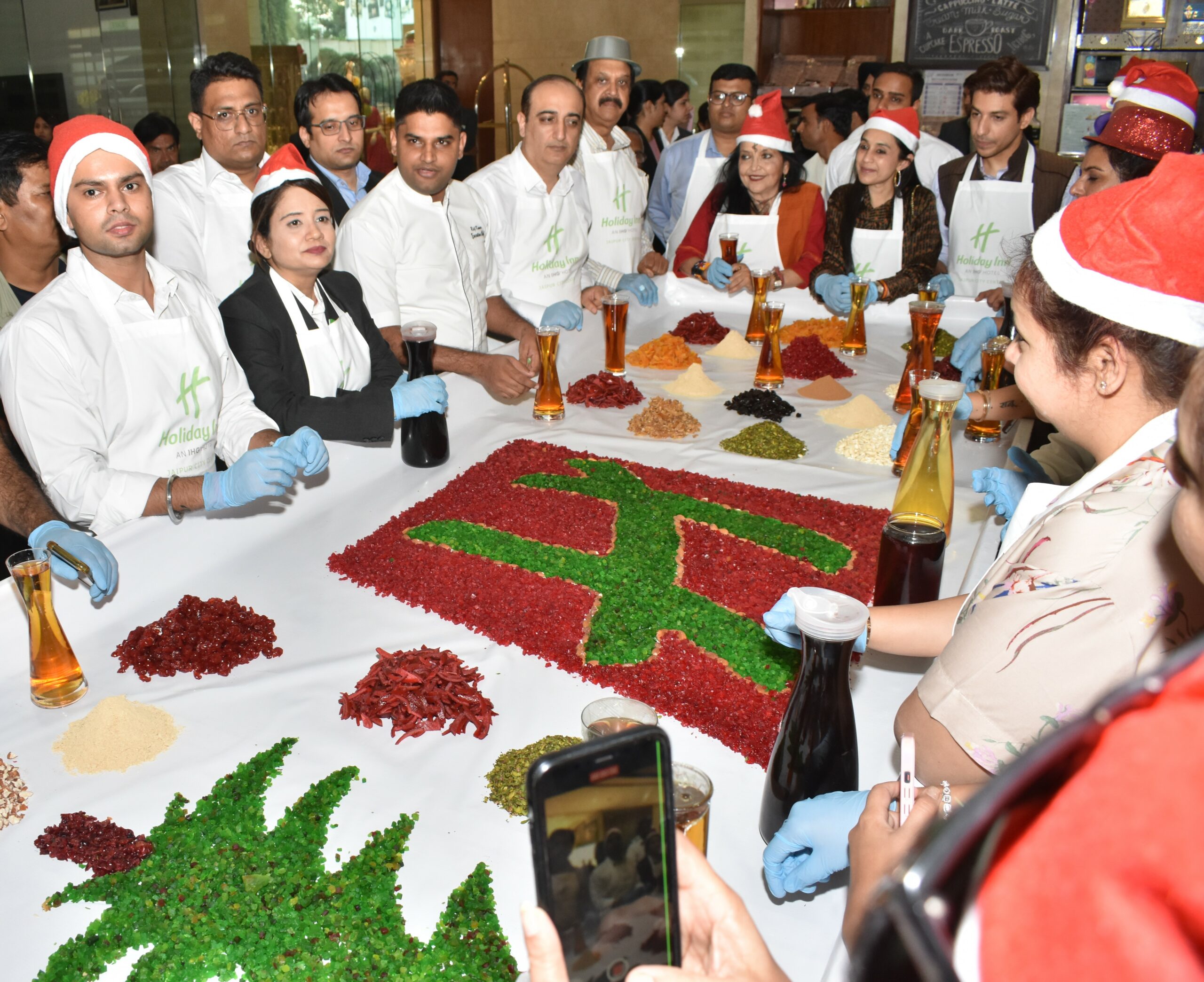 Press Release
Holiday Inn Jaipur City Centre welcomed the festive season by celebrating the age-old tradition of cake mixing with the who's who of the Pink City. Adorned in red and white décor themed Christmas, the ambience was set at the hotel lobby for the annual Cake Mixing Ceremony. To celebrate the beginning of the joyous festive season, both the hotel staff and guests participated in the ceremony.
The guests donned aprons, gloves, and Santa caps, and gathered around the 15 feet long table to prepare the fruit mixture for the perfect Christmas cake. A wide array of fruits, like raisins, glazed red cherries, orange peel, tutti frutti, black currants, dates, figs, dried apricots, and prunes, were added in with nuts and flavourful spices into a large cauldron. The mixing reached a spirited level as the guests poured the choicest of spirits into the fruit mixture. The kitchen staff of the Hotel then topped it up with golden syrup, molasses, honey, and vanilla essence.
On this occasion, General Manager, Mr Imit Arora said: "We at Holiday Inn Jaipur City Centre gloriously celebrate our cake mixing ceremony as the yesteryears. It was delightful to host this year's ceremony which marks the beginning of the festive season. The evening was filled with joy, laughter, and many unforgettable memories. We look forward to hosting many more festivities in the upcoming season."
The Executive Chef of the hotel, Mr Raj Kumar said that Cake Mixing Ceremony is a ritual which hails from Europe, wherein the mixture is emptied into large containers and stored for days before Christmas with occasional stirring in between. This tradition is followed all across the globe and heralds the Christmas season which is incomplete without the rich and sumptuous Christmas cake. Holiday Inn Jaipur always promises its guests the best Christmas cakes of the season.
After the traditional cake mixing ceremony, the mixture was put into airtight bags and left to mature until around Christmas, when it will be blended with the cake batter and baked. Guests also enjoyed a sumptuous welcome hi-tea with a variety of canapés, petit fours, and warm mulled wine to add to the festive charm of the evening.