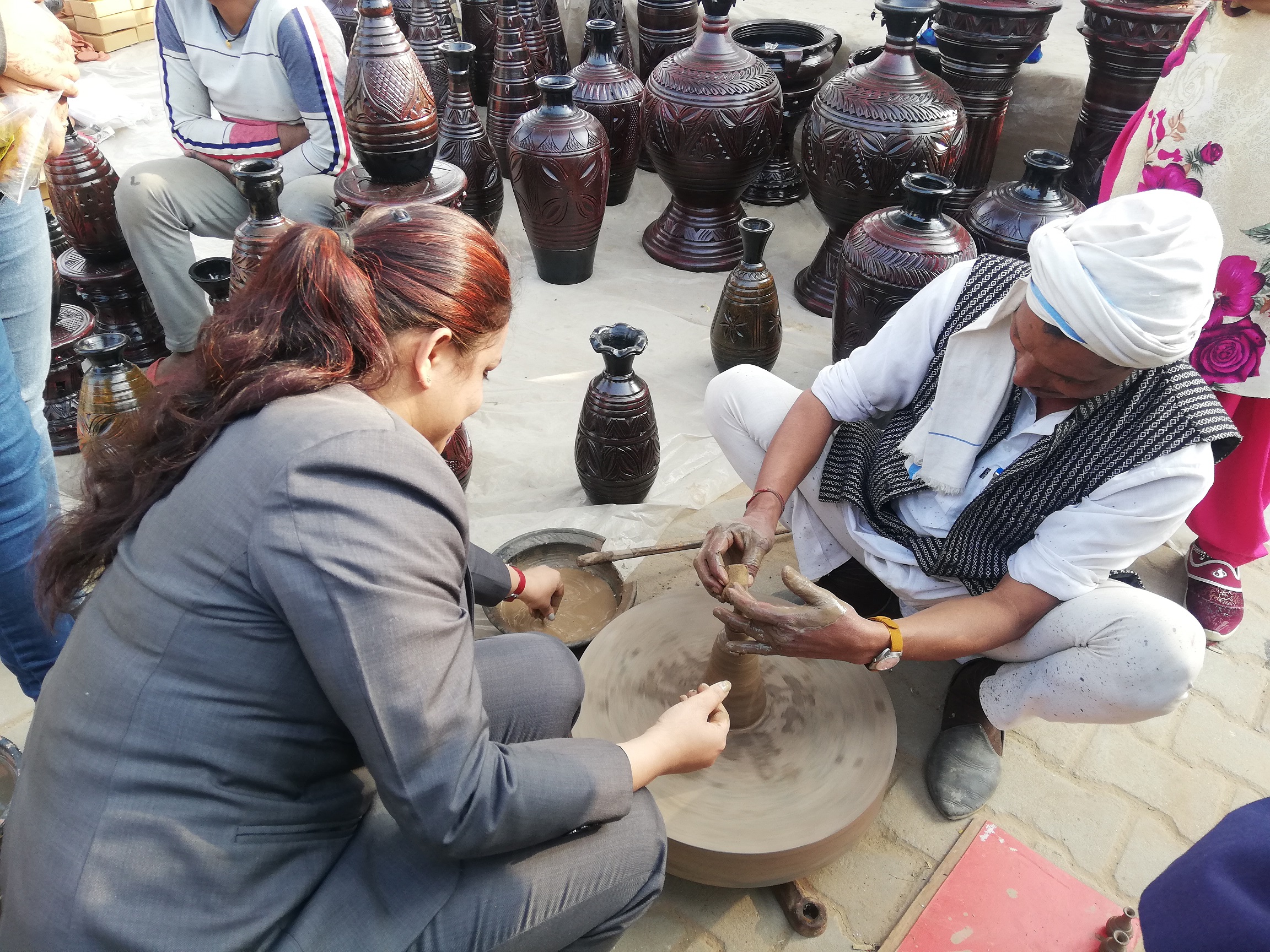 Press Release
On the third day of the 10-day 'Pink City Festival', a combination of colourful costumes and local instruments won the hearts of visitors at Shilpgram, Jawahar Kala Kendra (JKK). The audience enjoyed the numerous traditional and cultural folk dances, theatrical and musical performances at the festival.
At the festival, folk artistes performed 'Kuchamani Khyal', a traditional folk theatre of Rajasthan. It was presented by Ugam Raj and Daya Ram from Merta. The drama followed the story of Raja Harish Chandra's Kanyadan. They performance began with 'Gajanand Vandana' and also presented 'Lok Gayan – Khayal'. This is a folk-theatre tradition from the Nagaur region, and on the decline. The artistes included – Behru Lal, Prakash, Shravan, Suka Ram, Mithoo Lal, among others.
In the evening in special performances included – 'Mayur Nritya' by Ashok from Deeg, in which Radha and Krishna love story was brought to life in 'Brajhori'. The audience also enjoyed traditional dances and music of Rajasthan like – Khari by Bannar Singh from Alwar, Langa Gayan by Bundu Khan from Barmer, Bhapang by Yusuf from Alwar Chari by Virendra Singh from Kishangarh and Bijli Ger by Achla Ram from Jalore. 'Kalbeliya' by famous folk dancer Kamla earned a lot of applause from the audience.
The afternoons at JKK were filled with folk art performances from various parts of the State. The audience enjoyed puppet show with wooden puppets dressed in bright and colourful attires. 'Behroopiya' presented young men dressed up as mythological characters like Krishna, Shiva and Hunter. Magic came alive at the festival with a magician performing entertaining illusions for the visitors. Mellifluous Algoja performance presented by folk musician, Banwari Lal was a retreat into the rhythms of Rajasthani classical tunes. The folk singers of Rajasthan presented 'Bhopa Gayan'. Another major attraction of the festival was 'Kacchi Ghodi' – a unique dance form wherein men dressed in radiant costumes danced to the tunes.
Demonstrations at the Exhibition
Various articles made from of Terracotta are being exhibited at the festival as well. These include – vase, showpieces, miniatures, garden pots and other decorative pieces. Artisans are also demonstrating folk art culture of creating terracotta using a pottery wheel. Visitors are enjoying moulding wet clay into various shapes and objects.
Similarly, Nakashi work on brass objects is also being demonstrated by artisans. Nakashi art is a heavy procedure. After cleaning and polishing metal pieces intricate patterns are craved into the metal using nail and hammer. After this colour is added to them with expert craftsmanship and talent. Visitors at the festival are enjoying this artwork which is unique in itself and not to be found anywhere and everywhere.