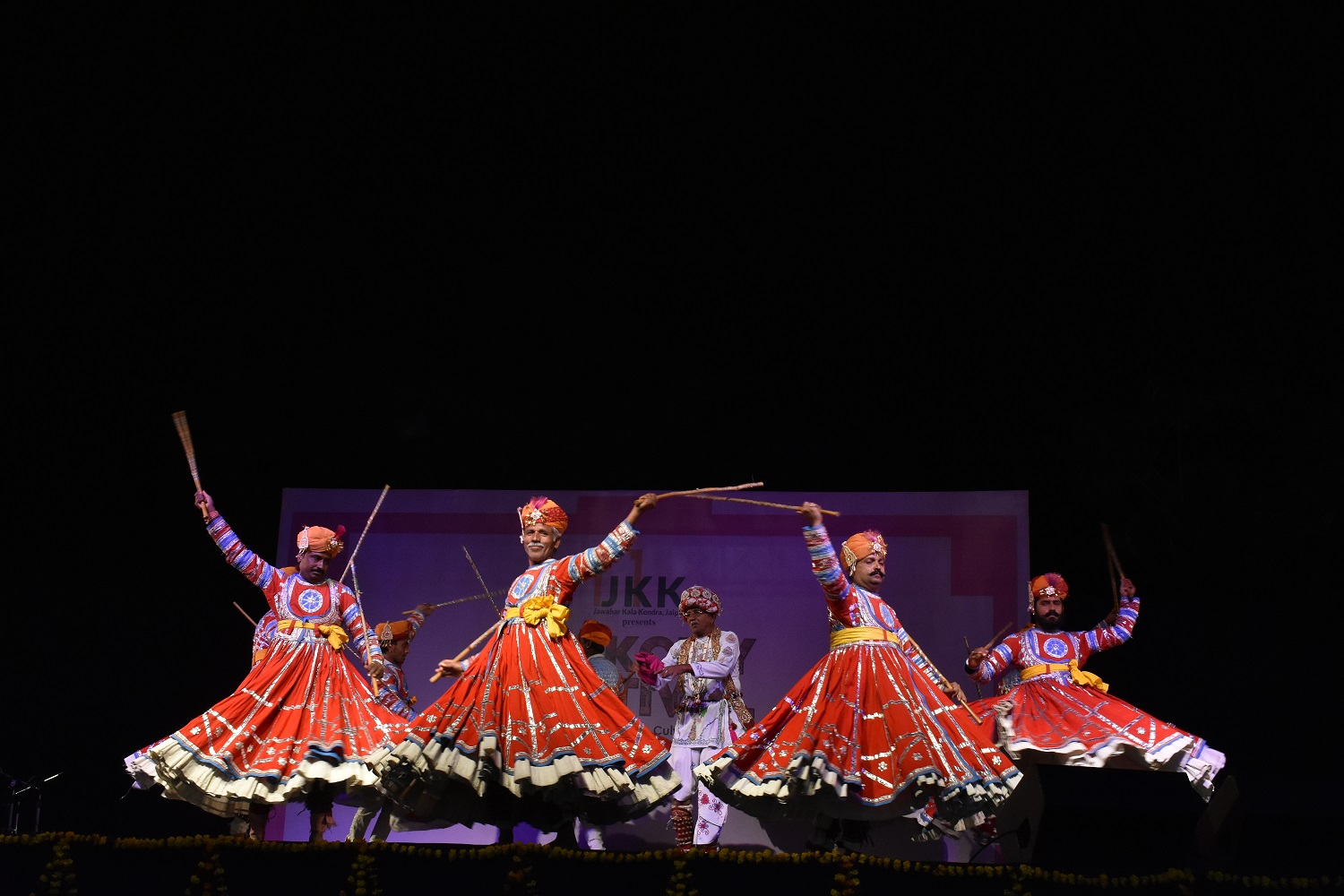 Press Release
The second day of the ongoing 10-day Pink City Festival witnessed a melange of colourful and cultural folk dances, drama and music performances at Shilpgram, Jawahar Kala Kendra (JKK). The visitors also had the chance to learn about the various handicrafts of Rajasthan like handmade leather items and traditional block printing.
The evening witnessed the charm of the old folk art of 'Rammat' Bikaner. The performance showcased glimpses of the royal court of Nagaur's Amar Singh Rathore. The artistes included – Umesh, Ram Narayan, Hari Narayan, Anand, Gautam, Vishodha, Babu Lal and Sunil. Other artistes were – Akshay (Harmonium) and Vijay (Nagada).
Following, the festival reverberated with the powerful beats of a Nagada ensemble by Gopal Singh from Jaipur. After this a special performance by the 'Manganiyaar Symphony' presented by Mushtaq Khan. The symphony rendered the popular Rajasthani folk music, 'Nimbooda Nimbooda' and 'Kesariya Hazari Gul Ro Phool'. The artistes of the symphony included – Nisar, Ashraf, Saleem (Vocals); Swaroop (Dholak), Aladdin (Veena), Dilawar and Manzoor (Khartal); Nizam (Algoza); Majid (Murli); Ghevar (Morchang); Hussain (Sarangi); Tayam (Dhol); Khaiti (Cheep) and Bhura (Matka). The audience also enjoyed traditional dances and music of Rajasthan like – Deru by Ladu Ram from Churu, Lal Angi Gair by Paras from Barmer, Mayur by Ashok from Deeg, Bhawai by Prem Prakash from Udaipur and Bhapang- by Yusuf from Alwar.
The afternoons at JKK were filled with folk art performances from various parts of the State. The audience enjoyed puppet show with wooden puppets dressed in bright and colourful attires. 'Behroopiya' presented young men dressed up as mythological characters like Krishna, Shiva and Hunter. Magic came alive at the festival with a magician performing entertaining illusions for the visitors. Mellifluous Algoja performance presented by folk musician, Banwari Lal was a retreat into the rhythms of Rajasthani classical tunes. The folk singers of Rajasthan presented 'Bhopa Gayan'. Another major attraction of the festival was 'Kacchi Ghodi' – a unique dance form wherein men dressed in radiant costumes danced to the tunes.
Exhibitions
As many as 100 stalls are a part of the festival. These stalls include – pottery, handicrafts, traditional jewellery, traditional attire, spices and much more. The products are available for sale. There are also several demonstrations of handicraft preparations also being showcased. Leather purses, bags and other products by artisan, Ezaz from Sinhwada in Darbhanga district of Bihar, are excellent specimens of high-quality handcrafted items at the exhibition. Items likes batik print purses and bags, denim bags with Kantha work as well as lipstick and jewellery cases are also being greatly favoured by the women.