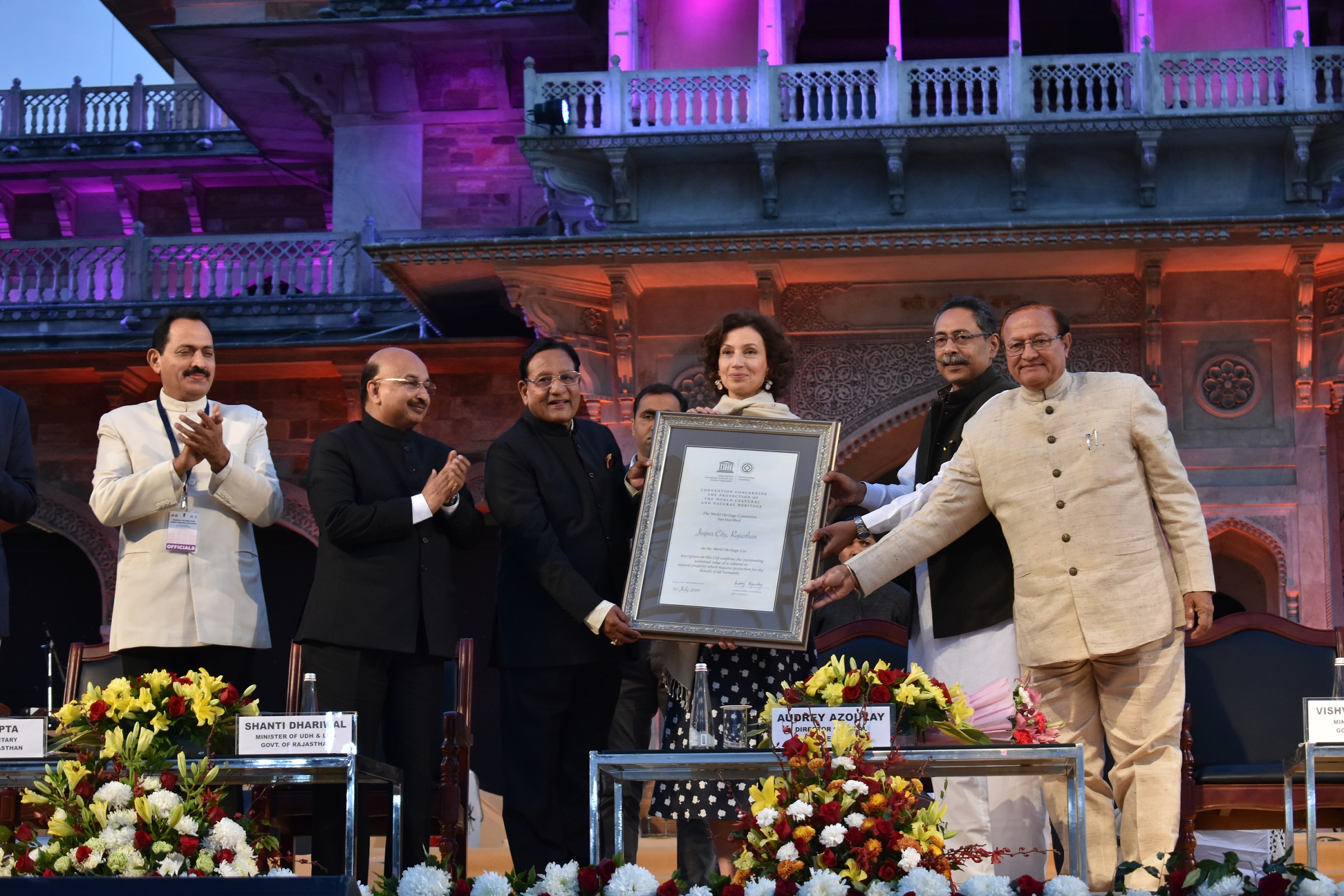 Press Release
The Minister of UDH & LSG, Shri Shanti Kumar Dhariwal dedicated the UNESCO Heritage Certificate to the people of Jaipur at the Albert Hall. The Director General of UNESCO, Ms. Audrey Azoulay was also felicitated on the occasion. She is on a one-day visit to Jaipur. Also present on the occasion were –Minister of Art & Culture, Dr. B.D. Kalla and Minister of Tourism, Shri Vishvendra Singh.
On the occasion, scintillating and elaborate folk performances were presented by as many as 131 artistes from Rajasthan. The grand affair was organised by Government of Rajasthan to mark the inclusion of Jaipur city in World Heritage by UNESCO.
The ceremony hosted a cultural evening under the direction of renowned Choreographer and Theatre Director, Padmashri Banshi Kaul. It was curated by Mr. Furqan Khan. The highlight of the cultural programme was Kathak dance performance by the famous Jaipur Gharana. The evening also witnessed mesmerising performances like Kalbeliya by Shamla from Jodhpur, Bhavai by Prem Prakash from Udaipur, Chari by Anita Pradhan from Jaipur, Lal Angi Ger by Rajendra from Barmer and Sahariya Swang by Gopal Thanuk from Bara.
Master musician, Sardar Khan from Alwar brought forth the music of the Langa and Manganiyar communities of Rajasthan. The artistes drenched the atmosphere in folk music with their unique and melodious voice. Also, Bhapang recital was presented by Yusuf Khan from Alwar and Swar Lahiri was presented by Mustaq Khan from Barmer.
Apart from this, a special Folk was directed by noted Tabla artiste, Nisar Khan. The entire presentation was curated and choreographed to showcase multiple folk arts simultaneously. A medley of folk instruments unique to Rajasthan like – Morchang, Matka, Khartal, Sarangi, Dholki, among others made the audience nostalgic about the great history and the sounds of Rajasthan.