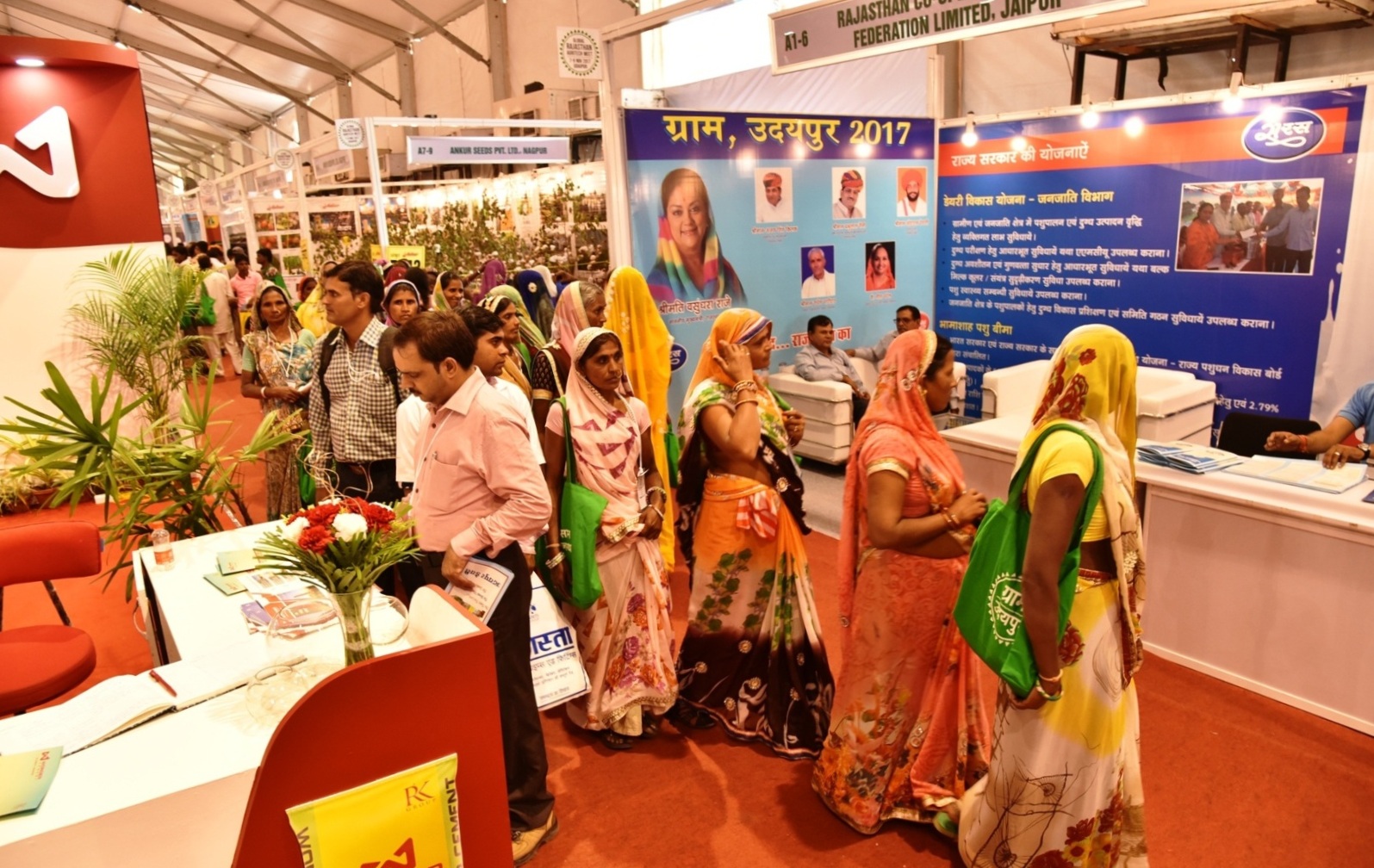 Press Release:
Spread over an area of over 4000 sq. mtrs, the Global Rajasthan Agritech Meet (GRAM) Udaipur exhibition brought in throngs of people to its colourful displays. This time the exhibition also occupied an outdoor space of over 3200 sq mtrs. Over 150 public and private sector companies set up stalls to display Agri Inputs, Organic Farming, Irrigation, Plasticulture, Farm Machinery, Post Harvesting Technologies and Equipment, Agri Diversification and Retailers, Dairy and Livestock and Food and Food Processing Technologies. The 'GRAM' Udaipur was jointly organised by the Government of Rajasthan and Federation of Indian Chambers of Commerce and Industries (FICCI).
A special pavilion, 'Digital Rajasthan' was set up by the Government of Rajasthan. Visitors were given the chance to experience Virtual Reality (VR) sets and explore the common sights of attraction of Jaipur. The pavilion also featured help desk for Bhamasha Yojana, Rajaswa Nyayalaya, Rajmandi and Raj Sampark. The stall by National Seeds Corporation Ltd. featured the new and unique automated seeds vending machine. A variety of high quality and new seeds like onion, cauliflower, carrots, corn, fenugreek, among others were available for purchase at the minimal cost of Rs. 10 only.
To promote the opportunities in the dairy sector a special pavilion by Rajasthan Co-operative Dairy Federation was also set up. The stall displayed the numerous innovations in dairy, facilities available for the milk producers of the State as well as the numerous policies offering incentives and exemptions to those interested in milk manufacturing. Similarly, a pavilion was also set up by the Department of Agriculture, Government of Rajasthan. The pavilion displayed Custom Hiring Centres (CHC); techniques, problems and solutions of organic farming and various methods of water conservation through fertigation.
The outdoor section of the exhibition featured numerous automobile companies like TAFE, Sonalika International, Mahindra Tractors, among others. On display were specialised automobiles and farm machinery for agricultural and commercial use. The companies have managed to gather booking in large numbers from the visiting farmers at the mega event.
Held at the sprawling grounds of the Maharana Pratap University of Agriculture & Technology, Udaipur, the exhibition showcased global best practices and best of technologies suited to the agro-climatic conditions of Rajasthan. With special focus on farm mechanisation, farm machinery like auto seed drill, reverse plough, sprayer, generator, centrifugal pump, among others were also on display at the exhibition.