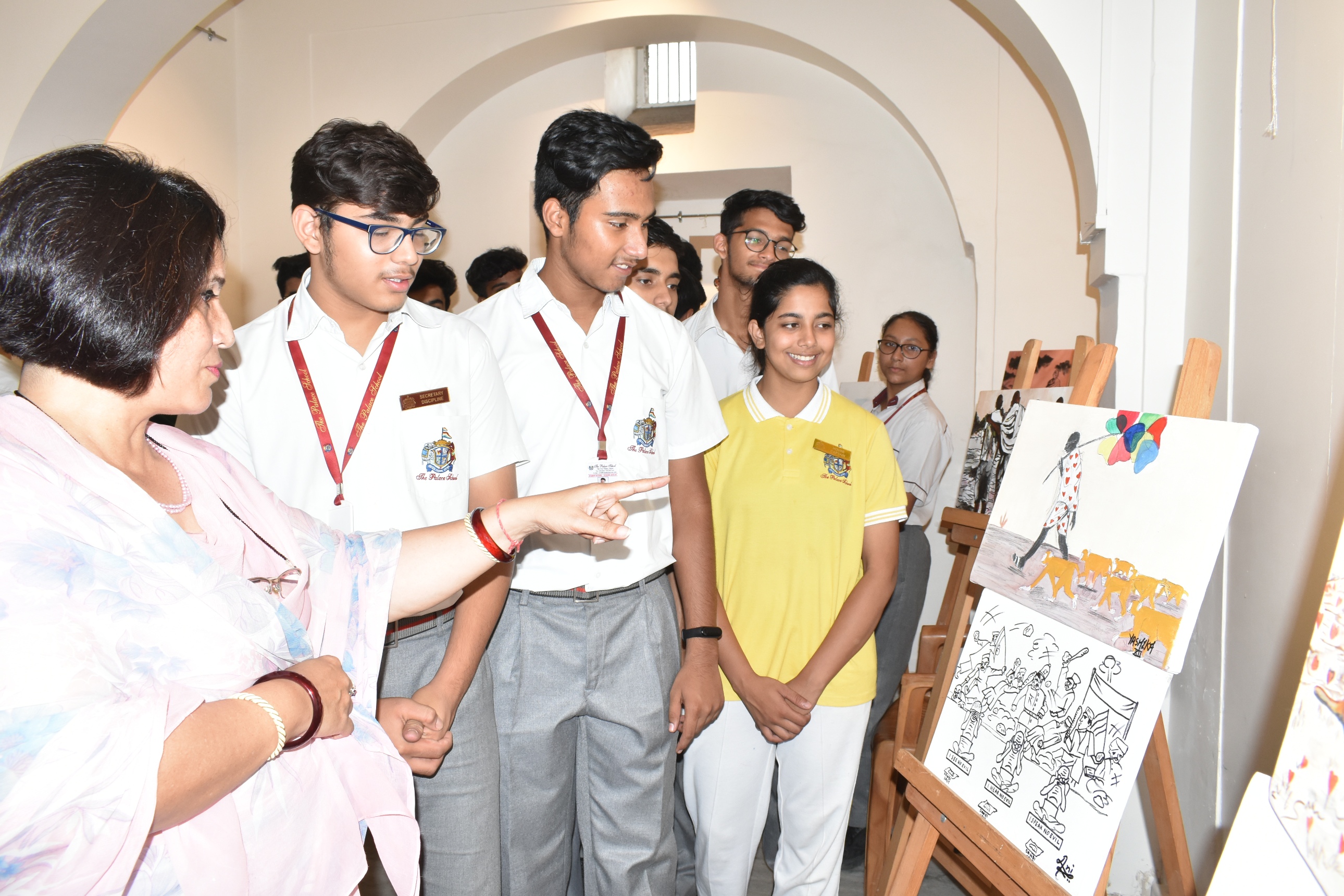 Press Release
More than 2000 students from across the city will be attending the 'Gandhi Darpan' exhibition over 3 days at the New Art Gallery of City Palace. The exhibition which was inaugurated today is a special commemoration of the 150th birth anniversary of Mahatma Gandhi. It is being organised by the Palace School Jaipur and will be on till 3 October. 'Gandhi Darpan' is an attempt to bring Gandhi alive for the school children. Today, over 700 school students visited the exhibition with a difference. This was informed by Principal of The Palace School, Ms. Urvashi Warman.
Ms. Warman further said that 'Gandhi Darpan' comprises of several interesting exhibits which encompass the life of Mahatma Gandhi. These include beautiful artwork done in various mediums, candid photos clicked by students of the city, 3D models by the children all dedicated to The Father of the Nation. Similarly, an extensive stamp collection has also been put up in collaboration with the Philatelic Society of Rajasthan. The collection showcases the important moments of Gandhi life like – the Dandi March, Khadi Movement, First Meet with Jawahar Lal Nehru, among others. An audio clip 'Banu Mai Gandhi' conveys an eloquent message on Gandhi lives in all of us and how one should adopt the 5 human values of Gandhi.
A unique 'Forgiveness Tree' has also been set up by the students. Here, the visitors can write their sorry messages and hang them on the tree. An 'Activity Corner' encourages the students to create prints of Gandhi. Another highly interactive feature for the school children is the 'The Quiz Corner'. The students were seen participating enthusiastically in the quiz, answering lesser-known questions about Gandhi.
A 'Great Charity Sale' was another highlight of the event wherein, teachers of the Palace School donated good clothes and accessories for sale at reasonable prices. The proceeds of the sale will be donated to Bhagwan Mahaveer Viklang Sahayta Samiti (Jaipur Foot) to help sponsor artificial limbs. The exhibition was visited by students of St. Edmund's School, Asian World School, Jaipuria Vidyalaya, Tagore International School, Jayshree Periwal High School, MPS International School and Oxford International Academy.