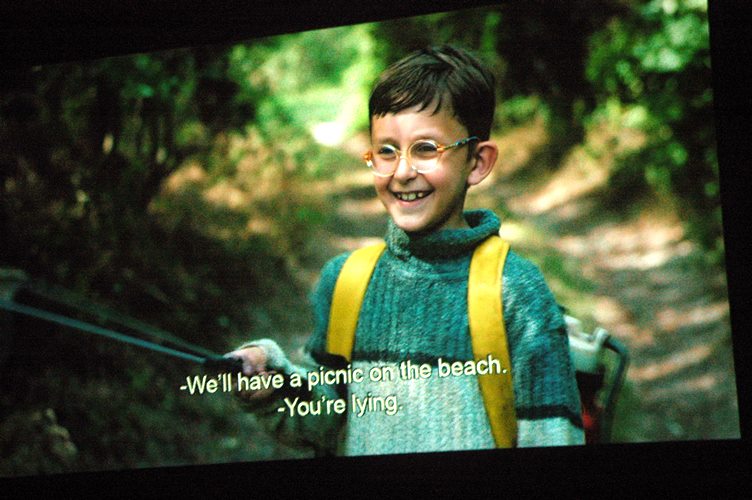 Press Release
The third day of the 5-day European Union Film Festival (EUFF) being held at the Jawahar Kala Kendra (JKK) began with the screening of a film from Slovakia- 'Little Harbour' directed by Iveta Grofova. Later in the day, there was a screening of Denmark film 'Walk with Me' directed by Lisa Ohlin and 'The Man who Looks Like Me' by Andres Maimik and Katrin Maimik from Estonia.
EUFF has been organized by the Delegation of the European Union and embassies of EU Member States in collaboration with JKK. Over the five days, movies from countries like – Austria, Belgium, Bulgaria, Croatia, Cyprus, Czech Republic, Denmark, Estonia, Finland, France, Germany, Greece, Hungary, Italy, Latvia, Lithuania, Luxembourg, Netherlands, Poland, Portugal, Slovakia, Spain and Sweden will be screened.
On Saturday, 4 August, 'Mother Knows Best' from Portugal will be screened at 11 am, followed by '9 Month Stretch' from France at 3 pm and 'Unexpected Journey' from Finland at 6 pm.
The entry to the festival is open to people aged 18 years and above with valid photo id proof. All movies also have English subtitles. The seating is on first come first served basis.
Film Synopsis
'Little Harbour' by Iveta Grofova
The story revolves around 2 children whose innocent play changes their lives forever. The film tries to depict the lives of children who feel safer in the streets than at home, about children seeking out sturdy lifeboats that cross between the world of fantasy and the harsh reality of life.
Jarka is a 10-year old girl who lives with her mother, who does not take up her responsibility. Jarka spends most of her time alone. She dreams of a family and a house by the sea. Pushed by her desire for love and to form a family, she finds herself giving shelter to two abandoned twin babies.  She takes them to her grandmother's garden and looks after them.  The films depict the importance of family in a person's life.
'Walk With Me' by Lisa Ohlin
The film is a Danish drama that revolves around 25 year old Thomas who is deployed on mission in Helmand, Afghanistan where he steps on a landmine and loses both his legs. Seeking treatment at the local rehabilitation centre, he meets Sofie, an ascending ballerina from the Royal Danish Ballet who is helping a relative regain strength after a long-term sickness. While Thomas desperately wants to get back into the field and feels a growing impatience, Sofie offers to help him with a more intense rehabilitation plan.
The movie unveils a journey of how despite their differences they develop a special bond and mutual affection. It also conveys a strong message to never lose hope and to have a strong will power through the trying times.
'The Man Who Looks Like Me' by Andres Maimik, Katrin Mamik
The Estonian film is a tragic comedy of a man and his father. Hugo is a music critic suffering from post-divorce depression trying to rebuild his life. Things take an interesting turn when his jazz musician father, Raivo arrives at his door expecting his son to take care of him in his last days. The film then proceeds with a roller coaster of entertaining acts and incidents as an attractive psychotherapist enters their lives and both the men compete for her attention.
The film beautifully portrays the relationship of a child and father, touches their insecurities and dilemmas and is an exploration of forced closeness, a pursuit of happiness and a road to forgiving through laughter, suspense and tears.