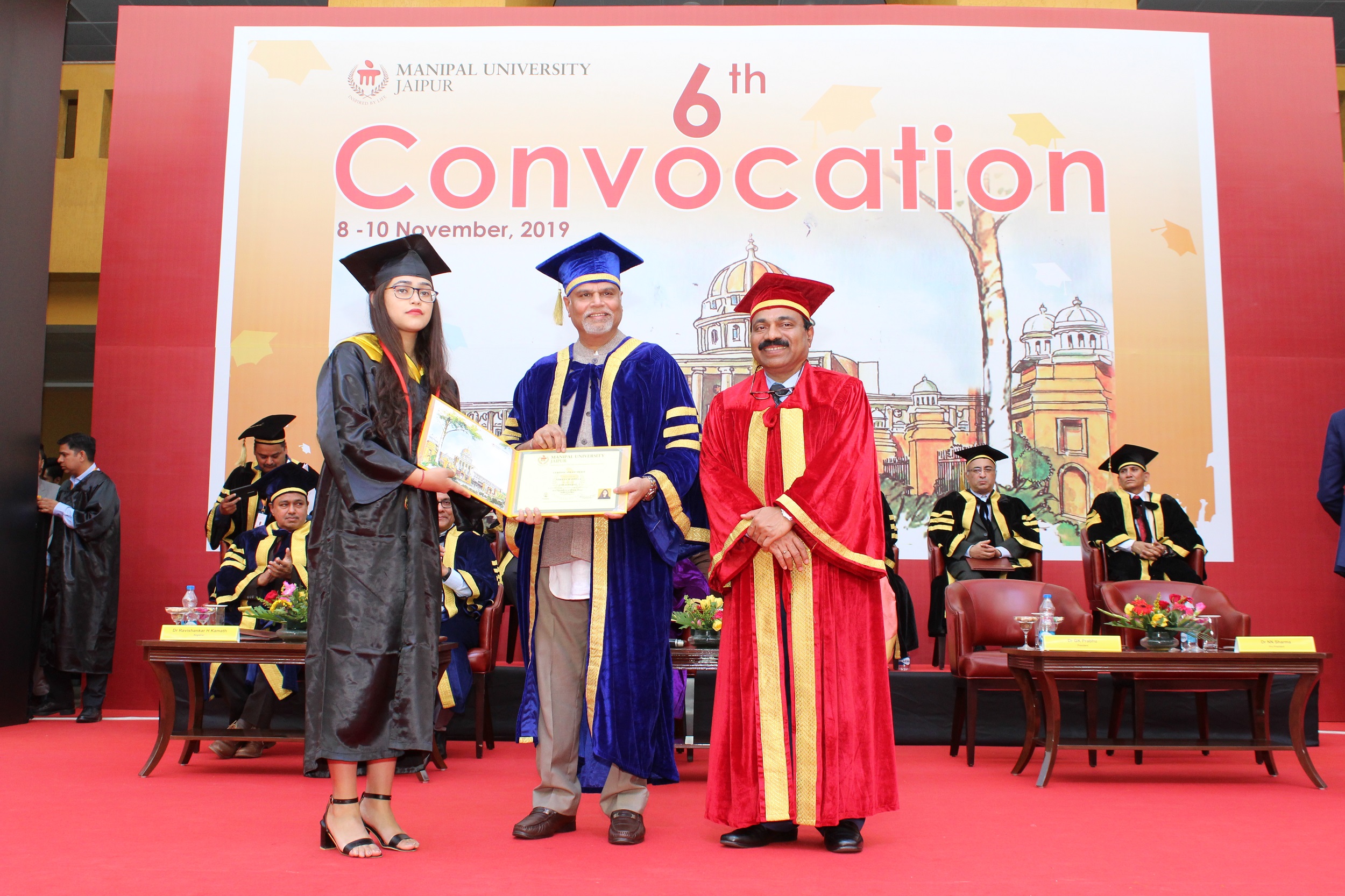 Press Release
A major revolution in education is the need of the hour to reap the benefits created by new technologies. There is a disconnect between the university and the industry causing the gap between education and skills to grow. The graduates need contemporary knowledge and conventional skills before they consider the future needs. This was stated by Vice Chairman, UGC, New Delhi, Prof. Bhushan Patwardhan. He was delivering the convocation address as the Chief Guest on the 3rd day of the 6th Convocation at Manipal University Jaipur.
The youth of India needs quality education, training and skills to meaningfully contribute to the society. Quality education is more than teaching facts, it is about cultivating knowledge on how to determine those facts. With the advent of new technologies there is an impending disruption of the current educational models. There is a need for the faculty to rediscover the 'GuruKul' system based on Indian ethos, sustainable principles and human values.
On the occasion, degree certificates were awarded to 300 students. Later 11 gold medals were given to toppers of various programmes. Degrees were also awarded to 14 PhD scholars. Earlier President, MUJ, Dr. GK Prabhu gave an overview of the Manipal University Jaipur. He said that a Multi-Disciplinary and Multi-cultural approach along with Innovation is what makes studying at Manipal University Jaipur (MUJ) advantageous for the students. With the help of various curricular, co-curricular and extra-curricular activities and clubs such as Green Club, Robotics Club etc. students are exposed to experiential learning at MUJ. The Welcome Address was delivered by Pro President, MUJ, Dr. NN Sharma. The Registrar, MUJ, Dr. H. Kamath delivered the Vote of Thanks on the occasion.
It is to be noted that over the course of three days, degree certificates were awarded to as many as 1784 students. Out of these 1642 are of the Undergraduate Category, 115 belong to the Postgraduate Category and 27 have completed their PhD.