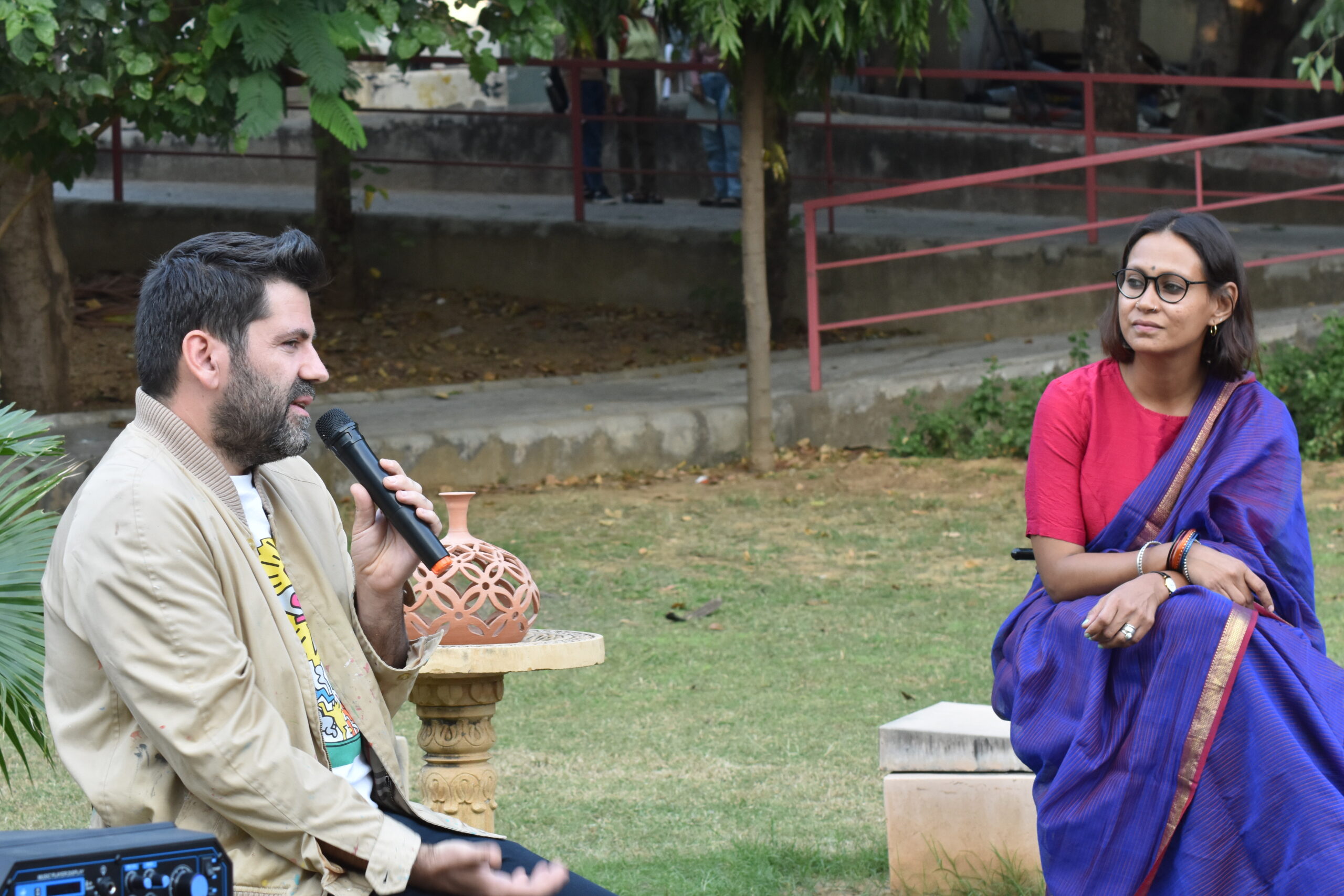 Press Release
Under the Wall Art Festival organised by the French Embassy in India, French muralist Fabien Poes was in conversation with the Director of Alliance Francaise, Jaipur, Sanjana Sarkar, at the Indian Institute of Crafts and Design (IICD). During this, Mr Poes talked about his experience with the Wall Art project in Jobner, where he painted seven of the ten forms of Goddess Kali, among which were Bhairavi, Bhuvaneshwari, Bagulamukhi, Dhumawati, Maatangi, Kali, and others. This festival was organised in Jaipur by the Alliance Francaise of Jaipur. The paintings were also displayed to the audience in the form of a presentation. On this occasion, Alliance Francaise of Jaipur also celebrated the launch of its social media handles.
During his conversation, Poes said that working in an open space in a village was a unique experience for him. He got an opportunity to interact with the locals of the village and be a part of their lifestyle, even if it was for a short time. He said that he was happy to see the villagers being accepting and enthusiastically participative in the whole process. On choosing mythologies as the concept of his Wall Art, he said that similar to art, mythologies are also a medium to convey stories to people that are universal in nature. After the completion of his projects in Rajasthan, he would continue his work in Mumbai and Bhopal.
After this, a short film about the Alliance Francaise Jaipur was presented. Alliance Francaise works towards promoting the French language and culture, and developing a cultural relationship between India and France. Alliance Francaise Jaipur is the 15th centre of the Alliance Francaise network in India. Director, Alliance Francaise Jaipur, Sanjana Sarkar informed that the speciality of this organisation is that 90 percent of the people leading the organisation are women.
It is to be noted that the second edition of the Wall Art Festival, being organized from 7 November to 2 December 2022, by the French Institute in India, the network of Alliances Francaises in India, is witnessing live wall art in as many as 13 cities of the country such as Mumbai, Delhi, Ahmedabad, Kolkata, etc. The festival is being supported by JSW Paints, Reunion Island Region, France Volontaires and French Institute in India.

About Fabien Poes

Born in 1983, Poes grew up in Paris, in the district of La Défense. At the age of 15, he immersed himself in graffiti, and his passion soon devoured him for the next twenty years to the four corners of this new Europe without borders. On the canvas, which he began to approach around 2004, Poes abandoned the spray bombs for brushes and vinyl paint, developed his rounded, colourful and sweet style, and built his universe and an inexhaustible repertoire of forms. He works on pictorial narration, diverting or breaking classic codes, and while exploring the search for potentials in story and painting, very often referring to ancient or even forgotten mythologies or urban or contemporary mythologies.
About Alliance Francaise Jaipur

Alliance Française aims to promote the French language, showcase the French culture and develop cultural ties between France and India. Alliance Francaise Jaipur will be the 15th such centre in India. It is first and foremost a language centre, offering a wide array of French classes from beginner to advanced levels, to children, teenagers, and adults (individuals and professionals). The teaching methods are oriented towards action and communication, engaging the learners through various authentic content and roleplays. It is the ideal meeting place for Indian and French artists. The Alliance Française network offers a wide range of cultural programs, highlighting various artistic forms.