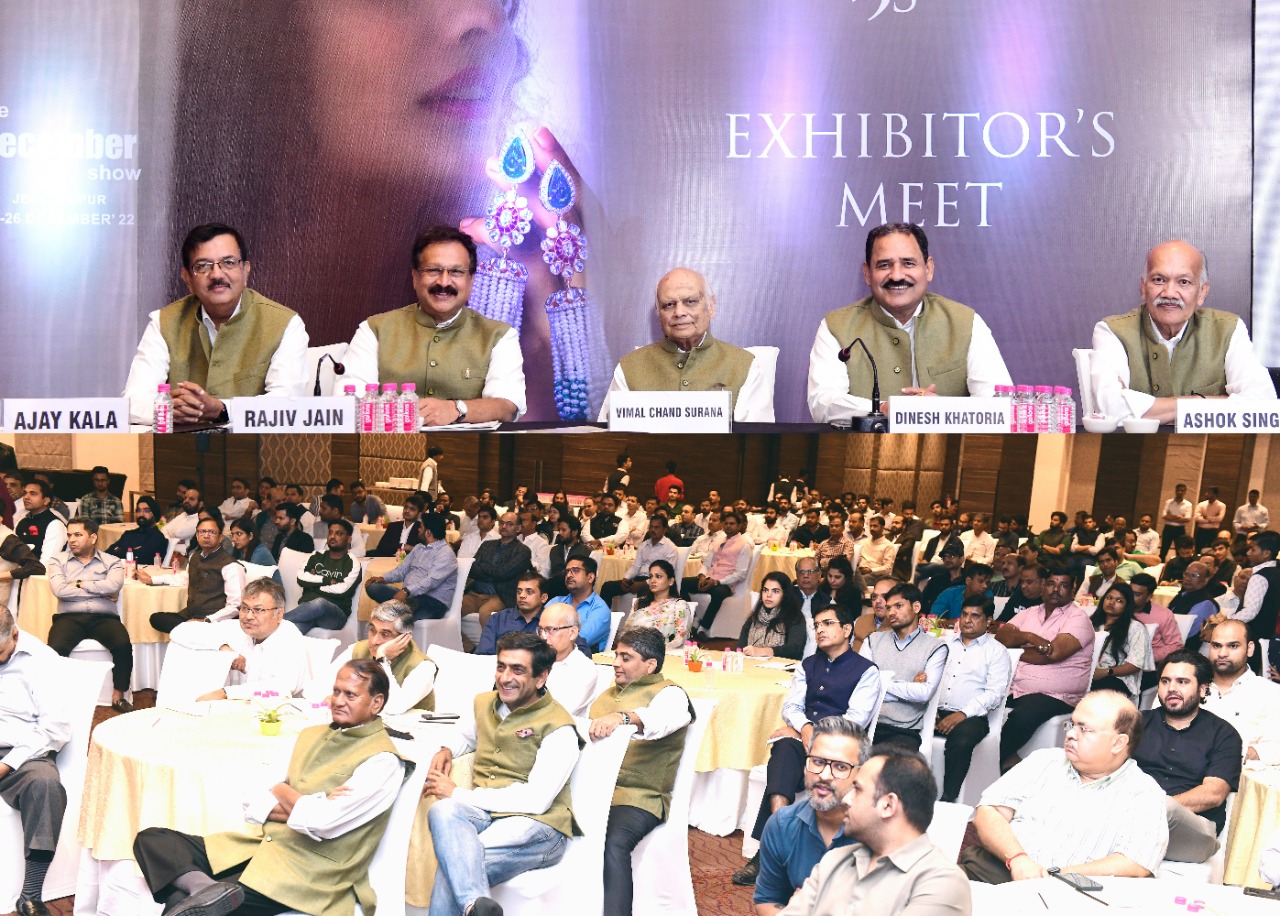 Press Release
The Exhibitors' Meet was held at Hotel Marriott for the Jaipur Jewellery Show (JJS). There was tremendous enthusiasm among the jewellers as could be gauged by the attendance. This year the theme is 'Emerald… timeless elegance'.The mega jewellery event is scheduled to be held at the Jaipur Exhibition and Convention Centre, Sitapura from 23 to 26 December this year. More than 300 exhibitors participated in the Meet.
On the occasion, JJS Chairman, Mr Vimal Chand Surana said that JJS this year will be in its full grandeur in December. There is a tremendous response among the exhibitors for participating in the December Show. JJS in its journey of 20 years has attained extraordinary heights and this year there will 900+ booths at JJS 2022. It has been possible with the support and efforts of the exhibitors, visitors, vendors and the JJS Organising Committee, he said.
Secretary, JJS, Mr Rajiv Jain through an elaborate PowerPoint presentation outlined the layout of the event as well as the facilities that will be provided to the exhibitors. He also threw light on arrangements for transportation, transit of jewellery, security, among others. He also said that a special feature of the JJS this year is the Pink Club which is a new B2B initiative. This new feature will be a great draw among the jewellers. It will lend further value to this prestigious jewellery event. Meanwhile, there was tremendous appreciation by the attendees when it was announced that JJS had risen from 67 booths 20 years ago to a whopping 932 booths this year. Never before have so many booths been allotted. Mr Jain also informed about the promotional efforts made by JJS for publicity and media for attracting visitors to the event.
Earlier, JJS Spokesperson, Mr Ajay Kala welcomed the exhibitors and said that due to the popularity of the brand JJS, repeat exhibitors ate coming in large numbers.. Jewellers and customers across the country are waiting for the December Show, he said. He also threw light on the successful journey of JJS from 2004 till 2022. Along with the retailers, the show is replete with various jewellery institutes, publications, young designers and knowledge-sharing activities, he said.
The queries by the exhibitors were satisfactorily answered.