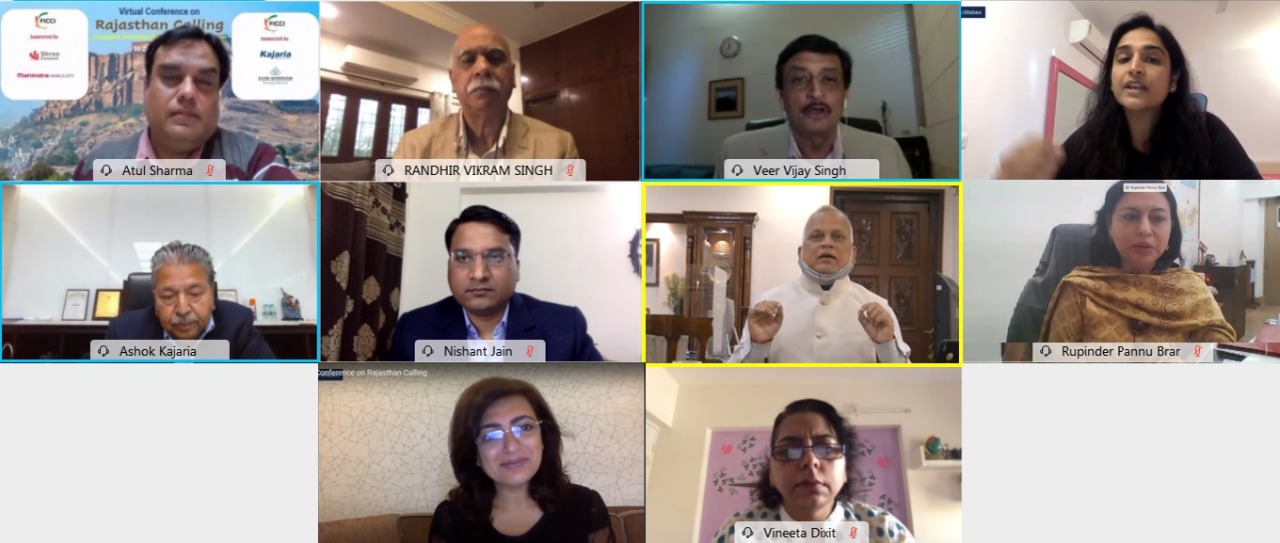 Press Release
As the industry begins to recover against the backdrop of the pandemic, there needs to be a system where the tourist is technologically facilitated from the start to end point for a smooth and easy travel experience. Ease of travelling in Rajasthan needs to be further developed. Every stage of tourism should be seamless, fast, high-tech and easy. This was stated by Chief Secretary, Government of Rajasthan, Mr Niranjan Kumar Arya. He was addressing as Chief Guest at the virtual conference on 'Rajasthan Calling- Leveraging Technology for Driving Growth of Tourism' organized by FICCI Rajasthan today.
 
Talking about various processes that need further technological intervention, Additional Director General – Tourism, Government of India, Ms. Rupinder Brar said that the e-visa process that is already in place for 171 countries needs to be further streamlined. Technological intervention in scanning through passports without waiting at the counter or getting information at the airport kiosks without dealing with too many papers can be further explored. Similarly, getting feedback, scanning biometrics and monitoring a hotel's Covid response in terms of following protocols can be further enabled through technology.
 
Director – Tourism, Government of Rajasthan, Mr Nishant Jain said that the recently launched Tourism Policy has incorporated all aspects of tourism like – experiential, adventure, tribal, rural, craft, cuisine, and many more. The State Government has also undertaken many tourism initiatives. The 'Citizen Mobile App' will soon be launched in Rajasthan. In order to maintain its visibility, film 'Rajasthan is Ready' was launched to showcase the State's readiness post-Covid. Apart from this, the campaign, 'Routes of Rajasthan' in association with Autocar India was also undertaken by Rajasthan Tourism. For marketing and promotions, the Department through social media and digital media regularly ties up with online portals.
 
CEO, Thrillophilia, Ms. Chitra Daga said that content creation needs to be done on a massive scale. This can be done in the form of video shoots, GoPro shoots, photography and writings which can be further put on social media platforms. Ground-level operators need to be technologically-enabled to communicate so that they can ensure better maintenance of protocols during Covid times.
 
Head – Public Policy, Airbnb, Ms Vineeta Dixit said that in India online travel has opened up opportunities for micro-entrepreneurs. It has provided wider outreach and ease of conducting business digitally. Further investment in digital tools is key to protect jobs and livelihoods and driving economic recovery in the new world.
 
Earlier, delivering the welcome remarks, Chairman, FICCI Rajasthan State Council &, CMD, Kajaria Ceramics Ltd, Mr Ashok Kajaria said that the tourism sector will take time to reach pre-Covid levels as compared to other industries. Domestic tourism should see a spurt during 2021.
 
Co-Chairman, FICCI Rajasthan State Council & CMD, Mandawa Hotels, Mr. Randhir Vikram Singh said that 2020 has been a zero year for tourism. Rajasthan tourism industry is slowly reviving with weddings and nearby travel which is erratic and heavily discounted. 2021 should be a year for intensive marketing and promotions across all mediums.
 
The programme was moderated by CEO & MD, Trance Hotels, Mr Veer Vijay Singh. Co-Founder, Yatra Online Pvt Ltd, Ms Sabina Chopra was also present on the occasion.