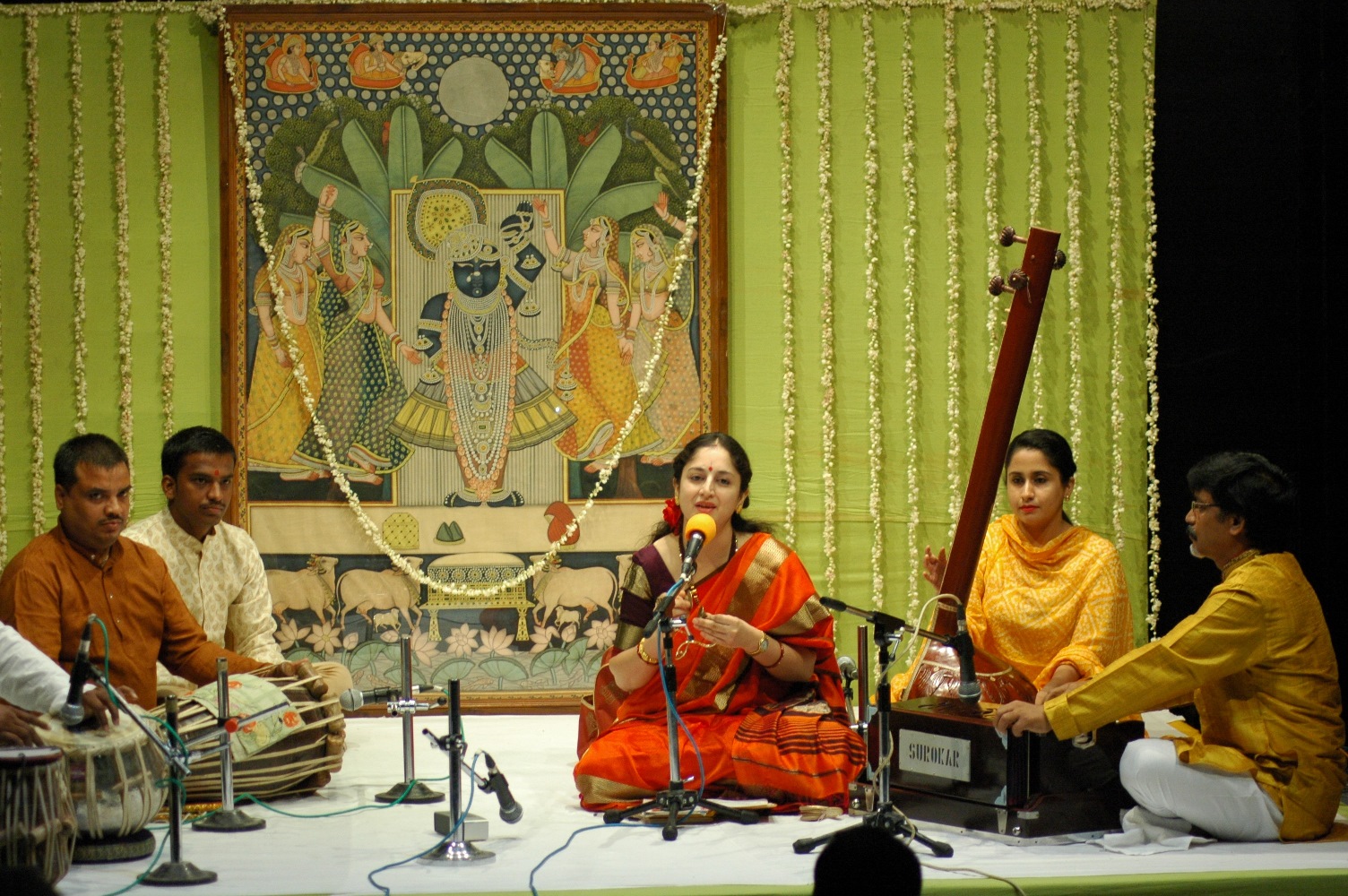 Press Release
The 2-day 'Haveli Sangeet' programme witnessed a grand finale at Jawahar Kala Kendra (JKK) on Saturday. The classical concert featured artistes like – Ms. Aastha Goswami from Vrindavan and Padmabhushan Gokulotsav Maharaj from Indore.
The evening began with a performance by Ms. Goswami, who performed Guru Manchalika Pad – 'Jai Pran Dhan Radha Raman Shri Gokul Bhatt' in Raag Yaman Kalyan in Roopak Taal . This was followed by Varsha ka Pad – 'Dekh Yughal Chavvi Saavan Lajhe' in Raag Gaur Malhar in Ardh Teen Taal ; Nand Gao ka Dhindora – 'Nand Bhavan Mei Dareo Hindoro' in Raag Mishra. She also sang a Leheriya composition – 'Leher Leher Leheraiye, Leheriya Aaj Leheriya' and Braj Ka Paramparik Jhula 'Radhe Jhulan Padharo, Jhuki Aayi Badra'.
She was accompanied by Paremeshwar Kathak on Tabla, Krishna Gopal Sharma on Pakhawaj, Yugal Gujarati on Manjeera, Rajendra Banerjee on Harmonium and Garima Panday on Tanpura.
The evening concluded with a performance by Padmabhushan Pt. Gokulostav Maharaj from Indore. He was accompanied by Dr. Brajotsav Maharaj on vocals. Pt. Gokulostav Maharaj's performance included a composition of 'Ban Than Kaha Ju Chale Ho' in Raag Kedar in Dhrupad Chautal. This was followed by 'Jhule Shyama Pyaari' in Raag Mala in Taal Maala.
The accompanying artistes included – Acharya Goswami Kalyan Rai on Pakhawaj from Benaras and Mr. Shekhar on Harmonium.