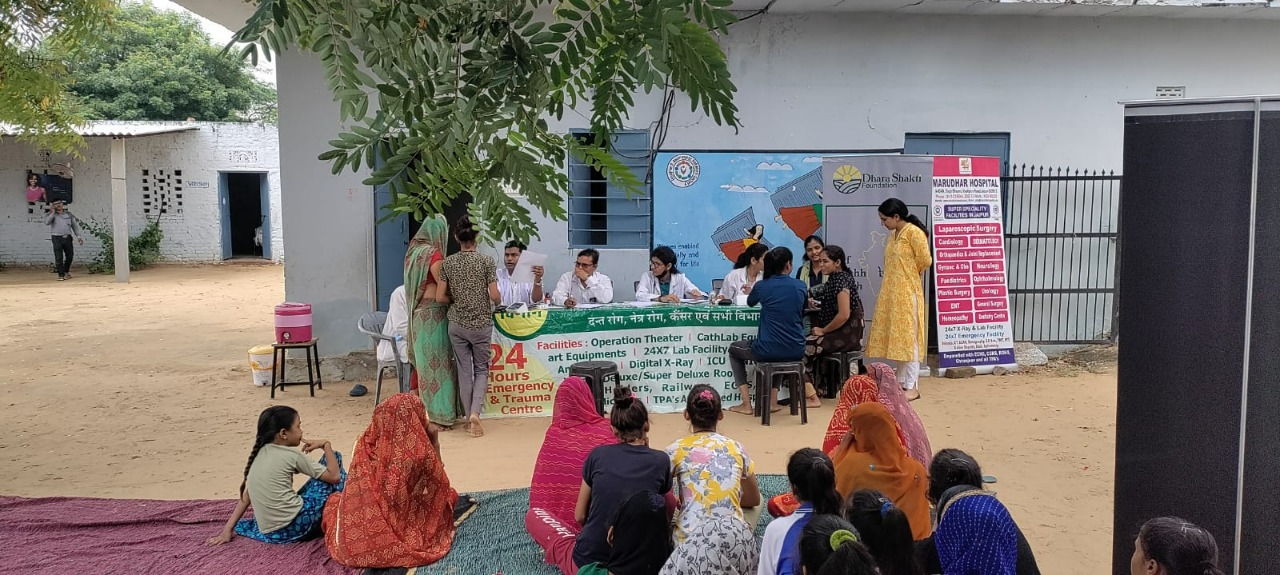 Press Release
Dhara Shakti Foundation organised a free medical health camp for over 50 women in the village Ramsar Palawala in Jaipur district.
This initiative was born out of the findings of the National Family Health Survey-IV, suggesting that 47% of the women aged 15-49 years are anaemic in Rajasthan. The desert state is one of the states which is the most severely affected by anaemia. Left untreated, anemia can cause many health problems, such as severe fatigue, pregnancy complications and heart problems. Therefore, the foundation has set up the health camp to facilitate a complete health check-up and consultation for women and adolescent girls. The complete health check-up includes physical examination of the individual, thermal check up, weight & height check, blood pressure and blood test to check the hemoglobin (Hb) levels.
Through the program, the foundation strives to create awareness about the impact of the condition, provide accessibility to trained doctors & hospital staff and dispense iron, calcium, folic acid and multivitamins supplementation to combat deficiencies. Additionally, any issues, pertaining to the women and adolescent girls, that may be highlighted during the general check up are addressed. The doctor elevated the understanding of anaemia among pregnant women and women of reproductive age. This session included basic concepts such as what is anaemia, what it means to be anaemic, its effect on their health and suggest nutritional strategies.
Devika Shekhawat, Founder, Dhara Shakti Foundation (DSF) believes that healthy women and girls play a crucial role in equipping the leaders of tomorrow to create a positive change in their own societies and communities: "We are delighted and proud to partner with Marudhar Hospital, Jaipur and were able to host a free medical camp for over 50 women of the PANS NGO in Ramsar Palawala village. This initiative has been launched with the idea of promoting health of women and adolescent girls. We are conducting free health check-ups for women and girls of reproductive age. They are the torchbearers for the future generation and if they are strong then they can in turn develop the future of the nation."
*
About Dhara Shakti Foundation
Dhara Shakti Foundation based in Rajasthan, aims to be a catalyst and force multiplier for collective action to achieve sustainable and equitable development. This is not just an organisation, it is a force to bring together people from all aspects of life who are eager to bring about a positive change- to support the underprivileged, to empower youth and women and to uplift each other through dialogue and collaboration.

The foundation was set up with the objective of providing, opportunities, support, and mentorship to aspiring minds around India. The foundation believes in a collaborative approach and seeks to leverage a strategic network effect to scale collective impact and share best practices. The main focus areas are Sustainable Development Goals 4,5,6 and 11; Quality Education, Gender Equality, Clean Water and Sanitation and to promote Sustainability in cities and communities.

About Devika Shekhawat

Devika Shekhawat was born and raised in Jaipur, Rajasthan, where she completed her schooling from Maharani Gayatri Devi Girls School. Devika has graduated with a degree in Business Admistration from Symbiosis Centre of Management Studies, Pune and a masters degree in Social Impact Leadership from Univeristy of Pennsylvania.

She is committed to social upliftment and inclusion and has intensively worked with various organisations and led various initiatives focused on inclusive and sustainable development. She also gained first-hand experience in relief work after the devastating earthquake in Nepal. Devika has worked with The Global Education and Leadership Foundation (tGELF) for 5 years on various high impact entrepreneurial ventures. A few included working with the Government of Rajasthan and UNICEF on a rural education initiative in Rajasthan. She then went on to be a founding member of the Global Citizen India movement, (a community of more than 500,000 individuals united to use their collective voices for social good), as well a founding member of Shuruaat Bus (a joint initiative with NITI Aayog's Atal Innovation Mission) and subsequently working on the Entrepreneurship World Cup in Riyadh.