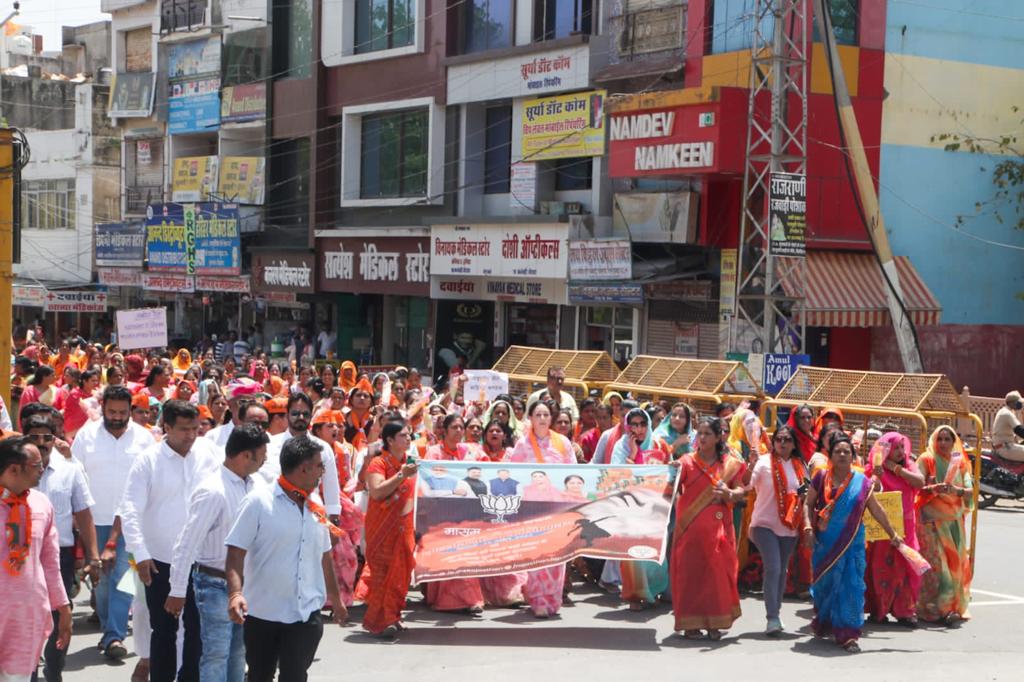 Today, women have become insecure and helpless in Rajasthan. New crimes are being recorded but the Congress Government is turning a blind eye. A rally began from in Chittorgarh Fort's Padan Pol in protest against the rape of a 3-year-old girl in the city, atrocities against women as well as the failed law and order of the State Government. The effigy of Chief Minister Ashok Gehlot was also burnt. On the occasion Rajsamand MP and State General Secretary of BJP, Diya Kumari said that Congress is the most incompetent Government in the State's history.
The MP further added said that be it inflation or atrocities against women, employment, law and order or religious matters, Congress has failed on all fronts. Gehlot has proved to be a complete failure in fulfilling the responsibility of Home Minister and Chief Minister, and he should resign from his post. Today, Rajasthan is number one in women's atrocities and in the last few days, cases of rape of teenagers have been reported in Alwar, Udaipur, Bhilwara, Takhatgarh in Pali district, Bassi in Chittorgarh and Kurj village of Rajmasand which is a matter of shame. The public has lost faith in the governance and administration of Rajasthan.
MP Diya Kumari said that the Government is also discriminating on religious grounds. At the place of action against the rioters in Karauli, a 300-year-old temple was demolished in Alwar. A cowshed too was run over by a bulldozer in Alwar. Similarly, acts such as Section 144 being imposed on Hindu festivals and demolition of the door of Ram Murti Darbar in Salasar, etc. expose the anti-Hindu mentality of the Congress Government.
The MP further said that the Congress Government has also made false promises of employment. REET paper leak case involving 26 lakh candidates is the biggest fraud in the State. Be it Patwari, constable, medical officer, stenography or RAS exam, some forgery came to the fore in all.
In protest against the rape of a three-year-old girl in Chittorgarh and atrocities against women in Rajasthan, the protest procession of Mahila Morcha started from Padan Pol, Chittorgarh Fort and reached the District Collectorate.