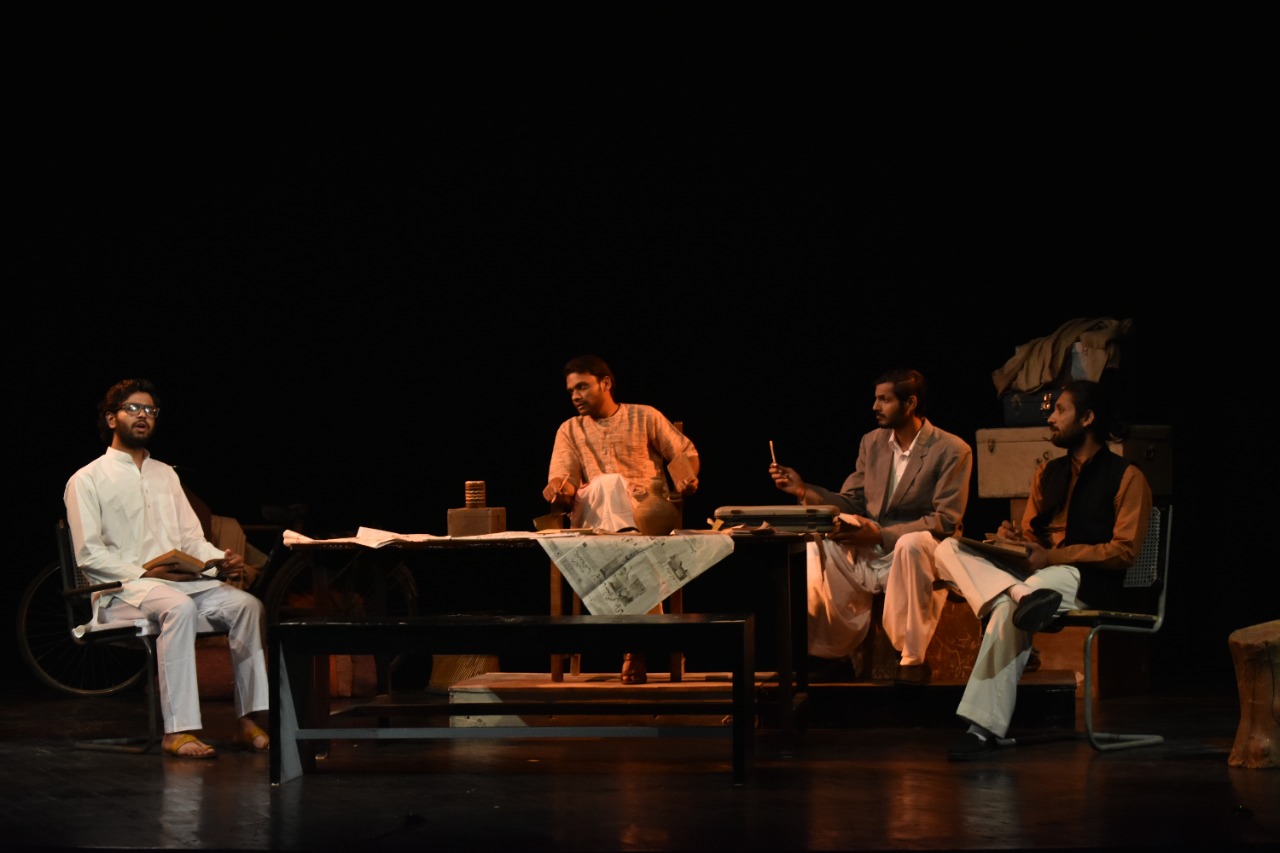 Press Release
On the fourth day of the performing arts festival, 'Rasrangam' organized by Jawahar Kala Kendra (JKK), the audience was mesmerised by a play on Gandhi, mellifluous classical music and an energetic Kathak dance performance. The festival will be on till 13 March and will present classical music, instrumental, classical dance and theatre performances.
Play, Hatya Ek Aakar Ki
The evening witnessed the play, 'Hatya Ek Aakar Ki' directed by Sunita Tiwari Nagpal in Rangayan. It transported the audience back to the 60s era, where a few idealistic men stuck to the path shown by Gandhi and followed his path as a routine. It posed a question to the audience if a person, who lit up a particular path is murdered, can his ideals and beliefs sustain after the loss? Considered as a controversial drama at one time, with evolving mindsets, the viewers opened up to the questioning method of theatre and the play saw the light of the day. While Gandhi used to seek his blessings before starting a fast for India's unity, Tagore appealed to the Mahatma to talk to the 'Hindu Mahasabha' to make a conciliatory gesture towards the Muslims. Gandhi's belief in true Hindu values came to the fore when people opposed giving Pakistan its share of compensation after the Partition. The play concluded intending to understand Gandhi.
It was performed by Saood Niazi, Pulkit Sharma, Hemant Gautam and Suryansh Asliwal. The music was operated by Krishan Pal Singh Naruka. Costume coordination was done by Akhil Yadav and set and props were executed by Sonu & Rashid Khan. The lights were done Sunita Tiwari Nagpal and make up by Chhavi Vyas.
Shashtriya Gayan by Prof Suman Yadav
Renowned classical singer, Prof Suman Yadav presented 'Khayal' and 'Thumri', mainly focusing on the forthcoming Holi festival in her performance 'Shashtriya Gayan' in Madhyavarti. She was accompanied by Pandit Alok Bhatt on Harmonium, Shri Kapoor Chand on Tabla and Dr Shalini Gupta and Dr Kanchan Gupta on Tanpura.
Prof. Suman Yadav is a renowned classical singer trained under the able tutelage of Dr Leelawa Adsule of Gwalior Gharana. She holds a postgraduate degree in Hindustani Music (Vocal) from the University of Rajasthan and a Doctorate in Music (Sangeet Praveen) from Gandharva Mandal, Bombay. She is an 'A' grade artist of All India Radio & Doordarshan and has performed at many major musical platforms nationally and internationally.
Shakti by Dr Rekha Thakar

The day ended on a high note with a lively and energetic Kathak dance performance choreographed by renowned Kathak exponent, Dr Rekha Thakar in Madhyavarti. The performance was based on the idea that Maa Devi manifests in all living beings as a mother, a wife or a daughter, as energy and peace. Shakti is power, strength and love. The performance showcased a combination of 'Destruction of Vicious' (Shakti Vinash Ki) and 'Creation & Love' (Shakti Srijan Ki, Prem Ki). The creation of love by ending evil is proof of the presence of power in the universe. The performance began with 'Devi Stuti' in 'Taal Roopak'. Bols were 'Shri Bhaal Lasat Vishal Shashi Drag Meen Khanjan Lochani'. It was accompanied by pure traditional Jaipur Gharana Kathak and a composition written by poet, Mahadevi Verma 'Nash Bhi Hun Anant Vikas Ka Kram Bhi'
The accompanying artistes were – Dr Praveen Arya (Taal Direction & Pakhavaj), Shree Munna Lal Bhatt (Vocals & Music), Muzaffar Rehman (Tabla) and Shree Hari Harsharan Bhat (Sitar). The performing artists were – Rekha Sain, Kanika Kothari, Shagun Sharma, Chitransh Tanwar, Ananya Dalvi, Prerna Kaushik and Riya Sharma.