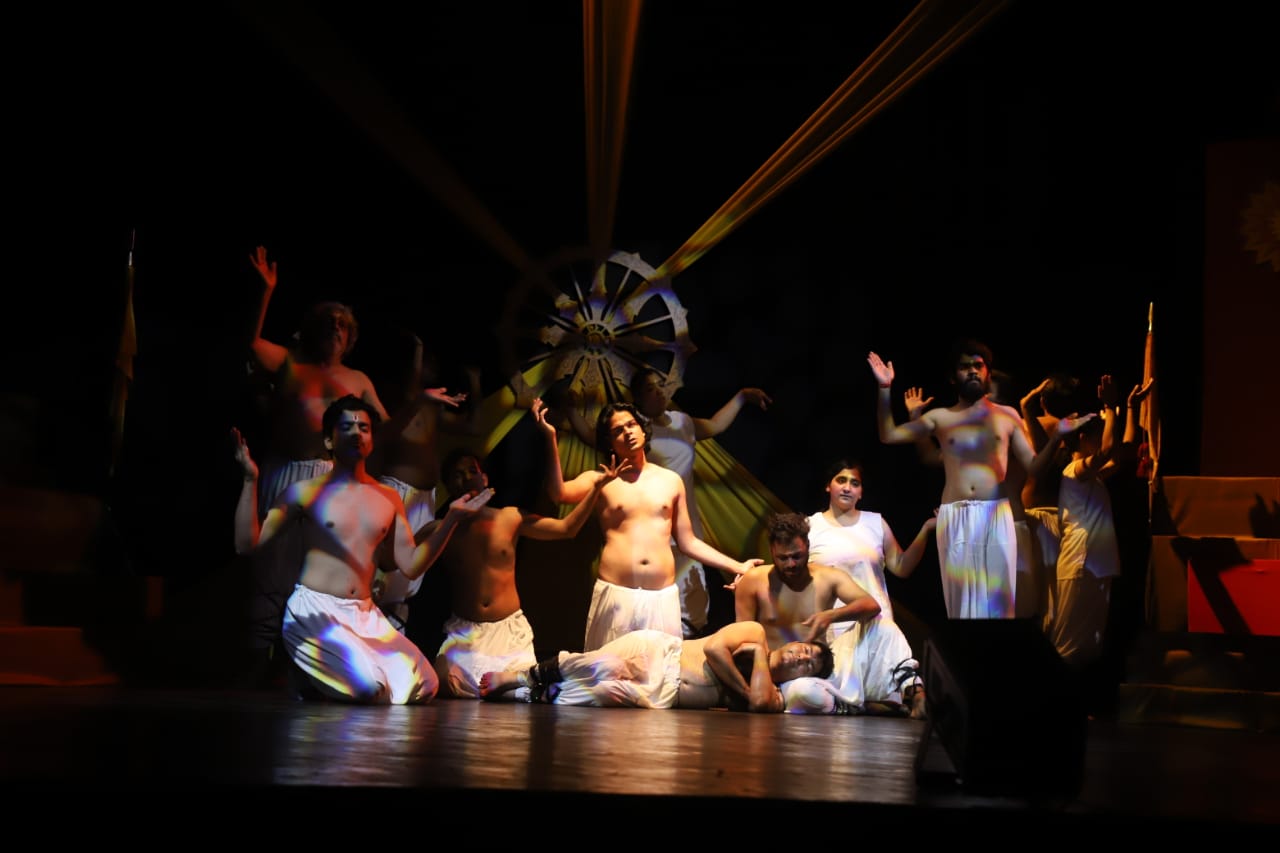 Press Release
On the fifth day of the performing arts festival, 'Rasrangam' organized by Jawahar Kala Kendra (JKK), the audience was enthralled by plays on the lives of Indian mythological character, 'Karna' and the prolific classical poet, 'Ameer Khusrau'. The festival will be on till 13 March and will present classical music, instrumental, classical dance and theatre performances.
Play 'Rashmirathi'
The day began with the Hindi play 'Rashmirathi' directed by Abhishek Mudgal and presented by the Rang Mastaaney Sanstha, Jaipur in Rangayan. The play has been written by Ramdhari Singh Dinkar. It revolves around the life of 'Karna'. The abandonment by his mother 'Kunti' as soon as he was born haunts him for the rest of his life. This play raised a burning question through 'Karna' – should a person be assessed on merit or lineage? 'Karna', who is a far superior archer than 'Arjuna', could not get proper respect due to his Suta dynasty. He is indebted to her nurturer 'Radha' who hugged him and gave a mother's love instead of the mother who handed over a newborn to the waves of the Ganges due to public shame. At the same time, he is also grateful to his friend, 'Duryodhana', who made him the King of Angadesh and got him a place in society. Due to this, 'Karna' does not leave Duryodhana's side till his death.
The play was performed by –Naveen Sharma, Garima Singh Rajawat, Nipun Mathur, Nipun Mathur, Girish Kumar Yadav, Rahul Pareek, Girish Kumar Yadav, and others. They were accompanied by –Amit Chaudhary and Sudhanshu Shukla Brijwasi (Vocals), Abhishek Mudgal (Nagada), Nirbhaya Mathur (Congo), Sudhanshu Shukla Brijwasi (Dhapli) and Raman Acharya and Sudhanshu Shukla (Flute). The costumes were done by Garima Singh Rajawat and lights by Sohit Shekhawat. The stage management was handled by Mukesh Kumar Saini.
Play 'Jo Dooba So Paar'
The evening concluded with the staging of the play 'Jo Dooba So Paar' directed by Ajitesh Gupta and Mohit Agarwal. This Hindi, Urdu and Persian language play was presented by Aranya Theatre Group, Mumbai in Madhyavarti. 'Jo Dooba So Paar' threw light on the life of 'Ameer Khusrau', his relationship with his Guru Nizamuddin Auliya and the advent of 'Qawwali' through them. The interesting anecdotes and tales woven in a 'Daastaan' accompanied with live Qawwali singing gave insight into the essence of Sufism and the importance of the eternally relevant message of love among humankind. The 'Dastaan' of Ameer Khusrau was written after extensive research of 2 years. It traced his entire life from birth to death. Along the journey, one sees how a talented child Yameen (Khusrau's childhood name) grew into the legendary Ameer Khusrau.
The play has been produced by Manav Kaul. The performers included Rattan Deep Singh, Jitendra Singh Rajput, Shimli Basu, Manasi Bhawalkar, Sonakshi Singh, Shalaka Redkar, Rigved Singh, Ashish Mishra, Mohit Agarwal and Ajitesh Gupta. The music was provided by Mohit Agarwal. Accompanying artistes were – Mohit Agarwal (Harmonium), Mrunmay Chavan (Dholak), Naynesh Pimpale (Tabla), and Sudhan Rajput (Sound Engineering). The lights were done by Trinetra Tiwary. The production was managed by Sumit and Kamran.