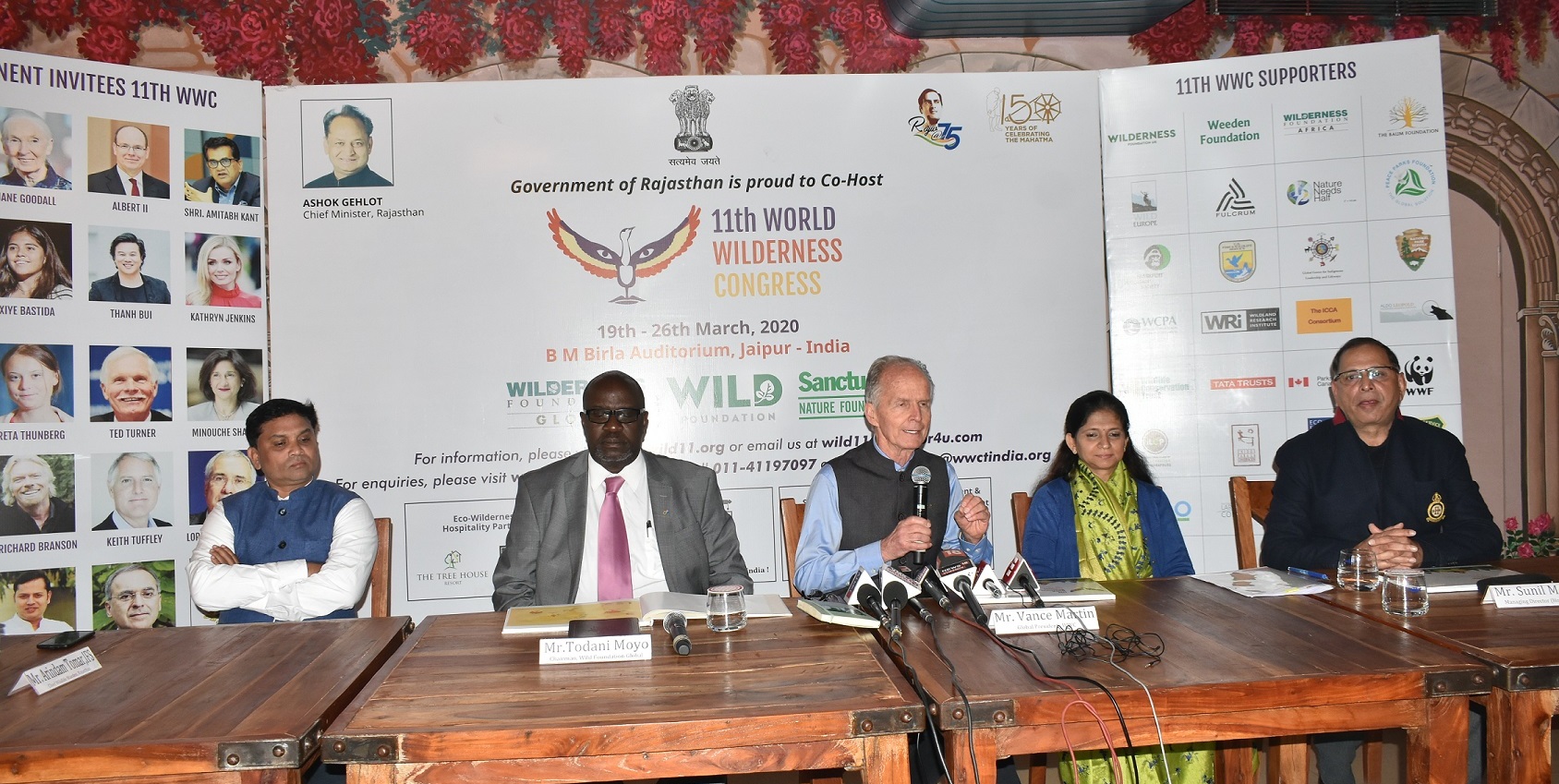 Press Release
The 11th World Wilderness Congress (WWC) will be held from 19 March to 26 March at Birla Auditorium in Jaipur this year. The Congress will present solutions to the accelerating and existential threats of climate breakdown and species extinction. It will also pave the way for a historic opportunity to build a new movement to protect nature and humanity from the planetary threat to life owing to climate and extinction. This was informed by Global President, WWC , Mr Vance Martin at a Press Conference in Jaipur.

He further said that the current situation of the world is far worse than what was predicted 10 years ago. The need of the hour is real, urgent and effective policies. The event is being co-organized by Government of Rajasthan, Department of Tourism, Department of Forest, Wilderness Foundation Global, WILD Foundation and Sanctuary Nature Foundation.

Chairman, Wild Foundation Global, Mr. Todani Moyo said that the first World Wilderness Congress was held in 1977. Since then it has happened in various countries across the globe including Australia, Alaska, Spain and India. From a small movement, it has now grown into a global movement.


The Managing Director (Hon.), India, WWC, Mr. Sunil Mehta informed that being a cultural and heritage hub as well as a UNESCO World Heritage Site, Jaipur is an apt choice for organizing this Congress. The Congress will be attended by over 1500 delegates from 60 nations. Among the big names attending the conference are President of South Africa, Cyril Ramaphosa, famous Hollywood actress, Shannon Alexander, Ambassador for the United Nations Convention on Migratory Species, Mr. Stanley Johnson, among others.

Additional Director, Tourism, Government of Rajasthan, Dr. Manisha Arora said that event is being co-hosted by the Government of Rajasthan. The state Forest Department and Tourism Department are also actively involved in the organization of this event. A Crafts Bazaar and cultural evening will also be organized at Jawahar Kala Kendra as a part of the event. The Congress will help in the encouragement of indigenous arts and will also benefit the tourism sector of the state.
Conservator of Forests, Wildlife Forest Department, Government of Rajasthan, Mr S.R.V.Murthy said that the Congress will give an opportunity to expose the activities being held in Jhalana Leopard Reserve, Ranthambore and Sariska Tiger reserves. The Jhalana Leopard Safari Park is one of the best examples of an Urban Conservation Model. The Chief Wildlife Wardens of all states have also been invited, he added.