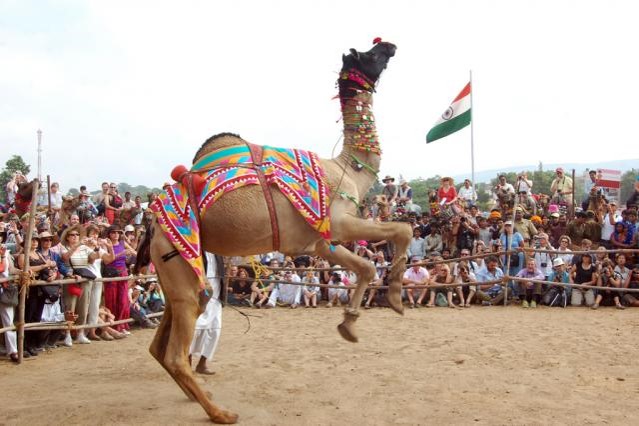 Jaipur, 7 November: The forthcoming Global Rajasthan Agritech Meet (GRAM) from November 9 will witness the display of 'celebrity animals' along with global best techniques. One of them will be the display of Krishna artificial leg prosthetic technique for disabled cows. This technology has proved to be highly beneficial in eliminating the evil of cow disability from the State. Till now this technique has been used on 35 cows. Dr. Tapesh Mathur of the Animal Husbandry Department does this treatment on disabled cows free of cost.
A special beauty parlous for camels will also be another crowd puller during the meet. The practice of beautification of camels is an age old tradition in the State. Special scissors are used to make attractive designs on camels. These art works on camels will also be exhibited at 'GRAM'. Acrobatics by a camel from Jhunjhunu — 'Hansraj' will also enthrall the visitors. Rajasthan Agriculture Minister, Mr. Prabhulal Saini informed that to encourage camel breeding in the State a scheme has also been initiated under which a sum of up to INR 10,000 will be given to camel herders when a female camel (cow) will give birth to a progeny. A sum of INR 3,000 will be given at the age of 1 month and 3 months each and a sum of INR 4000 at the age of 18 months will also be given.
The world famous giant celebrity Murrah bull, 'Yuvraj' will also be a major highlight of the event. While the Murrah bull usually weighs 600 to 700 kgs, 'Yuvraj' weighs around 1500 kgs and is 10 feet 6 inches in length. The owner of this bull, Mr. Karamveer Singh of Haryana says that apart from the daily fodder 'Yuvraj' also consumes 10 kgs of apples, 20 Litres of milk and 5 kgs of grain.  Karamveer earns INR 1 crore annually from 'Yuvraj'.
Malani a rare breed of horse from the Marwar region worth Rs 1.5 crore will also be on display for the audience during the Agri meet. "The Malani Horse is known for its inward-turning ear tips, it comes in all equine colours. It is said that Malani Horses have the Kathiawadi features of longish head with a broad forehead, wide-set and alert eyes and a well-shaped mouth and high speed from that of Arabian Horses. Malani are descended from native Indian ponies crossed with Arabian horses" said Mr. Saini.
Kadaknath – an indigenous breed of chicken found in eastern Madhya Pradesh — especially around Jhabua and Dhar will also be displayed during the GRAM. Its flesh is black in colour, and has higher melanin content. It also has more protein, less fat and its meat contains less cholesterol than regular chicken. Apart from Kadaknath, fighter breed of chicken Aseel, ducks and Quail will be on exclusive display for the audience.
Mr Saini further said that Poultry and Quail farming development programme has been initiated in 23 districts of the State. In the next three years, 34950 families for chicken and 525 families for Quail farming will be benefited under this programme, he said.
It is to be recalled that the Global Rajasthan Agritech Meet (GRAM) will be held from 9 November to 11 November at Jaipur Exhibition and Convention Center, Sitapura in Jaipur. It is being jointly organized by Government of Rajasthan and Federation of Indian Chambers of Commerce and Industry (FICCI).