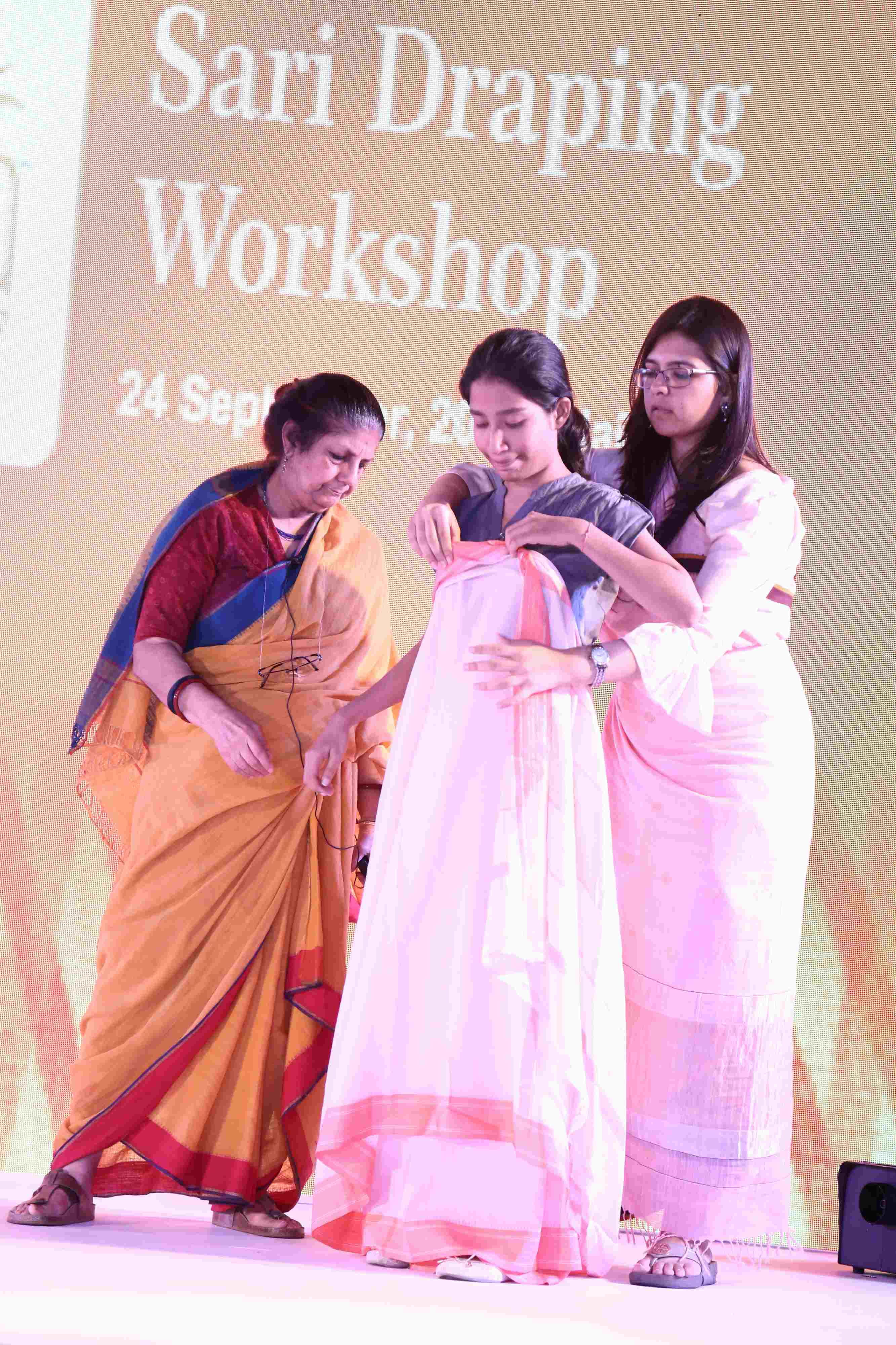 Press Release
Concluding day of 'Vastra'
The 4-day International Textiles and Apparels Fair 'Vastra 2017' came to an end with a Sari Draping workshop at Jaipur Exhibition & Convention Centre (JECC) today. The workshop was curated by Ms. Rta Kapur Chishti and aptly entitled 'The Sari School' – The Sari Magic of the Unstitched. The Chief Guest on the occasion was Ms. Neeru Jain, wife of Chief Secretary, Mr. Ashok Jain.
'Vastra 2017' was jointly organized by Rajasthan State Industrial Development and Investment Corporation Ltd. (RIICO) and Federation of Indian Chamber of Commerce and Industry (FICCI). The event was also supported by the Government of Rajasthan.
The workshop explained the various features of the unstitched garment, sari. The audience was given a detailed insight into the production and harvesting of 'Kapas', spinning of threads to make Zari and dyeing threads to infuse the fabric with varying colours. Ms. Chishti also demonstrated sari draping traditions from different parts of the country. The various draping styles included 'Mohiniattam' style from Kerala, 'Coorg' Sari draping style from the center of Karnataka, among others. Ms. Chishti said that Sari has the power to be restored to its former glory. She further added that people need to realize that this unstitched garment can be draped in numerous styles to transform it into dress, pants or even shorts.
Managing Director of RIICO, Ms. Mugdha Sinha said that I have been a student of Ms. Chishti and participated in her workshop and I am glad to say that it was a wonderful experience for me and I can't wait for the audience here to experience it. Ms. Jain said that this 6-meter garment can be draped in many beautiful ways, this will surely be a learning experience for us all.
Also, present on the occasion were – Ms. Isha Swarup, Wife of Rajeeva Swarup; Ms. Goyal, Wife of GAD, Principal Secretary; Principal Secretary of Agriculture, Ms. Neelkamal Darbari and Managing Director of RIICO, Ms. Mugdha Sinha.