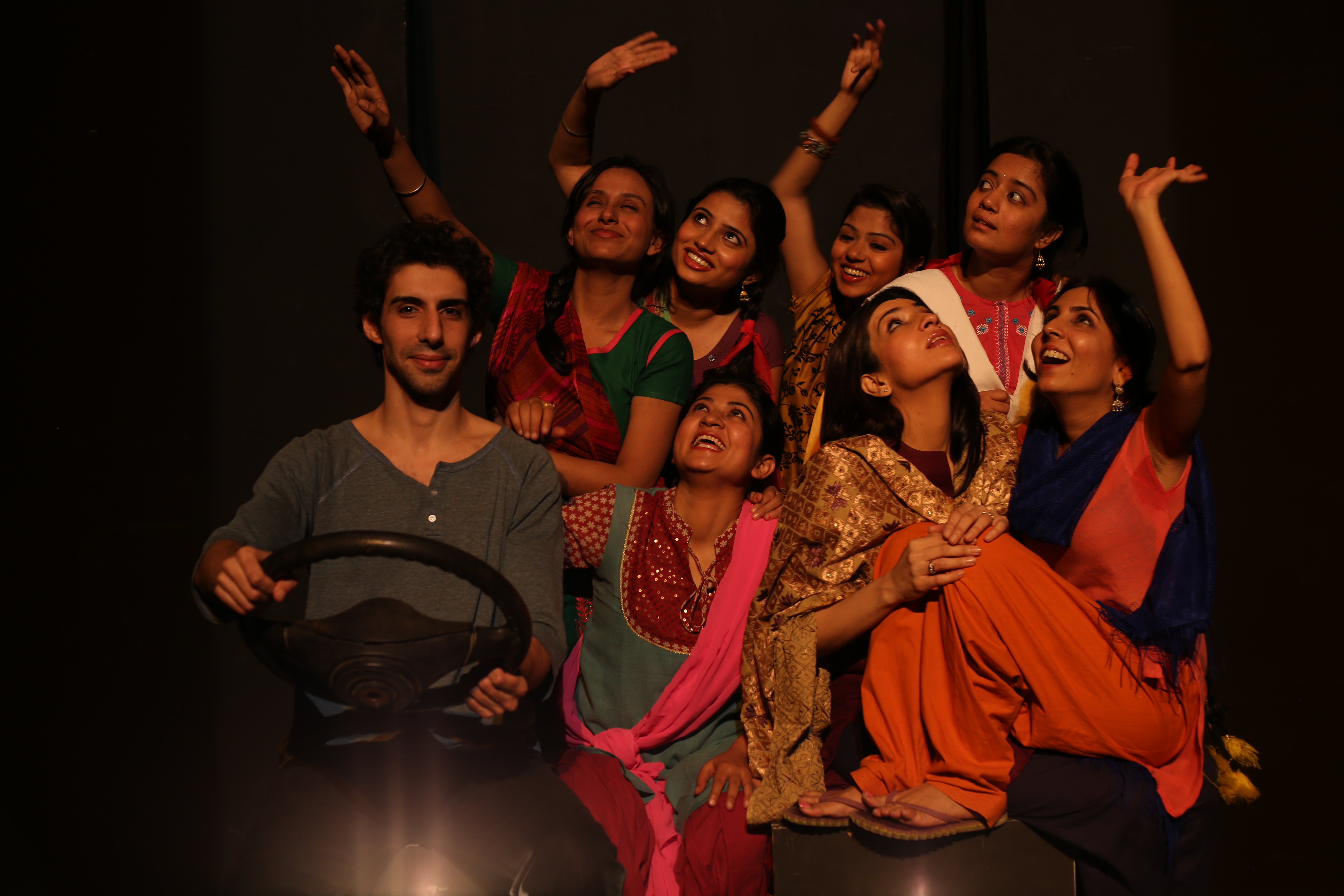 Curtain Raiser Press Release (file photos attached)
5th edition of Au-Jairangam from 21 to 27 November
A non verbal play 'The Job' will also be staged
Jaipur, 17  November : In the forthcoming annual theatre festival of Pink City, 'Au-Jairangam', a number of plays relating to social issues such as blind faith (Krishan v/s Kanhaiya), competitive culture of present times (The Job), middle class society (Suraj ka Satva Ghoda) , sex workers in India (Ok Tata Bye Bye), among others.
'Krishan v/s Kanhaiya' revolves around a small time street smart, conman, antique dealer, Kishan, who is also an atheist. He is married to a highly religious woman. There is always an argument about religion in the house. Hilariously funny situations are created due to this conflict. Suddenly, Kishan's shop is destroyed by earthquake. Insurance company declines the claim as 'Act of God'.
Unsuccessful in getting money from Insurance, Kishan Sues God since it was an Act of God that destroyed his shop. This decision sends a shock wave in the family and in the society. It creates a media frenzy about the case. Though he is not a lawyer but fights the case himself. Some of the best and most light hearted court scenes are created with arguments on both sides of the religion and the debate on existence of God. God visits him in person to explain that he cannot win and should withdraw the case.
However, he wins the case. Media reports about his actions of fighting against the people who exploit God and religion, makes him a semi-God after death. People start praying in his name and build temples for him. Kishan pleads God to give him re-birth so he can spread the true meaning of prayers and religion to public. The play will be staged on 21 November at 3 pm and 7 pm at Birla Auditorium.
The play 'Chittiyan' narrates the relationship between a father and a son. The story is set in the 1970-80s when the medium of communication was letter. This play depicts the state of mind of a father who's waiting for his son's letter. It also relates with today's situation as people are forgetting the true meaning of relations and losing emotional value. The play is an effort to revive the emotional instinct of people. 'Chittiyan' will be staged on 23 November at 11:30 am at Krishnayan (JKK).
'The Job' is the story of four job aspirants trying to outdo each other and what follows is a hilarious set of events. The job is a 75 minute nonverbal devised performance with an underlying comment on the competitive culture of present times. The play will be staged on 25 November at 11:30 am and 4:30 pm at Krishnayan (JKK)
'Ok Tata Bye Bye' revolves around a girl named Pooja and her Brit boyfriend Mitch who are fresh out of a film school and travel from London to India to make a documentary on Traditional sex workers of an Indian Village in North India.In the village they meet Seema and Rupa. One is a brazen sex worker, the other a quiet shy girl on the brink of an initiation into the age old profession. Later Pooja and Mitch realize that the subject may not have been such an easy choice. The world they thought they wanted to document may not be what they had imagined. The girls may not be as devious as they had thought but perhaps not as simple either. In the framework of gender politics and man woman dynamic, The play Ok Tata Bye Bye raises the question:  In a society where sex is the currency to sell anything and everything ranging from face cream to energy drinks to 100 crore blockbusters, how different are the modern societies from these so called backward communities? The play will be staged on 25 November at 11 am and 4 pm at Rangayan (JKK).
'Suraj Ka Satva Ghoda' is based on Dharamvir Bharti's 'Suraj Ka Satva Ghoda' a short novel which is highly acclaimed in the Hindi literature circles. The play is a humorous journey, an amalgam of seven small stories of different emotions and flavours. As the play grows the characters and situations of these stories intersect and overlap each other. The border of the different stories merges and finally brings a single story. All humour, funny incident and comedy of these stories becomes commentary on the moral aberrations and distortions in Indian middle class society. The play shows the reality of society where failure, hopelessness, corruption and darkness end with light and hope. Suraj Ka Satva Ghoda will be staged on 26 November at 11 am and 4 pm at Ranagayan (JKK).