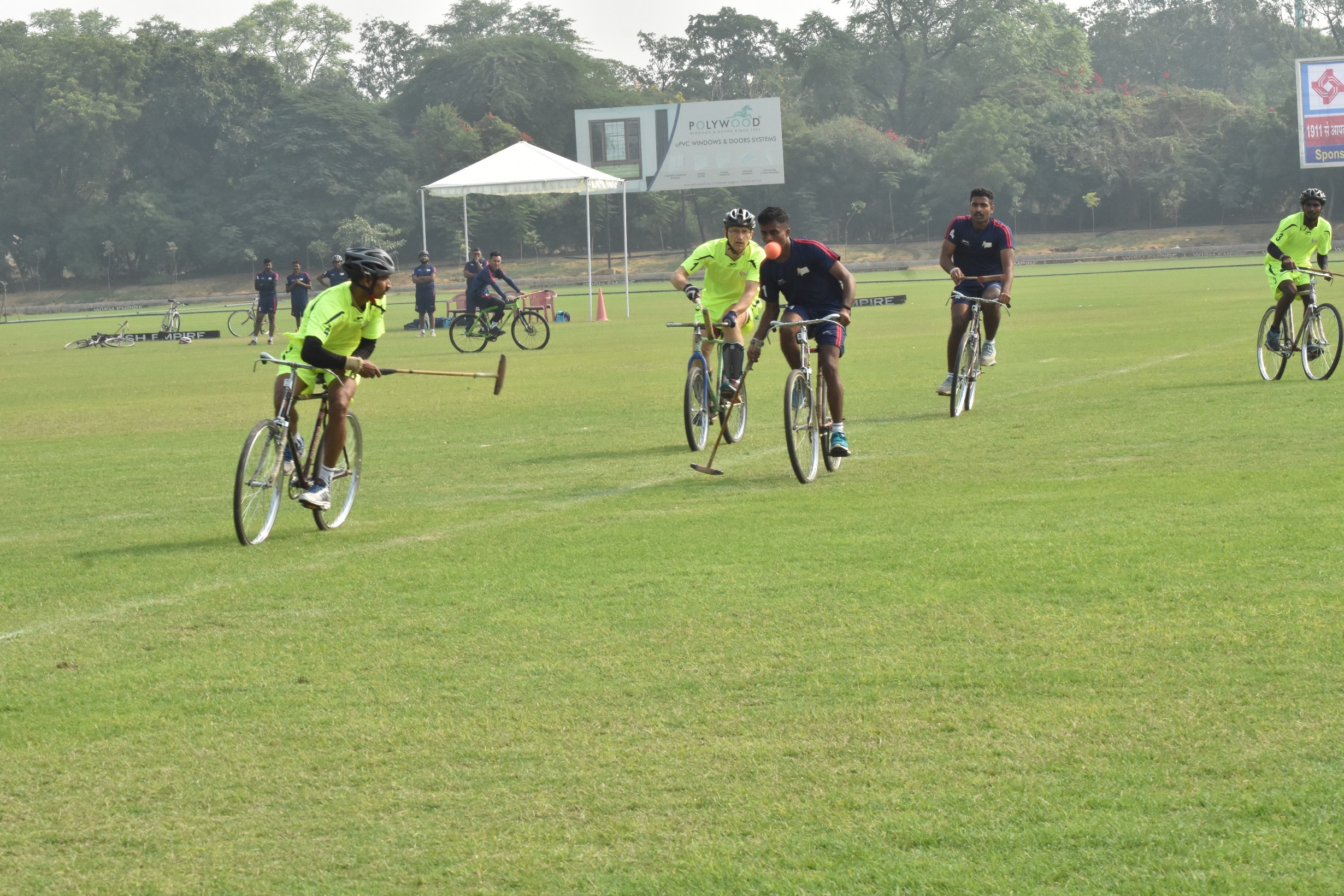 Press Release
The first-ever Cycle Polo League in India was inaugurated by Lt. General Alok Kler, General Officer Commanding-in-Chief, South West Command at the Rajasthan Polo Club in Jaipur. The League has been organized by the Cycle Polo Federation of India (CPFI). On the occasion Lt. General Kler said that that league will witness some excellent matches displaying aggression as well as fair sportsmanship. Also present in the opening ceremony were Regional President, Army Wives Welfare Association (AWWA), Mrs. Anu Kler and Vice President, Indian Olympic Association, Mr. Janardhan Singh Gehlot; Commissioner, Public Relations, Rajasthan, Mr. Niraj K Pawan; President of CPFI, Mr. Raghuvendra Singh Dunlod; Vice President, CPFI, Group Captain, Deepak Ahluwalia; Secretary-General, CPFI, Gajanand Burde; Treasurer, CPFI, P.M. Aboobacker and Additional Director of the League, Manoj Bhardwaj.
During the opening ceremony, there was a scintillating Air Warriors Drill team display of Indian Air Force as well as Army Band Display. After the Oath Ceremony by the players, the first International Cycle Polo League match was held between the teams 'Dundlod Safari Knights' and 'Royal Tigers.'
'Royal Tigers' defeated 'Dundlod Safari Knights' the by 18-12 goals. Anshad of Royal Tigers scored 8, Sanofar scored 5, Gulshan scored 3, Mohit scored 1 and Alain scored 1 goal during the match. Similarly, in team 'Dundlod Safari Knights' Vishnu scored 6, Vishnu Gyaji scored 4, Kalam scored 1 and Shanu scored 1 goal.
During the second match, team 'Royal Lion Central Bank of India' defeated the '119 Rimcollians Stars' by 15-09 goals. In team 'Royal Lion Central Bank of India', Anfar scored 8, Shivkumar scored 4, Harman Baged scored 2 and Mohammad Latif score 1 goal during the match. In team '119 Rimcollians Stars' Yashwant scored 6, Sadham scored 1, Piyush scored 1 and Jay Ukey scored 1 goal during the match.
The league will witness the participation of 5 teams comprising of a total of 30 Indian and 8 foreign players. During the 5 day league tournament, there will also be display of equestrian martial art, tent pegging, horse dance etc. For the students, there will be a cycle polo drawing competition from 25 to 27 November.