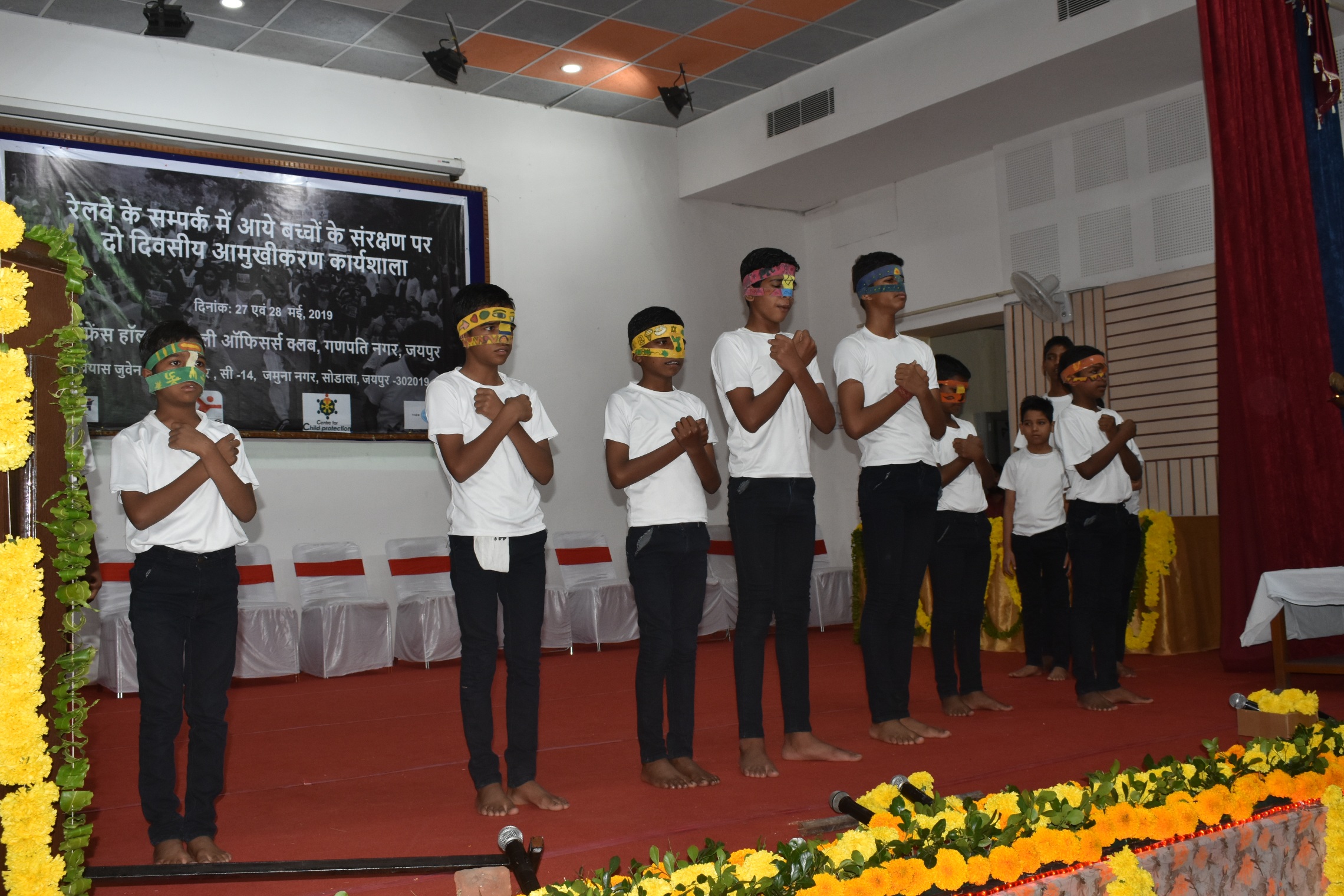 Press Release 
"WOMEN UNDERSTAND CHILD PSYCHOLOGY BETTER THAN ANYONE ELSE"
— Rajesh Tiwari,
GM, North Western Railway, Jaipur
'Children in Need of Care and Protection' who are found at any property of railways feel more comfortable interacting with a female officer. They can be like a sister or mother to the lost, abandoned and abused child. Women have an inbuilt quality of compassion. In this context the role of Railway Women Welfare Organization (RWWO) becomes significant in protecting these children. This was stated by General Manager, North Western Railway (NWR), Jaipur, Mr. Rajesh Tiwari today at the second day of the 2 Day Workshop on 'Child Protection and dealing with Children in contact with Railways' in Jaipur. The workshop has been organized by the NGO Prayas JAC.
He further said that in last 2.5 years, 950 children and 130 women have been rescued by the NWR. They were then re-united with their families or rehabilitated. Prayas JAC and the Railway Board have been successfully working together towards this cause. He further added that each worker – be it a porter, railway officer or members of the RPF and GRP, should also contribute to this cause.
Divisional Railway Manager, NWR, Jaipur, Ms. Manjusha Jain said that as a human being, it is the responsibility of each person to protect the children who are found without any guardian. Children are our future and how one treats them today, will be treated in the same way later.
Throwing light on how the railway staff is equipped to deal with the children in need of care and protection, she said that the TTs are trained to identify children who are travelling alone. They try to win the child's confidence and get information about their parents and residential address. They are then reported to the Station Master or Station Superintendent who maintains a register containing all necessary information and description of the children. They are then handed over to the Child Welfare Committee within 24 hours.
Principal Chief Security Commissioner, Railway Protection Force (RPF), Mr. Sarvapriya Mayank said that apart from the SOP given to the Railways, there is also need for a legal framework for the RPF. More such workshops at divisional and sub-divisional levels should also be organized, he added.
ESI, Commissioner, Mr. Kumar Rohit suggested that there should be an Aadhar Kiosk on railway stations for making UID of such children so that their record is maintained digitally.
Mr. Dinesh of Freedom Fund highlighted the hazardous conditions in which children are made to work in the bangle industry of Jaipur. He also gave information on the special programme run by them for Child Labour Free Jaipur.
Earlier, children who had been rescued as child labourers presented a short play depicting the difficulties they face owing to child labour and child trafficking.