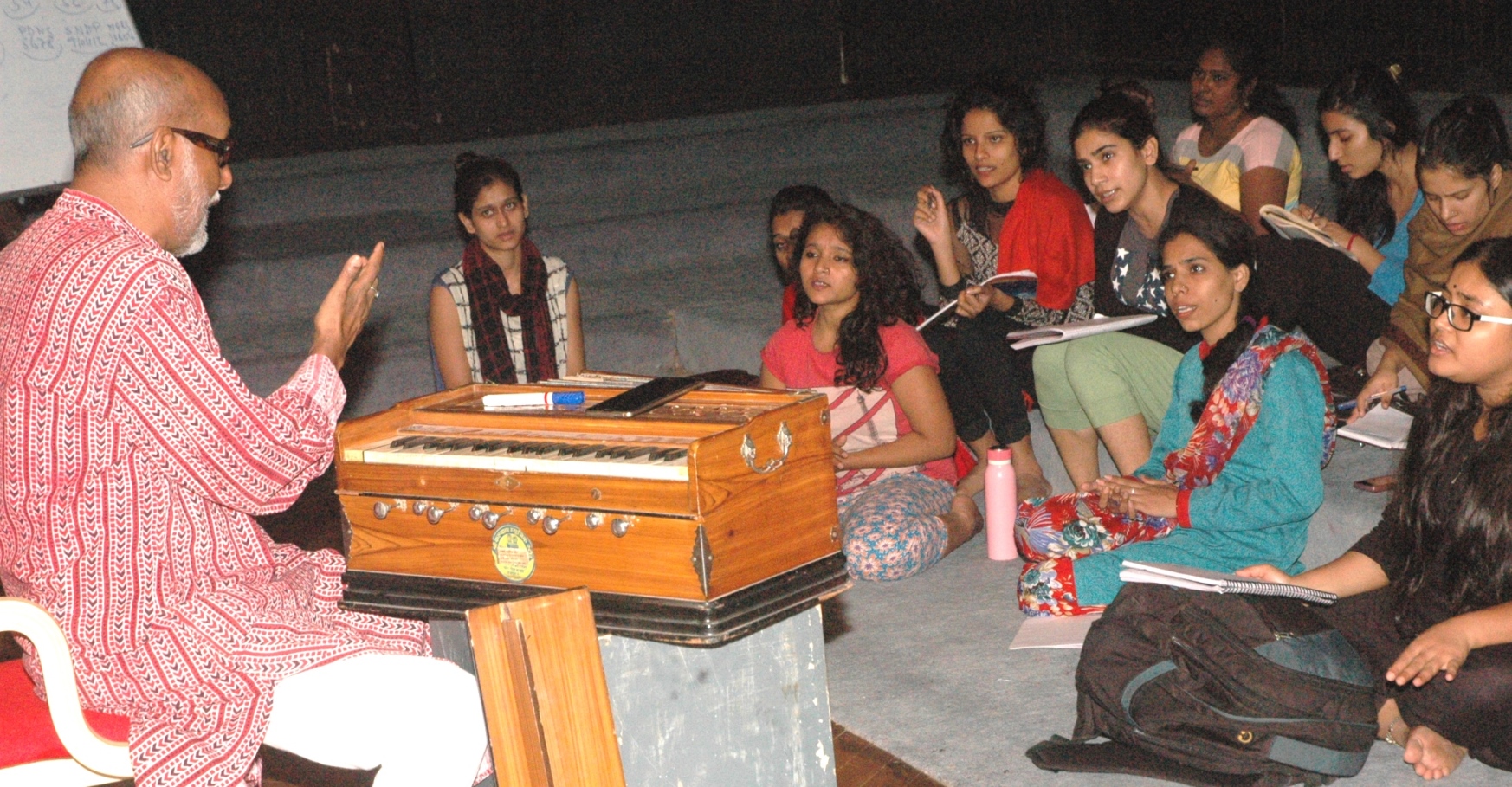 Press Release
National Theatre Workshop
Organized jointly by Jawahar Kala Kendra and National School of Drama
Jaipur, 13 June: The participants of the ongoing  National Theatre Workshop for Young Aspiring Women Theatre Directors at Jawahar Kala Kendra are being taught the intricacies and nuances of theatre by renowned experts. In the month long workshop, the participants are being trained in different aspects of theatre like direction, acting, music, contemporary movement, set design, costume design, stage craft, play production, theatre appreciation, among others.
The aim of the workshop is to equip women with the basic tools and skills required to give voice to their expression and urge them to direct quality theatrical productions. Keeping in mind the fact that the number of women directors in theatre is much less as compared to men, the workshop has been designed solely for women.
The participants have a rigorous training schedule wherein the workshop begins at 7 am in the morning and goes on to 9 pm in the evening. Towards the end of the workshop, the participants will also be working on their own theatrical pieces under the guidance of the Mr. Teekam Joshi who will be sharing his insight on acting input with them.
The other resource persons for the workshop include eminent theatre personas like Prof. Tripurari Sharma (reading play text, sub-text and introduction to important theatre directors); Prof. Kirti Jain (presence of women directors), Ms. Adittee Biswas (text to stage); Prof. Neelam Man Singh (her own work, philosophy and style); Mr. Kajal Ghosh (music in theatre);Ms. Souti Chakraborty (Set Design); Ms. Sonal (Contemporary Movement); Ms. Dolly Ahluwalia Tiwari (Costume Design); Mr. Ashok Sagar Bhagat (Basics of Design); Ms. Meeta Vashist (acting); Mr. Rajesh Singh (sound design), among others.
In all, 21 candidates are participating in the workshop out of which 11 are from Rajasthan. Most of the candidates have a prior experience in theatre. The participation of the selected candidates in the workshop is free of cost. The workshop is on till 30 June.