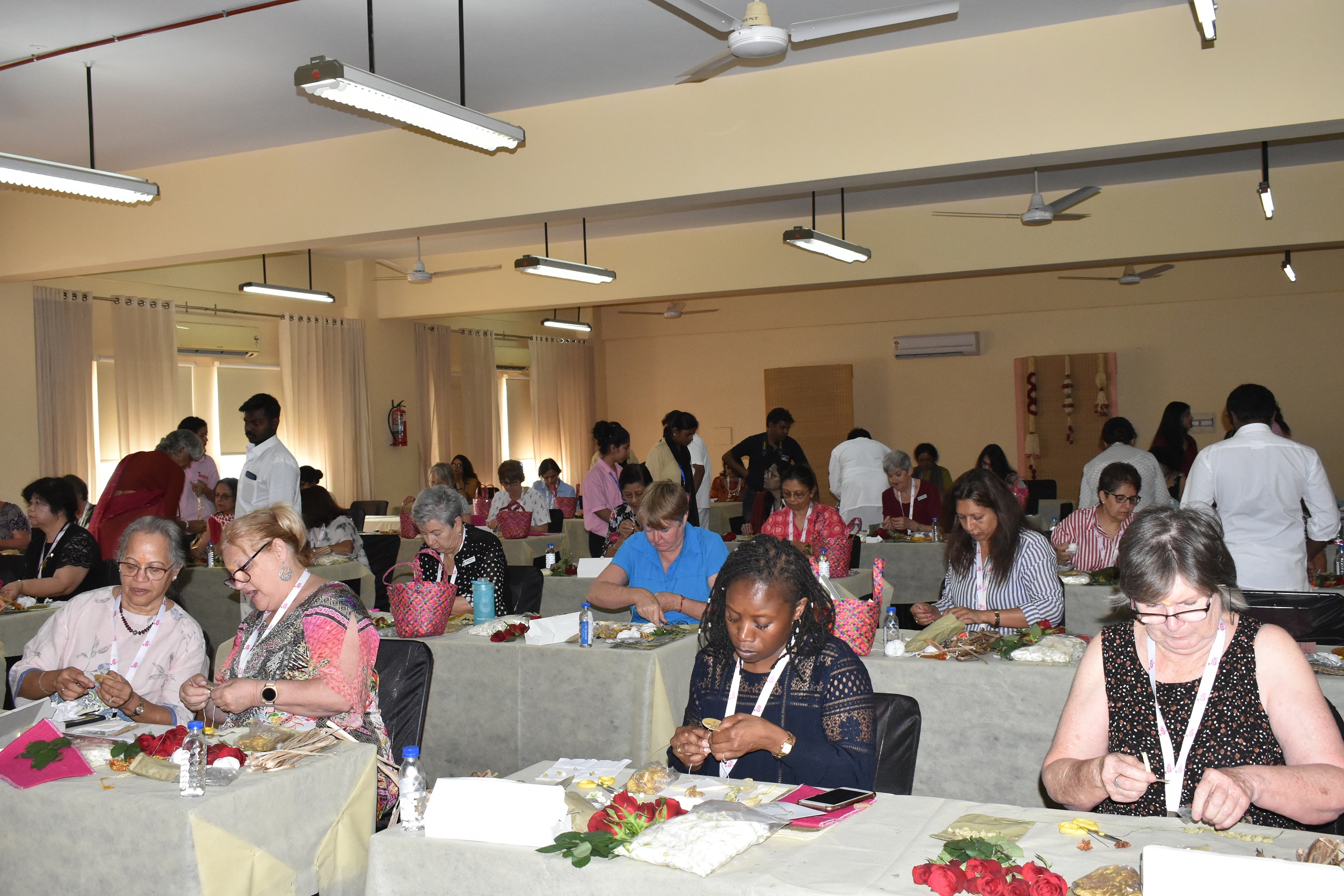 Press Release
The 'World Floral Show – Grand Floral Affair 2020' concluded at Diggi Palace.Over the course of the festival, around 500 delegates arrived from over 30 countries. These included – Argentina, Belgium, Canada, France, Hong Kong, Ireland, Korea, among others. Not only this, the floral extravaganza was participated by 300 competitors and attended by over 25000 visitors. Similarly, it was judged by as many as 40 national and international judges. WAFA India President, Ms. Kavita Poddar and WAFA India Show Chairperson , Ms. Kamla Poddar were also present on the occasion. It is worth noting that the '14th World Floral Show – Flora Aotearoa' will be held in New Zealand from 20 to 26 March 2023.
It was organised by the World Association of Floral Artists (WAFA) and presented by Pushpa Bitan Friendship Society in association with Kamla Poddar Group. The event was supported by Rajasthan Tourism.
Workshop on Floral Jewellery Making
The morning witnessed a workshop on 'Floral Jewellery Making' by Vijaylakshmi Rudrappa from Coimbatore at Birla Auditorium. Around 35 participants tried their hand at making wristbands and chains from floral and plant ingredients. The participants threaded green cardamom pods with a thin string, tied it together and made a disc in the center out of cardboard, gold tissue leaves and star anise. Furthermore, they also learnt the technique of lacing jasmine flower pods into a chain using a thick needle and string.
Pre-Booked Demonstration 'Unity in Diversity'
Simultaneously, there was also a pre-booked demonstration on 'Unity in Diversity' at Birla Auditorium. Participants in large numbers witnessed numerous craft techniques by local artisans. These techniques included –Sholapith crafts, Dhokra weaving, Sabai Grass weaving, Patachitra, Portraits and Key Chains from Palm Leaf, Taal Patta garland making, Bamboo art and Floral Carpet Weaving. The artisans not only demonstrated the crafts but also shared the history of the artform as well as its prevalence in the current market.
Interactive Talk on Flowers in Indian Miniature Paintings and Architecture by Shaan Bhatnagar
In the talk on 'Flowers in Indian Miniature Paintings and Architecture', Shaan Bhatnagar said that with the advent of Persian invasions and Mughal era in India, one can see a refinement in art and culture. Though flowers can be seen in paintings and other art works even in the pre-Mughal era but they lack intricacy and detailing. Through a pictorial presentation of Indian miniature paintings, Shaan showed how flowers are used in Indian culture as offerings to the Gods, as a way of blessing in Indian weddings as well as in decoration.
Talking about flowers in architecture, Shaan said that floral designs can be seen on ceilings, walls, ornamental screens of temples as well as monuments across the country. Even in the modern architecture, one can see the use of flowers to accentuate design.
ABOUT GRAND FLORAL AFFAIR, WAFA
'Grand Floral Affair' - a World Flower Show & International Seminar - is a tri annual event by WAFA. WAFA is a voluntary & non-profit global organisation of international floral art societies. WAFA encourages art of flower arrangement through workshops, seminars and flower shows. The events promote the exchange of information concerning floral art. The motto of the organisation is to spread friendship through flowers. Founded in 1981 by a group of flower arranging societies, WAFA now has 31 countries as its members.