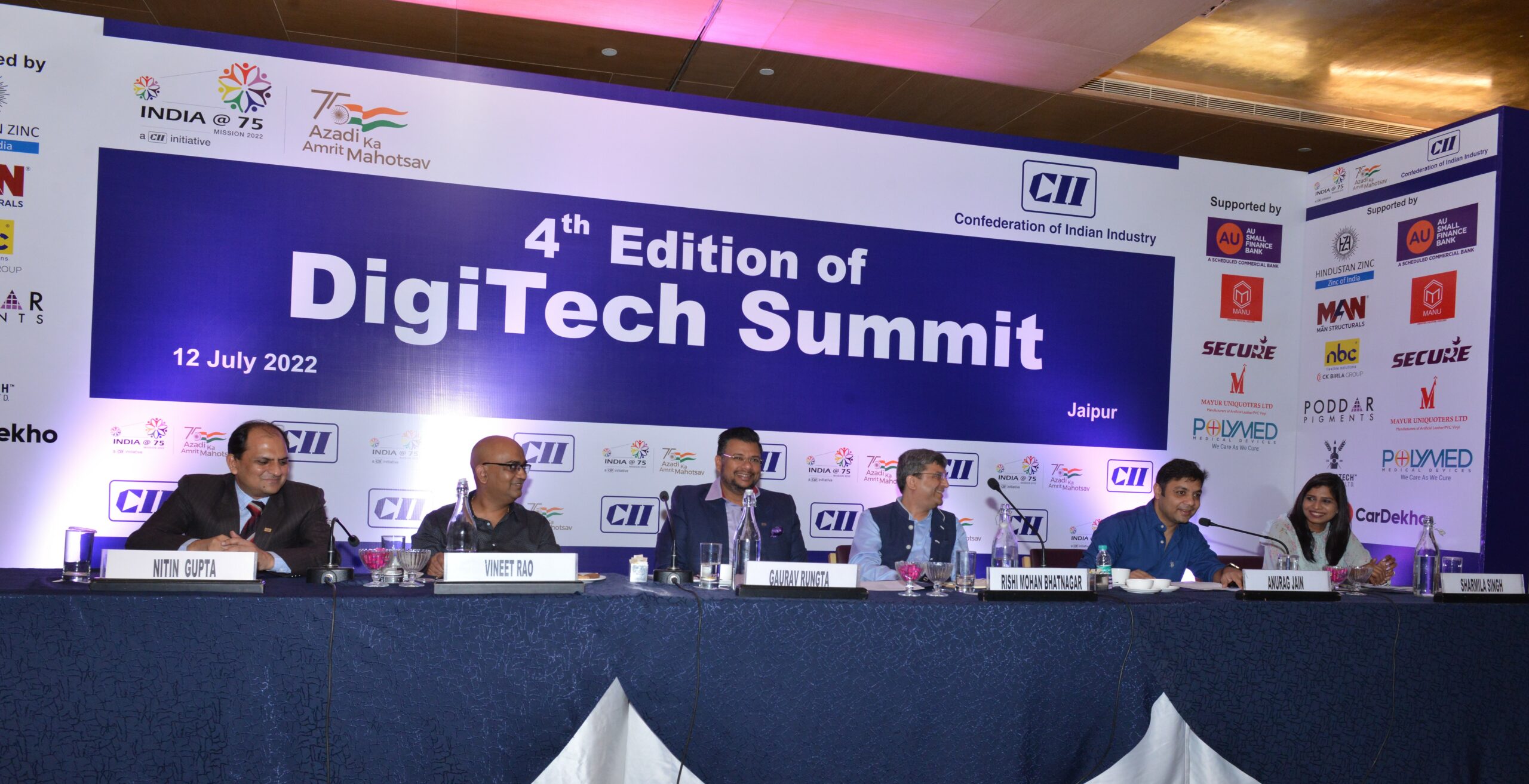 Press Release
Today technology has touched all spheres of life and we are in the middle of a technological revolution. The MSME and business owners need to understand how they can use and leverage technology to make their working more efficient. This was stated by the Conference Chairman and Chief Operating Officer & Co-Founder, CarDekho.com, Mr. Anurag Jain. He was delivering the Theme Address during the inaugural session of the 4th Edition of DigiTech Summit 2022 organized by Confederation of Indian Industry (CII) Rajasthan at Hotel Radisson Blu in Jaipur.The Summit was themed on 'Future Ready Digital Ecosystem for Industry'

Mr. Jain further said that business owners need to understand how technology can automate their business processes and also provide data reports in real-time. In the knowledge-based economy of present times, harnessing and analysis of data can aid in better decision-making.

Founder and CEO, DealShare, Mr. Vineet Rao appreciated the efforts of both the Central Government as well as the State Government of Rajasthan in increasingly lending more and more support to start ups through their policies and schemes. He added that the next decade will be 'Techade' with technology impacting masses in spheres as diverse as health, infrastructure, retail, education etc.

President, Aeries India, Dr. Rishi Mohan Bhatnagar, said that the Government, Industry and Academia should work together to transform the digital space. He also stressed on the need for start up owners to delve on two points before starting a Start Up – Who will buy and what will they buy?

Director, Product Development, Siemens – Technology and Services Pvt. Ltd., Ms Sharmila Singh said that Work from Home during the Covid-19 Pandemic was seamless owing to technology and digital platforms. She also threw light on how robotics helped during the pandemic. Ms. Singh further stressed on the need for a digital ecosystem and bringing together of the real world and the digital world.

Earlier in his Welcome Address, Chairman CII Rajasthan and Managing Director, Man Structurals Pvt Ltd, Mr. Gaurav Rungta said that digitalization has made life more productive and easier for humans. Stressing on the power of IT for common man, he said that it does not distinguish between the rich and the poor. However, humans will continue to be relevant as only they have the ability to define a goal, he added.

Also present on the occasion was Senior Director & Head, CII Rajasthan, Mr. Nitin Gupta. The Vote of Thanks for the Inaugural Session was also extended by Mr. Gaurav Rungta.

Panel Discussion on Creating Synergies between Startups & Corporates & Impact of WEB 3.0, the Metaverse and the NFTs

Post the inaugural session a Panel Discussion on Creating Synergies between Startups & Corporates & Impact of WEB 3.0, the Metaverse and the NFTs was held. During the discussion, Founder, CULENZ, Mr. Rajat Jain talked about the advancement in technology and threw light on concepts such as Augmented Reality, Virtual Reality and Metaverse.

Co-Founder, Celebal Technologies, Mr. Anupam Gupta highlighted the culture of startup and innovation in India. He said that there needs to be a better utilization of India's software strength and expertise to win in the industry forum. He also advised the entrepreneurs to start small and experiment with technology.

Deputy General Manager, North Western Railway, Mr. Anuj Kumar Tayal said the Indian railways is looking at leveraging innovative technologies developed by Indian startups, MSMEs etc. to improve operational efficiency and safety in Indian railways.

Professor Navneet Goyal of Computer Science and Information Systems, BITS Pilani said that with Artificial Intelligence (AI), everything is possible provided that entrepreneurs choose, model and execute their technological innovations correctly. He also stresses on the need to apply AI without compromising on the privacy of clients.