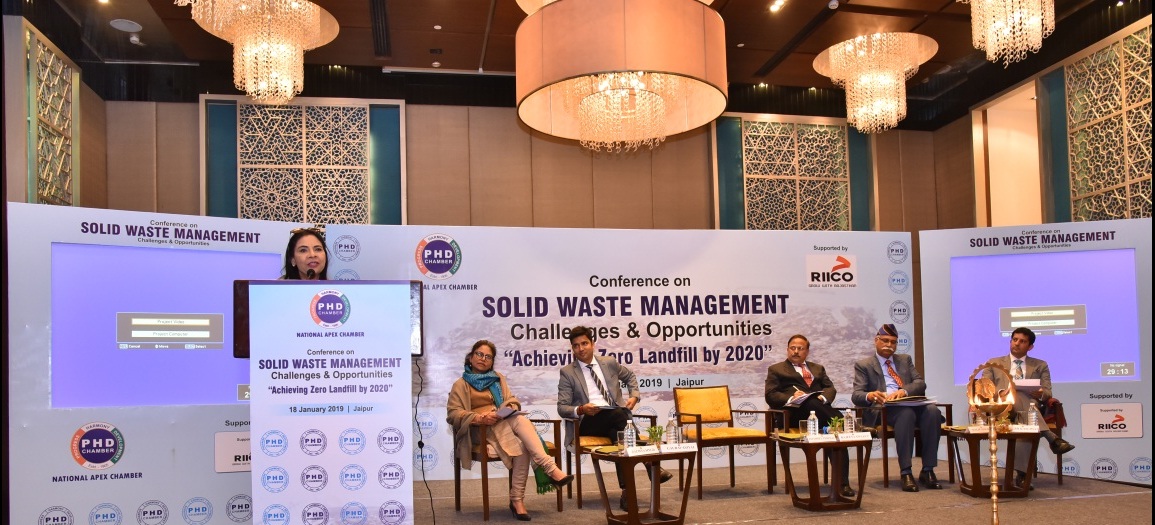 Press Release
 PHD Rajasthan Chapter along with RIICO  organized the conference, "Solid Waste Management-Challenges and Opportunities", that focused on minimizing solid waste in industrial estates and finding opportunities to turn waste to wealth for achieving Zero Landfill by 2020.
Speaking on the occasion, Ms. Almitra Patel, Member Supreme Court Committee on SWM focused on Solid Waste Management in Textile Industry. "Finely-shredded thin carry-bags, multi-films and thermo Cole that is usually burnt by industries, can be sprinkled onto heated stones in a hot-mix plant. They soften and give the stones a good coating to which tar (asphalt, bitumen) bonds very firmly. Road life is more than doubled and costs are also less as 8% by weight of bitumen can be replaced by shredded plastic."
Among the prominent speakers were Justice (Retd.) Dalip Singh from National Green Tribunal, Ms. Almitra Patel and Dr. Vivek Agarwal, Chairman, WGCTT, International Solid Waste Association and officials from Rajasthan State Pollution Control Board and RIICO.
Speaking on the occasion, Mr. Gaurav Goyal, MD RIICO said, "RIICO is committed to environment in the industrial estates of Rajasthan. We would give impetus to R&D in waste management and recycling and support industries that want to install CETPs. RIICO is also planning to do large scale tree plantation along the roads in Industrial areas to reduce air pollution and are going to have designated areas for waste management processing plants."
The event saw active participation of the Rajasthan State Pollution Control Board and the RIICO officials. Meaningful stakeholders are interacting in the technical sessions: ACS Home, Mr. Rajeeva Swarup attended as the Chief Guest with Mr. Gaurav Goyal, MD RIICO as Guest of Honour along with Ms. Jayshree Periwal, Chairperson- Rajasthan Chapter PHDCCI.