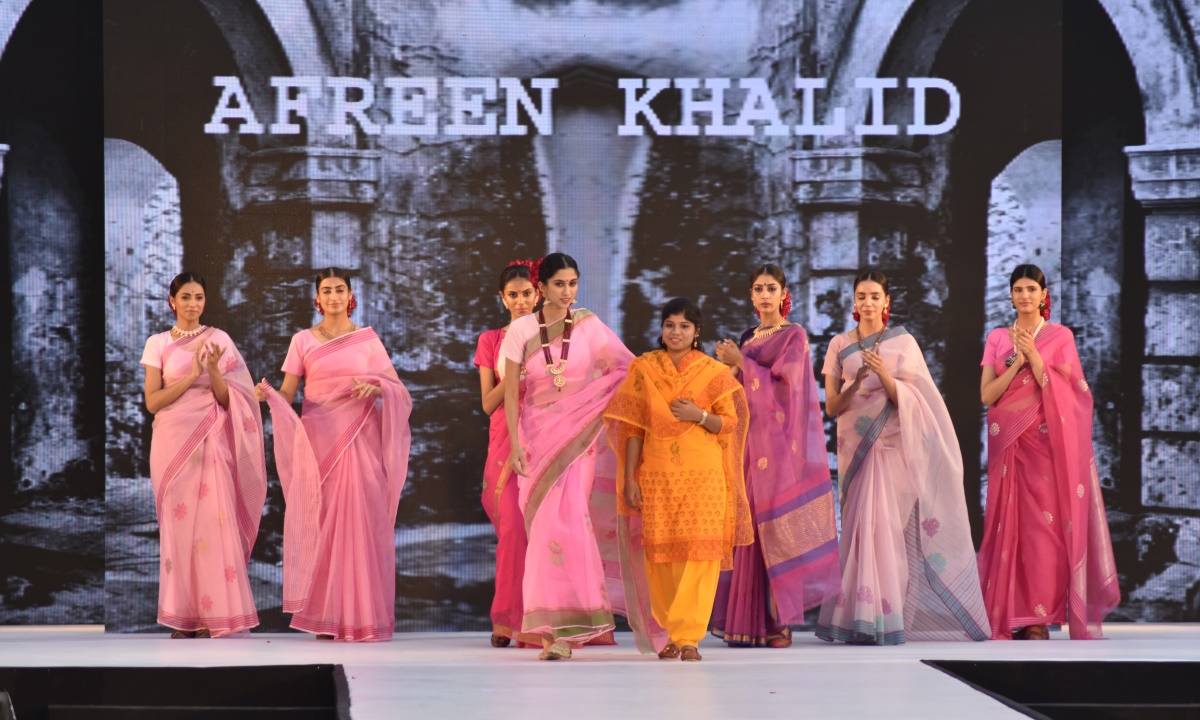 Press Release
The second day of the 3 day Rajasthan Heritage Week at Diggi Palace showcased 14 different fashion collections on the ramp by Master Craftsmen as well as young fashion designers.
About the Designers and Their Collection
Abdul Ghayur and Abrar Ahmed
The duo have created a collection in Red and black this season, with traditional floral prints and animal print on chanderi. They have been created using natural dyes and themed on the traditional arts of Rajasthan.
Chhail Sharma representing the NGO SURE
This young weaver from Barmer has created an assorted collection of saris and dresses with fabrics like Khadi cotton, Khadi Wool and Kota Doria. The techniques of Applique, Block Print, embroidery and pattern work have been used on these ensembles.
Aafreen Khalid
This woman weaver is the only one to have created all her saris by her own hands and not by a team. She has single-handedly woven these kota doria saris in khadi Cotton. She is also pursuing her Master's while doing weaving simultaneously.
Abdul Ghani
This National Awardee has taken a unique perspective on Mughal Block printing on Kota Doria, Chanderi, Cotton and Silk Saris. One of his masterpieces this year is a Sari made of 108 different blocks. He works with his daughter – Designer Anjuman Ara.
MANISH SAKSENA
His collection shows a subtle rendering of monsoon hues of  such as green and in iconic leheriya, bandhini and Shibori techniques overlaid with Ajrak, patchwork and pakko embroideries. He  has collaborated with Gramin Sansthan, Babu Bhai of Sawai Madhopur, Mohd Sabir Bhai and a Jaipur Enterprise for slum women — Hunar.
AMANDA BACHALLI
Amanda Bachalli showcases her Spring/ Summer 2019 collection at Rajasthan Heritage week. The collection titled 'SAMAY' or TIME is based on the essence and meaning of time.
Amanda Bachalli brings a breath of fresh air into her collection using traditional Rajasthani textiles of applique and handblock prints in cotton and silk. She has combined modern lycra stretch with white applique to create a distinctly new age perspective to age old traditional techniques and fabrics.
SAMANT CHAUHAN
He showcased the collection called – Bombay. Retaining the kora colour of Khadi, the focus is on a lot of layering, on Khadi Cottons and Kota Doria. His current Spring Summer 2019 consists of formal tube dresses, short layered dresses with panned jackets, with a lot of pleating used in most of these ensembles.
SHUCHI VC
Inspired by the beauty of Rajasthan and the beautifully painted frescos of Amer, her collection is aptly called Amer. Working on handloom and Kota Doria from Rajasthan combined with intricate block printed frescos, the collection Amer transverses its journey from the forts and palaces of Rajasthan to the international arena in the form of her drapes and silhouettes to suit the sensibilities of the modern women.
ANANTAYA – WILD ASS COLLECTION
The unique 'Zero Waste' garments are a collaboration between Anantaya and Iro-Iro. Ayush Kasliwal explores 'whole cloth' using handloom in its entirety with minimal construction to create wearable body sculpture. The name is inspired by the endangered Wild Ass, a native of the Kutchch region in Gujarat. Encouraging sustainable textile production, the fabric is custom woven in wide width by the weavers of the same region. The garments are made using origami-like folds and cuts, and make unusual graphic silhouettes.
MOHAMMED YASIN ANSARI
This National Awardee from Mangrol, Baran, is one of the most popular artisans in the country working with designers across. His work in Zari on Kota doria, cotton and silk are one of his specialties. This RHW 2018, he has created kota doria saris with 'butti' on them, making them a rare piece. This season he has also associated with RHW Designer Rina Singh from Delhi, with who he will be co-developing more than 1000 meters of kota doria.
SWATI VIJAIVARGIE
The Fall Winter collection for the label is inspired mainly by the antique chintz of Rajasthan. The motifs, colors, textures and details are all derived from these textiles. The key element of the collection lies in the development of the textiles using local craft and surface embellishment techniques like hand screen printing, applique, marodi and danka embroidery. Hand twisted braids made from textile waste, left over threads, zari and hand made sequins are used for texturisation and embroideries.   The color pallete is mainly blacks, charcoal and ivory with pop of colors in embroidery and texturization.
PAYAL PRATAP SINGH
For the Rajasthan Heritage Week, Payal has worked on a classic festive palette with Ivory, dull Gold and Copper. Khadi and Kota fabrics have been block printed and used as canvas for Gota work, Stitch Detailing and Surface Textures. The collection is accessorized with handmade footwear and Gold Plated ear cuffs.
PUJA ARYA
This collection is designed for Spring/Summer 2019. It is the designer's interpretation of locally woven and printed fabrics seen through an international fashion lens.   The collection is for women who are fashionable and yet not victims of fashion trends.
The designer has used Rajasthani Hand-woven kota doriya fabric for the collection.  The ensembles are embellished with slight hand embroidery by artisans on a traditional 'adda'.
ROHIT KAMRA
This collection is made entirely in the handlooms of Rajasthan. Giving a vintage and sporty look, the colours range from mint green, aqua and peach with white as a balancing factor. Blues and pinks with turquoise as well as white, black and grey are also used. The fabrics have been created in Barmer and Jaisalmer with appliqué and pattu work which signifies the craftsmanship of Rajasthan. High waist breeches, half jackets and blazers give the collection an edgy feel. The boys look has semi formals with Jodhpuris, rider pants and jackets which have hand weave detailing in the outfits to enhance the look of the khadi collection.