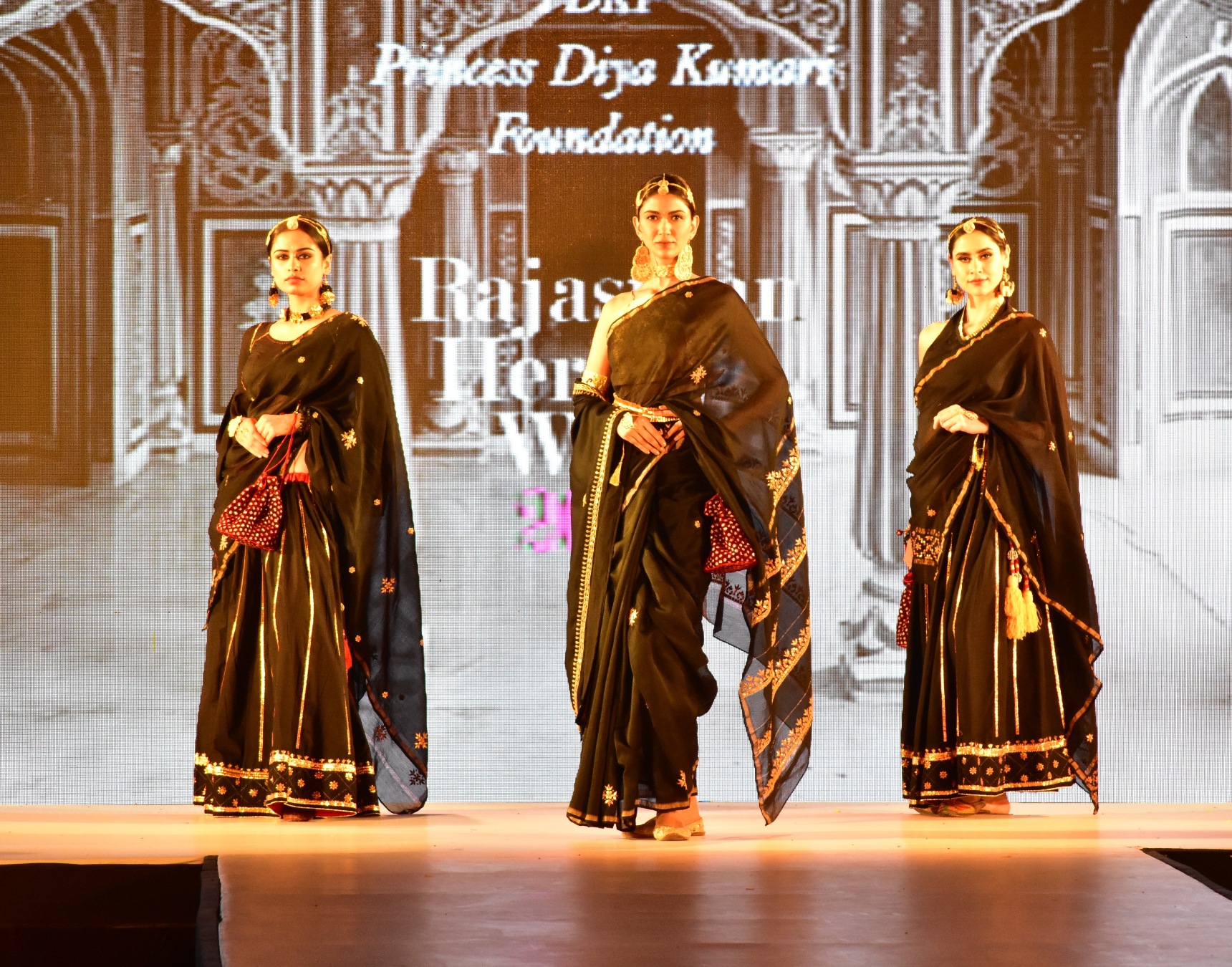 Press Release
The first day of the Rajasthan Heritage Week witnessed fashion shows showcasing an outstanding collection by master craftsmen of Rajasthan as well as top fashion designers from the state. The evening began with the showcase of the kota doria, khadi, chanderi, block-print, zari and gotta patti collective of master craftsmen.  Later the collection of designers like Bibi Russell, Raj Neeral Babuta, Vidhi Singhania and Reena Singh, among others was showcased. For the first time, models also walked the ramp wearing the apparel of Princess Diya Kumari Foundation.
About the Designers and their Collection 
Abdul Hakeem Kachara
This National Awardee Masterweaver from Kota, is known for his intricate weaves and zaris on Kota Doria. This RHW 2018 collection consists of chequered prints which are modern and can be worn by younger women, which he dedicates to the Modern Women of Rajasthan.
Nasruddin Ansari
A National Awardee from Kota, his entire family is into the art of Kota Doria weaving. This season he showcased the festive colours of Rajasthan in Kota Doria along with Gold Zari, which creates the grandeur and festive feel. The Saris are airy and light compared to other Kota Doria saris.
Farah Ansari
Ansari has been successfully creating wedding ensembles that have been highly appreciated. Her collection this season consists of dresses and saris made of khadi Cotton from Bikaner by Sitaramji, Chanderi and Kota Doria. The techniques used were screen printing, block printing, danka work, gota patti and other embroidery forms.
Nazar Bhai
Being one of the most skilled Masterweavers in the country, he has created some of the best Kota Doria saris that have been worn by women across the country. Using all natural dyes, these Kota saris are made of cotton and silk and are lined with Zari, that adds an element of grandeur to the look.
Mohammed Yaseen Chippa
A block printer from Balotra, this Master-artisan showcases saris in pure handloom cottons, in colours that are authentic to the state of Rajasthan. He uses all-natural chemical-free vegetable dyes in them, giving them an earthy feel.
Bibi Russell
Bibi Russell's collection is dedicated fully to Khadi, paying homage to the magic weaves of local artisans who struggle hard to preserve the uniqueness of traditional designs and techniques in an increasingly globalised world. This collection is a tribute to the weavers and craftspeople of Jhalawar.
Raj Neeral Babuta
The collection is an elegant and sophisticated blend of modern contemporary semi-formal designs that transcend season. The inspiration is varied- from cotemporary smart-fit trend to references from modern classy attires. Beautiful scarf patterns have been used to  complement the attire. The entire collection is designed in Organic Cotton and Khadi Fabric.
Princess Diya Kumari Foundation
The Princess Diya Kumari Foundation works with underprivileged women, training them on heritage crafts. Their collection is showcasing Gotapatti, which is known as the Royal craft of Rajasthan. It came to Rajasthan from the Mughals and the motifs were inspired by flora and fauna. The City Palace Textile Museum has Gotapatti garments that date back to 1860 and they are continuing the tradition of using Gotapatti.
The collection is inspired by the colors and festivals of Jaipur including Diwali which is the only time women wear black.  All jewelry for this collection is handmade using Gotapatti work, thread work and fabrics replicating traditional designs of Rajasthani jewelry.
Abrar Ali
The Khaddar collection is inspired by the Check & Straight line pattern with tonal block prints created into modern silhouettes to suit the modern men of today. It is a twist of both modern and contemporary craft.
R.K. Derawala
One of the few Padmashree Awardees from Rajasthan, Ram Kishore Derawala has carved a niche for himself in the space of hand block printing. Being a Master Artisan from Bagru, his work spans across some of India's biggest designers and retail apparel brands. This collection consists of vegetable-dyed block prints on Khadi Cotton, Tassar, Gajji Silk and Chanderi in colours of Red, Black and Indigo.
Malvika Singh
Malvika Singh showcased an assortment of Rajasthan's best handwoven Saris made by the Master artisans of the State.
Rina Singh – Eka
EKA's Spring Summer 2019 collection was showcased in which handwoven cotton and cotton-silk kota doriya with water colour prints in pastel colors and block prints with a diluted color effect was used. The main highlight is the creation of layers of kota doriya in feminine colors.
Trupti Bhargava – Urbania
Urbania's Black and White 2018 collection celebrates a woman's beauty by presenting an avant garde ensemble of cool, luxurious and easy silhouettes.   Minimalist detailing, supple Khadi and handwoven cotton-silk lend a breezy rendition inspired by Drip paintings of artists from around the world.
Vidhi Singhania
Vidhi Singhania's Collection is inspired by Blue Pottery. Just like blue pottery, her collection is fragile, elegant and unique. She has translated the cobalt blue dye of Jaipur's blue pottery into an enchanting sartorial spread.