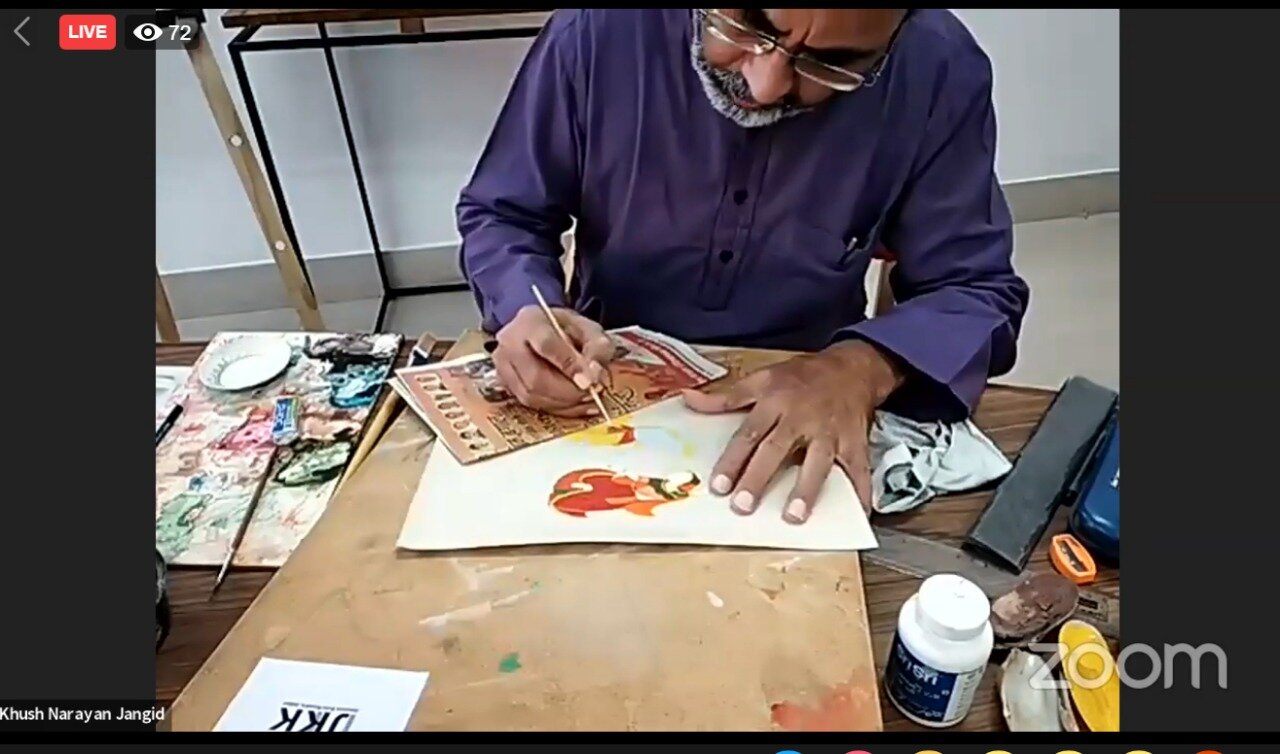 Press Release
On the 10th day of the ongoing 'Online Learning – Children's Summer Festival', viewers witnessed a visual arts online learning session on 'Traditional Miniature Painting' conducted by artist, Khush Narayan Jangid. The session focused on showcasing the intricacies of traditional miniature painting as well as demonstrating the skill and technique involved. It also aimed to create awareness of the ancient art style.
The session began with the artist explaining the various materials required to create a miniature painting. This included handmade paper, natural colours in shades of yellow, orange, green, blue, brown, red, among others. He also explained that a mixture of 'Khadiya' (chalk) and 'Gond' (gum) is used to create the base for the painting, to make it smooth and fine. Shells with flat surfaces are used for mixing colours and a smooth marble stone is rubbed on the reverse side of the paper to give it a glass like texture, he informed.
Following this, the artist began the painting with a pencil sketch on handmade paper and outlined it with black ink. He explained that a newspaper must be kept under one's hand at all times to ensure the painting remains clean. After this he rubbed the reverse side of the painting with the stone to smoothen its surface. After drawing, he took the 'Khadiya' colour and applied it 2-3 times on the painting as the base. Thereafter, he filled in the colours for the body parts as well as clothes and outlined them once again. In a miniature painting, the face and ornaments are always done at the end. Before that the artist must paint the background, sky and ground. Gold ink is used to add details to ornaments, jewellery, designs and attire, he explained. Earlier the artist also gave a brief overview of the ancient art of miniature painting.

Tomorrow's Programme on Wednesday, 27 May
Tomorrow on Wednesday, 27 May, there will be an art talk – 'A Journey with Indian Sculptures Through the Ages' by eminent art historian, Dr. Vijay Mathur at 6.30 pm. The talk will focus on understanding what is Indian art and its significance throughout the ages. It will span over the Indus Valley Civilisation, Maurya Empire, Gupta Dynasty as well as the Vakataka Empire.
It is to be noted that the online learning session will be Live on JKK's Facebook page on https://www.facebook.com/jawaharkalakendra.jaipur/