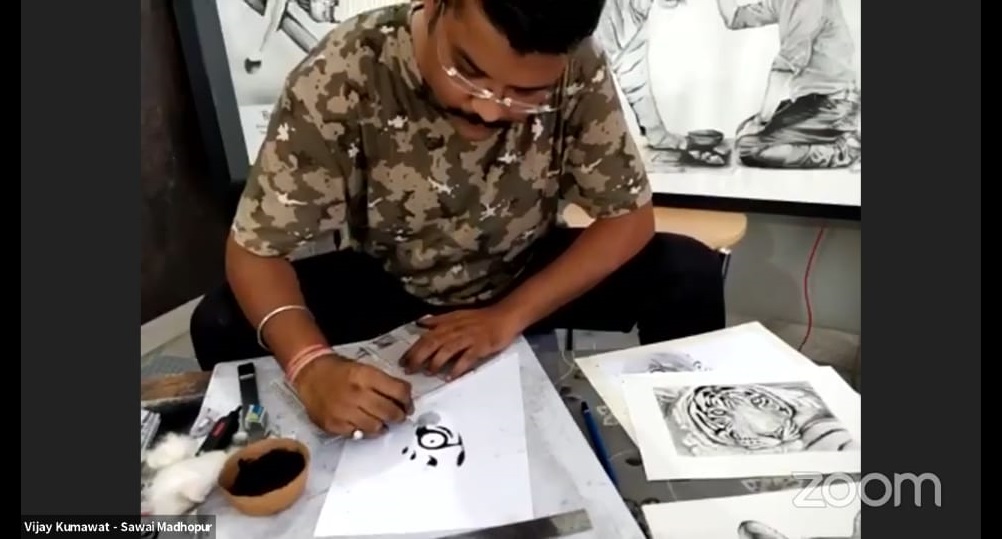 Press Release
As a part of the 15th day of the ongoing 'Online Learning – Children's Summer Festival, there was a visual arts online learning session on 'Charcoal Painting' by artist, Mr. Vijay Kumawat.The session featured a step by step technique to create charcoal art. The viewers also learned how to recreate different types of strokes, blending, shadows and textured shading.
The session began with an introduction to 'Charcoal Painting as an art medium. The artist explained that charcoal was often used by the pre-historic man to create art. Throughout history, burnt sticks which were earlier used as charcoal, transformed to become the charcoal we use for painting today. He then demonstrated how to make a brush out of folded newspaper. He advised viewers to make their own charcoal powder instead of buying the adulterated versions available in the market.
The session further showcased how to create a variety of textures using charcoal, hand-blending techniques, erasing using liquid erasers and layering to create darker textures. Unlike acrylic paints and watercolours which dry quickly, charcoal painting take time to make and one must be patient during the process. The artist should visualise the subject before him, identify the colours and create shades accordingly in charcoal. Sometimes it is a good idea to take a step back from your painting and compare it with the reference piece to make sure you are on the right track, he said.
Tomorrow, Wednesday, 3 June Programme
On Wednesday, 3 June, there will be an art talk – 'Expressing with Doodle Art' by artist, Ms. Ashima Kumar at 6.30 pm. She will be sharing her journey as a doodle artist, how she starts working on a doodle, how doodling has become one of a hobbies to improve mental health. The artist will also give some insight into the London art market and art scene.
It is to be noted that the online learning session will be Live on JKK's Facebook page on https://www.facebook.com/jawaharkalakendra.jaipur/