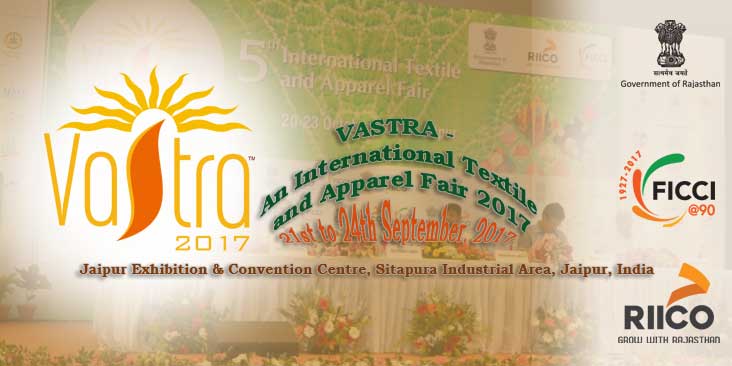 Press Release
Union Textiles & Information and Broadcasting Minister and Chief Minister, Rajasthan to inaugurate
Over 250 exhibitors, around 300 overseas buyers from more than 50 countries and 200 representatives from  Indian buying houses/Agents will be participating
Roundtable Conference,Jaipur Designers Festival, Sari Workshop will be the special attractions
The 6th Edition of the 4-day international textile and apparel fair, 'VASTRA' will be organized in Jaipur from 21 to 24 September at Jaipur Exhibition and Convention Centre (JECC) in Sitapura. It will be inaugurated by the Union Textiles & Information and Broadcasting Minister, Smt. Smriti Zubin Irani and Rajasthan Chief Minister, Smt. Vasundhara Raje on 21 September, 2017. Rajasthan Industries Minister, Shri Rajpal Singh Shekhawat will be the Guest of Honour. The exposition is an all-encompassing trade fair and conference on Textiles and Apparel which will present a fusion of the finest and the latest in textile products – from fiber to fashion, services and technology. This was informed by the Managing Director of Rajasthan State Industrial Development and Investment Corporation Ltd. (RIICO), Ms. Mugdha Sinha today.
The mega textile fair is jointly organized by RIICO and FICCI. 'VASTRA' has created a niche for itself in textile and apparel industry since its inception in 2012. The event is also supported by the Government of Rajasthan.
Ms. Sinha further said that over 250 exhibitors from 13 states will showcase their products over net exhibition space of 3600 sqm at JECC. Furthermore, around 300 overseas buyers from more than 50 countries and 200 representatives from around 100 Indian buying houses/agents are slated to attend the event. Karnataka is participating as Partner State and Odisha, Madhya Pradesh, Uttrakhand and West Bengal are participating as supporting States in the event.
Ms. Sinha also added that first three days of the event will be devoted exclusively to B2B and the last day will be open for B2C, involving retail sales. General public is invited to visit the fair on 24th September to shop for their favourite products.
Mr. Sinha also informed that this year VASTRA will have few new features like: Roundtable Conference on "Making Rajasthan a Garment Hub"; Jaipur Designers Festival and Sari Workshop. The exposition will continue to have Business Fashion Shows, Design Display Wall for budding designers, Rajasthan Pavilion which will showcase arts and crafts of Rajasthan.