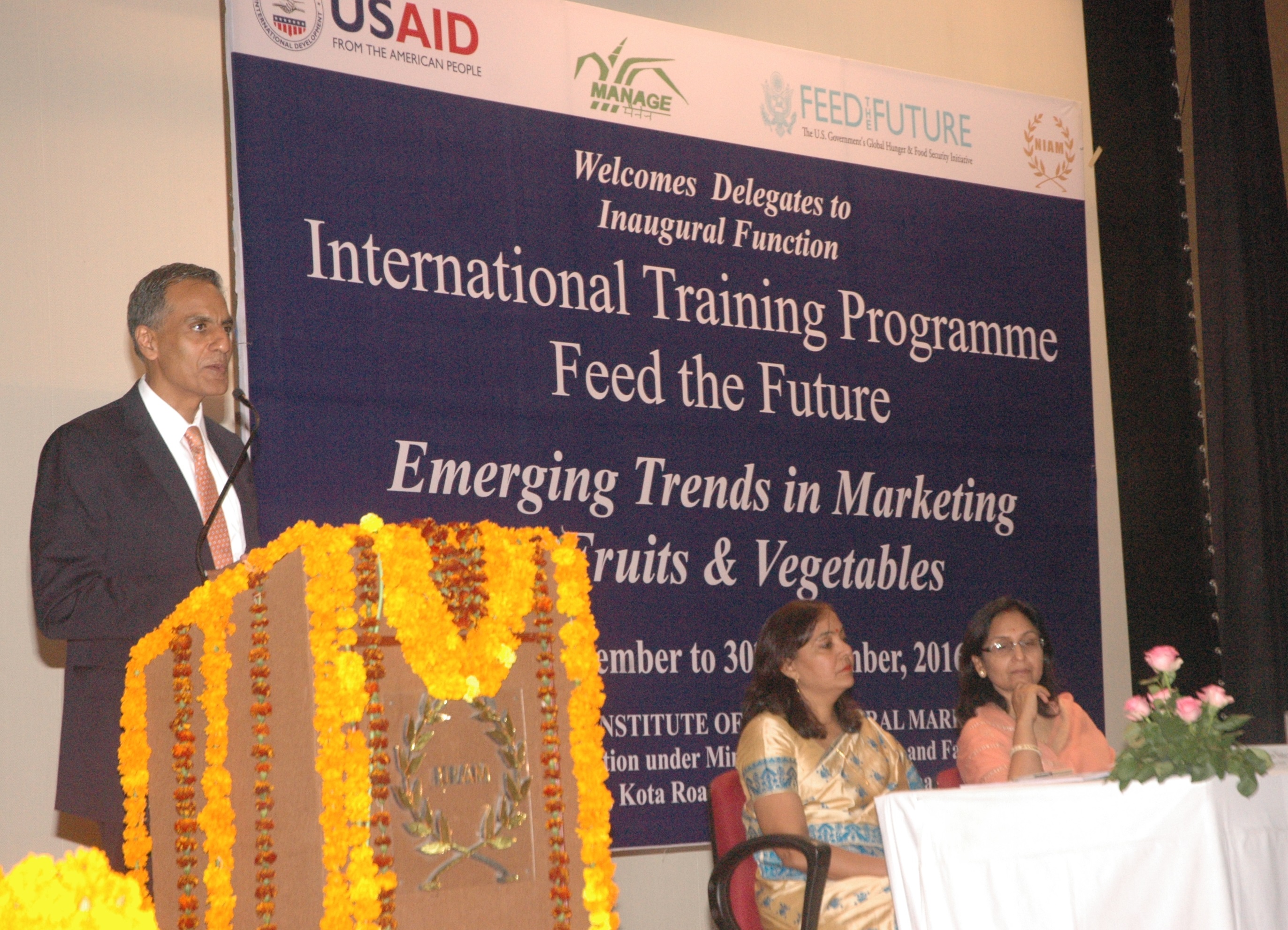 Press Release
Training Part of $4 Million Joint U.S.-India Agriculture Program
Jaipur, 17 November: The U.S. Ambassador to India Richard R. Verma inaugurated today the third U.S.-India triangular training on "Emerging Trends in Fruits and Vegetable Marketing" at the CCS National Institute of Agricultural Marketing (NIAM) in Jaipur. The training is part of a $4 million collaborative partnership between the U.S. Agency for International Development (USAID) and India's Ministry of Agriculture titled "Feed the Future India Triangular TrainingProgram."
Twenty-eight participants including policy makers and farmers from nine countries – Afghanistan, Botswana, Cambodia, Mongolia, Kenya, Malawi, Liberia, Ghana, and Mozambique – have arrived at NIAM to take part in the training, scheduled from November 16-30, 2016. The objective of the training is to provide participants with an understanding of new trends, approaches and procedures in marketing of fruits and vegetables so that the producers and marketers in Africa and Asia can participate in global markets and emerging opportunities to enhance their incomes.
Speaking at the event, U.S. Ambassador Verma emphasized the United States and India's commitment to work together to break the vicious cycle of poverty and hunger. "The training at NIAM will train participants on areas related to global trends in fruits and vegetable marketing, understanding food safety and quality requirements, and how to use technology as an enabling force. Collectively, these strategies have the potential to create an environment conducive to investment and entrepreneurial development," he said.
Director General, NIAM, Ms. Irina Garg said that even today in the 21st century, a large number of people across nations are either undernourished or malnourished. It is therefore imperative that this problem is addressed.
The US's commitment to this programme is historical and emanates from its philosophy enshrined in its Declaration of Independence wherein 'Life, Liberty and Pursuit of Happiness' have been recognized as inalienable rights of mankind, Ms. Garg added.
Director General, National Institute of Agricultural Extension Management (MANAGE), Mrs. V. Usha Rani said it is indeed a challenge to feed the growing population of our country. However, India's performance in this arena is quite commendable. To compete in the international market, it is also necessary to address the challenges in food processing and storage along with food production.
The participants from the 9 countries also shared their views about how the training programme will aid in unlocking new opportunities to address global challenges in agriculture especially those related to post harvest.
The "Feed the Future India Triangular Training Program" builds upon five decades of U.S.-India collaboration to utilize science and technology to develop innovative solutions to help farmers. The program is led by India's National Institute of Agricultural Extension Management (MANAGE) in Hyderabad, which is partnering with an array of Indian institutions to deliver sector-specific trainings. MANAGE will train agricultural professionals from 17 countries in Africa and Asia on specialized farming practices such as agricultural marketing, dairy management, food processing and ways to prevent post-harvest losses.
The first phase of the program trained more than 200 agricultural professionals from Kenya, Liberia and Malawi, who are now implementing new farming techniques to increase farm productivity and income.  Following the success of the previous program, the Government of India and the United States are expanding the program with today's launch to reach hundreds of agricultural professionals and in turn thousands of smallholder farmers.