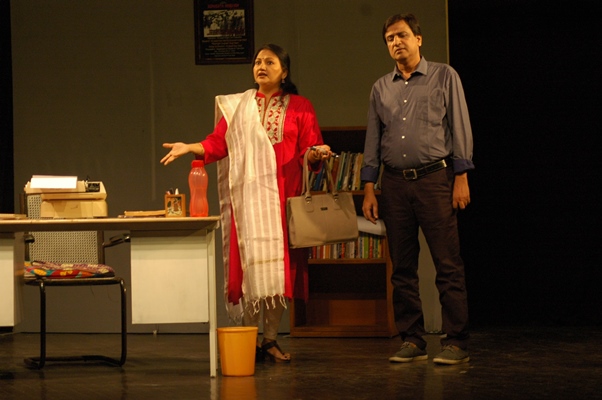 Press Release
A play entitled 'Typists' directed by Dinesh Pradhan was staged at Jawahar Kala Kendra (JKK) yesterday. The theatrical production depicted the cycle of life through a story of two typists. The story was written by Murray Schisgal and adapted by Pushpa Agnihotri and Umesh Agnihotri. 
The play follows the story of a married man, Sapan reporting to work and telling his colleague, Ratna, a middle-aged spinster, that his employment is strictly temporary. Sapan studies law at night and is hoping to get some help from his uncle who currently engaged in a successful law practice. Ratna, too has dreams for herself, in addition to being responsible for her widowed mother.  As Sapan and Ratna connect well at work, they begin discussing significant happenings of their lives and talk about their future. As Sapan's 'temporary' tenure extends to years during the play, both characters begin to age. The play concludes on a heartfelt note with a friendly good night to their unseen employer. The cycle of life completes itself with humour, sadness, self-delusion and reconciliation. 
The cast of play included – Dinesh Pradhan as Sapan and Anita Pradhan as Ratna. The backstage crew were Shehzor Ali (Lights); Deepak Sharma (Music);  Sanjay Soyal (Set Design); Anita Pradhan (Make up and Costume Design) and Love Soni, Mahendra Sani, Dharmendra Bharti and Sumit Dixit (Stage Management). 
On Friday (27 July), 'I-मैं' directed by Raghav Tiwari will be staged at 7 pm at Rangayan. The play has been partly adapted by Andha Yug.  It is to be noted that both the plays have also been staged at the reputed 'Kala Ghoda Festival' held in Mumbai.